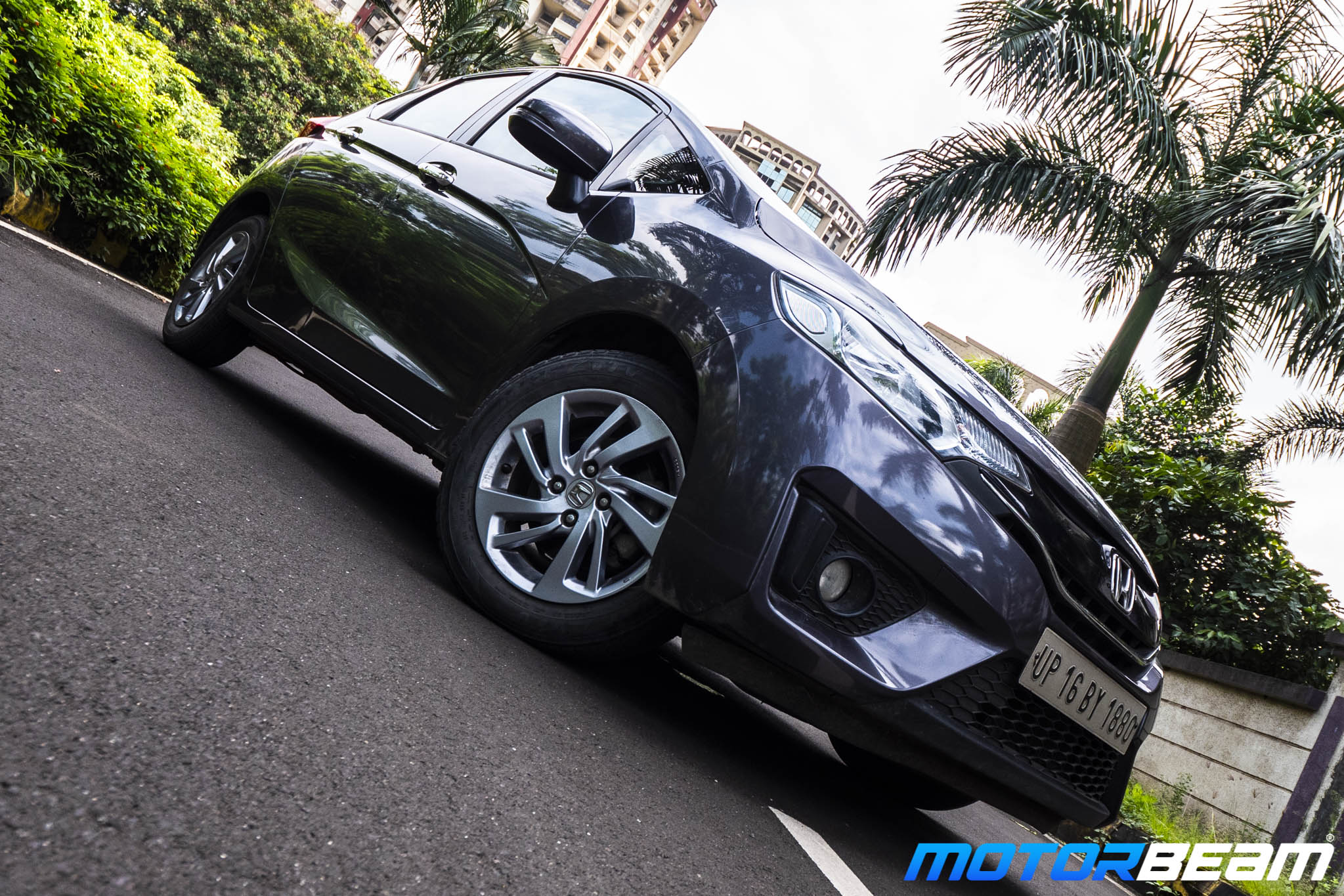 Honda Jazz Diesel Long Term Review
Car Tested: Honda Jazz i-DTEC VX
Kms Done: 4348 kms
Test Started at: 11,045 kms
Test Concluded at: 15,393 kms
Mileage: 17.5 km/l, 21 km/l (best), 14.24 km/l (worst)
Fuel Consumed: 248.45-litres
Total Fuel Cost: Rs. 16,895/-
Fuel Cost Per Km: Rs. 3.88/-
Fantastic driving dynamics and a feature-loaded cabin make the Jazz one of the most exciting premium hatchbacks
The slowdown in the automobile industry has caused a lot of hue and cry but let's take a minute to calm down and think rationally. The number of cars which have come on the road this decade is so staggering, that I truly wonder where can you even drive? The growth in car sales and infrastructure improvement is so distant that I was glad I could leave my daily driver Skoda Superb for a compact car like the Honda Jazz!
While globally the new model has just been unveiled, the one sold in India is still one of the best in the segment, if not the best and I can say that after having driven it for a couple of months through the pothole soaked, narrow roads of Mumbai (narrow because half of Mumbai is dug because of metro work). The best thing I liked about the Jazz is the boot space, it's still small when I factor in me having half my house in the trunk but it's the biggest in the segment and that really helps.
However, as practical the Honda Jazz is in terms of space (there is a lot of room at the rear), I love the way it drives, it's easy to park and manoeuvre, the steering is light and easy to twirl and still manages to weigh up quite well once you reach triple-digit speeds, in spite of its mini MPV proportions, which lend it every bit the usability as one would expect, it drives surprisingly well. Body roll is so well contained that I enjoyed driving the Jazz on valley roads too, the tyres could offer better grip though.
The Jazz's diesel engine offers exceptional fuel economy and drivability
I am a diesel head and the Jazz further made me believe in diesel. Fuel economy is staggering with a best of 21 km/l achieved on the highway. In the city, it would return close to 18 km/l while the worst was 14.24 km/l when the shoot team decided to take the car as a support vehicle, overusing the AC while standing still. The air-con works brilliantly well and it needs to, this car has a lot of glass area.
But as good the mileage is, the diesel engine is even better with 100 horses and almost no lag to counter. Drivability is great in the city and there is enough oomph on open roads to stretch the legs of the oil burner, the only gripe though is the sound which is on the louder side and yes, the diesel engine doesn't rev much, you get into the habit to short shift! The clutch is light and the gearbox has short throws and a crisp shift. The suspension is a bit on the stiffer side but the ride is quite pliant for the most part.
The Honda Jazz has impressed me so much that I wouldn't mind buying one at all, it's an excellent city runabout while being frugal, practical and easy to drive as well. It's not perfect (they say no car is) but the Jazz could certainly become better by addressing a few glaring issues like the lack of an autobox for the diesel (Honda already offers a CVT diesel with the Amaze so it's not like they don't have the hardware) and the infotainment system that's far from impressive (connecting your phone even when paired was sometimes a task). But looking at the next-gen Jazz, it certainly looks 'sexy in a new light!'
What's Cool
* Incredible space on offer
* Frugal diesel engine offering superb drivability
* Easy and fun to drive
What's Not So Cool
* No diesel automatic
* Glitchy infotainment system
* Needs wider tyres
Further Reading -
Honda Jazz Diesel Long Term Review – First Report
2018 Honda Jazz Facelift Review
2018 Honda Jazz vs Hyundai Elite i20 - Shootout
2018 Honda Jazz vs Hyundai Elite i20 - Video
Honda Jazz Pros & Cons – Video