Mahindra Sales 2019 – Petrol vs Diesel Comparison
Diesel cars dominate 93.90 percent of Mahindra sales in 2019.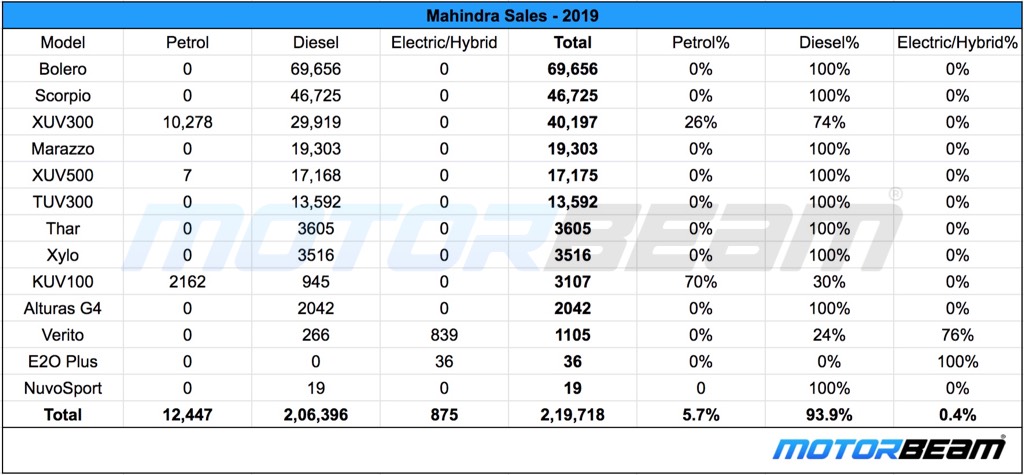 While the trend in the Indian automotive industry is moving towards petrol cars, there are some manufacturers that are entirely dependent on diesel powered cars.
Mahindra's 2019 stint saw a huge 93.90 percent sales coming from diesel units. That's not surprising because their entire fleet save for 3 cars have diesel engine option only.
The top seller from the Indian UV maker was the Mahindra Bolero with 69,656 units. Leading with a huge margin, Bolero is the king of Tier 3 and Tier 4 cities.
Coming in second is the Mahindra Scorpio with 46,725 units. The third spot is occupied by the XUV300 compact SUV scoring 40,197 units. It has 26 percent share of petrol variants.
Only 7 units of the XUV500 petrol were sold in 2019 while 17,168 units of diesel were sold. The KUV100 is the only car in the fleet which has majority of petrol car sales. The KUV100 saw a total of 3107 unit sales with 70 percent coming from petrol cars.
The Mahindra Verito scored 1105 units with 76 percent coming from electric while 24 percent from diesel units, no petrol. The e2O electric hatch had only 36 unit sales in 2019.
Mahindra Sales 2019
– 93.90 percent Mahindra cars sold in 2019 were diesel
– Mahindra Bolero was the top seller in 2019
– A total of 2,19,718 Mahindra cars were sold in 2019