Top 25 Selling Cars In May 2020 – Hyundai Makes History
Car sales resume after a month of 0 sales in April.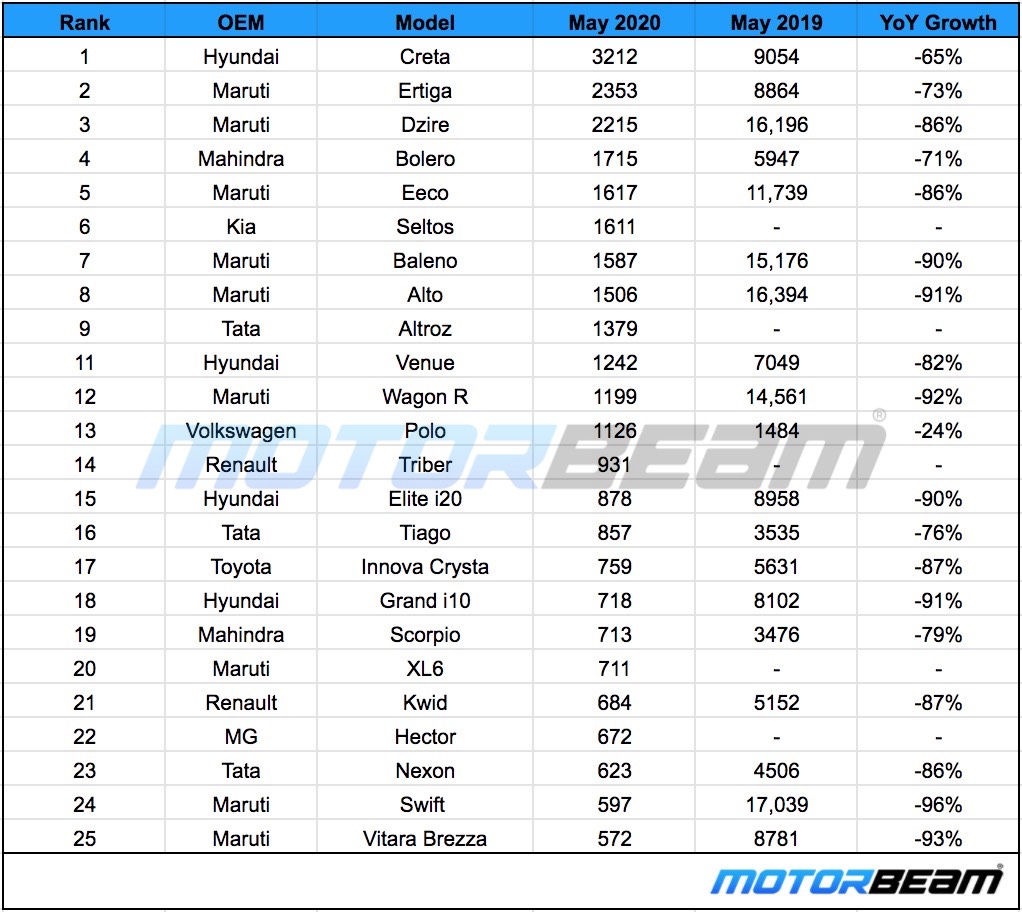 As expected and speculated with the rise in Coronavirus outbreak, the Indian auto industry is badly hit. May 2020 car sales numbers are here and it's a sales chart you've never seen before.
During the full lockdown month of April, there were no sales. With some restrictions easing out in some parts of our country, the industry has started to revive slowly in the month of May.
For the first time, Hyundai has topped the charts overtaking Maruti Suzuki. That too with a huge margin. The new generation Hyundai Creta has clocked 3212 units in May. Not a big number for a top seller but still impressive according to the situation.
The Hyundai Creta compared to the previous year has seen 65 percent degrowth. Next up is the Maruti Ertiga, their top seller for the first time. It has clocked 2353 units with 73 percent degrowth.
The usual top seller Maruti Dzire comes in third with 2515 units despatched in May and 86 percent fall in YoY numbers. Mahindra Bolero takes the fourth spot doing 1715 units with 71 percent negative sales.
Maruti Eeco is on the fifth position with 1617 units and 86 percent degrowth. For those who aren't aware, usually the top 5 spots exceed 10,000 units each per month. In comparison, we are seeing 4 digit numbers, that too not more than 3000 units.
Imagine cars like Maruti Swift and Vitara Brezza are down to 24th and 25th positions respectively. They have seen 597, 572 unit sales with disastrous 96 and 93 percent fall in numbers.
All cars in the list are witnessing negative numbers. Volkswagen Polo being the least affected at 24 percent degrowth. Most of the other car sales have fallen more than 65 percent YoY. 7 out of 25 cars are witnessing more than 90 percent drop in numbers.
We expect the sales to grow gradually in the coming days with demand getting relatively strong near the festive season. However, there is still a long way to go for 5 digit sales in this scenario.
May 2020 Car Sales
– Hyundai leads the chart for the first time
– Ertiga was the best selling car for Maruti
– Altroz became the best seller for Tata
– EcoSport was the highest selling Ford