Updated Karizma ZMR Produces 20 BHP Of Power
Hero MotoCorp will launch the updated Karizma ZMR in the Indian market by the end of the year. The company has released an advert of their flagship motorcycle which clearly mentions the horsepower figure at the start. As we guessed earlier, the new Karizma ZMR is indeed producing 20 BHP of power, which puts it bang in Pulsar 220 territory. The torque from the EBR tweaked motor is 19.7 Nm. So in all, the Karizma ZMR's 223cc powerplant gets an increase of 2.4 BHP and 1.35 Nm. The claimed 0-60 km/hr time is 3.6 seconds.
While the Karizma ZMR doesn't compete with the Pulsar 220, it is likely to be compared with the Pulsar 200 NS due to the pricing of both these machines. The Pulsar 220 will be compared with the Karizma R which too has got a power bump. While the Pulsars are naked and semi-faired bikes using carburettors, the Karizma ZMR is a full faired machine with fuel injection. However the Pulsar's fan following is insurmountable and with a new Pulsar 180 NS around the corner, the updated Karizmas won't have it easy.
Hero MotoCorp has made comprehensive changes to the Karizma R and ZMR, with both bikes getting front and rear design similar to the EBR 1190. We hear that Erik Buell Racing was responsible for the updated Karizma and the styling tweaks were also done by them. Hero and EBR are working on an all new 250cc bike which is likely to debut at the 2014 Auto Expo. Meanwhile checkout the new ZMR's TVC. Hero's ad agency has overdone the advert which although does a good job in highlighting the features of the ZMR but also showcases the machine as if it's a litre class superbike, doing wheelies and stoppies with flames running all around!
[youtube:http://www.youtube.com/watch?v=1_Pyo6gr8aQ 540 375]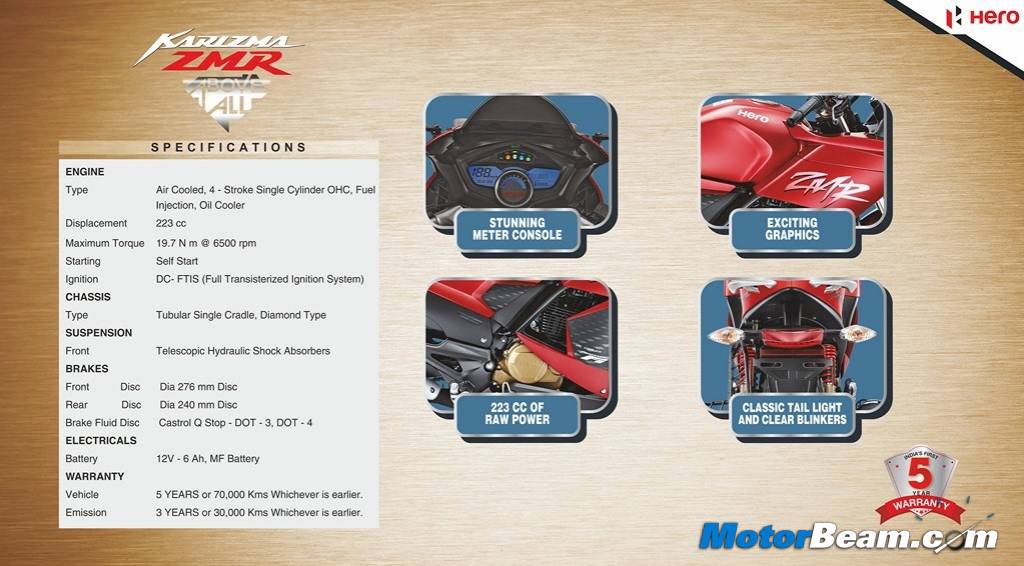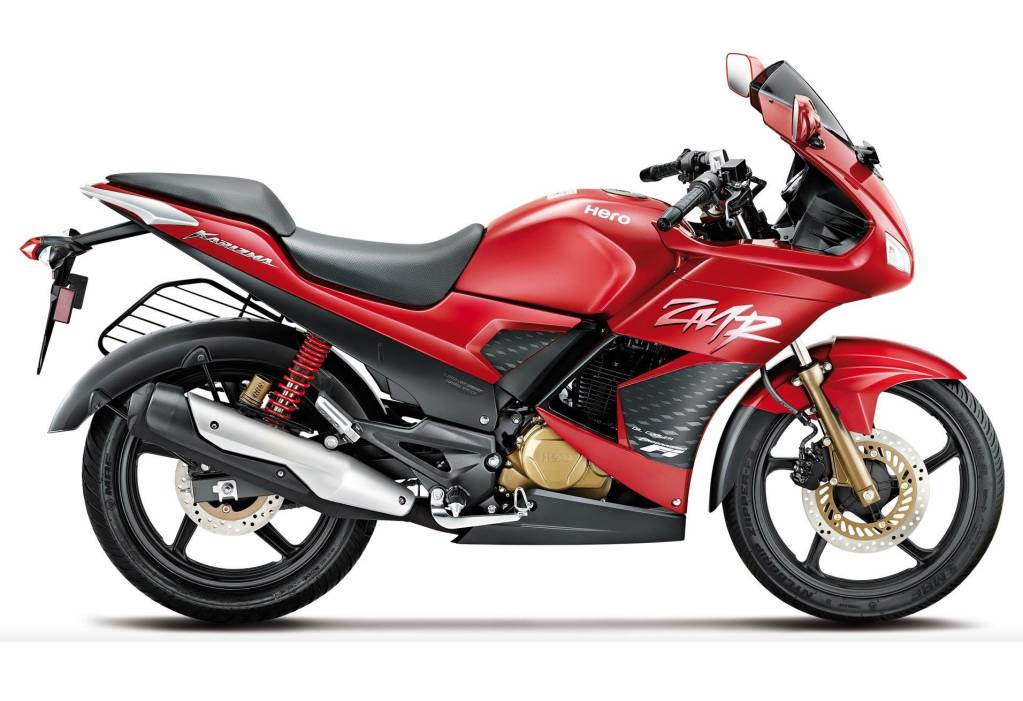 [flickr size="center" float="medium"]http://www.flickr.com/photos/motorbeam/10189058046/[/flickr]
[flickr size="center" float="medium"]http://www.flickr.com/photos/motorbeam/10189109703/[/flickr]
[flickr size="center" float="medium"]http://www.flickr.com/photos/motorbeam/10188920924/[/flickr]
[flickr size="center" float="medium"]http://www.flickr.com/photos/motorbeam/10188919534/[/flickr]
[flickr size="center" float="medium"]http://www.flickr.com/photos/motorbeam/10188920054/[/flickr]
[flickr size="center" float="medium"]http://www.flickr.com/photos/motorbeam/10188915644/[/flickr]
[flickr size="center" float="medium"]http://www.flickr.com/photos/motorbeam/10189062856/[/flickr]
[flickr size="center" float="medium"]http://www.flickr.com/photos/motorbeam/10188918724/[/flickr]
[flickr size="center" float="medium"]http://www.flickr.com/photos/motorbeam/10189059846/[/flickr]
[flickr size="center" float="medium"]http://www.flickr.com/photos/motorbeam/10189058606/[/flickr]
[flickr size="center" float="medium"]http://www.flickr.com/photos/motorbeam/10189062766/[/flickr]
[flickr size="center" float="medium"]http://www.flickr.com/photos/motorbeam/10189018455/[/flickr]