Audi Launches RS7 Sportback In India [Live]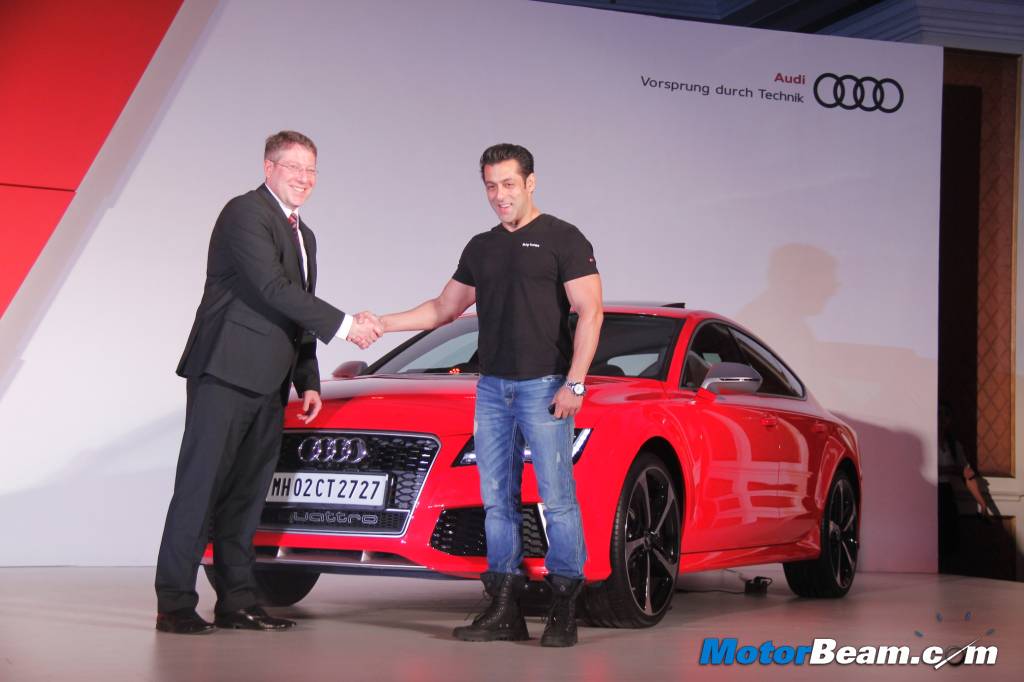 Luxury carmakers have turned their focus on performance vehicles as the uber rich look at mixing style and luxury with speed and cornering fun. Although our roads are far from inviting for performance cars, companies don't have to take much of an effort (in terms of homologation and costs of bringing down the product to India), since all these high-end automobiles are brought in via the expensive yet easy to get CBU route. After Mercedes-Benz recently attacked the performance segment with its AMG vehicles, Audi is taking its RS range seriously by launching the RS7 Sportback in India. Salman Khan is the first customer.
The Audi RS7 Sportback is described by the company as a combination of sports-car power and elegance of a 5-door coupe. Powering this rocket-ship is a 4.0-litre TFSI V8 engine which uses twin-turbos to output a massive 560 HP of power and 700 Nm of torque (delivered at a low 1750 RPM, right till 5500 RPM). 0-100 km/hr takes 3.9 seconds while top speed is limited to 250 km/hr (can be derestricted to 305 km/hr for a price). Power is split between the front and rear in 40:60 ratio by the quattro all-wheel drive system.
In spite of all this power, Audi has taken measures to ensure the car doesn't drink each and every drop of remaining fossil fuel (10.7 km/l is the claimed mileage in Europe). Thus the RS7 uses cylinder on demand technology which reduces consumption by shutting off cylinders when the engine isn't on the prowl. The car is also light, in spite of being very large and that's thanks to the hybrid aluminium design. The RS7 is the most powerful Audi car in production.
They say good things don't come cheap, neither does the Audi RS7 which costs a whooping Rs. 1.2856 crores (ex-showroom, Mumbai). This puts it in direct competition with the Mercedes E63 AMG which although a different body style, is equally menacing when it comes to go-fast antics. Audi currently has two models from its S range (S4 and S6) on sale in India, both of which are mild performance versions of the existing saloon cars. With the RS range, Audi wants to go the full monty, offering mad levels of performance and hooliganism in a luxurious package.