Citroen C4 Caught Testing In Chennai, Some Mahindra Connection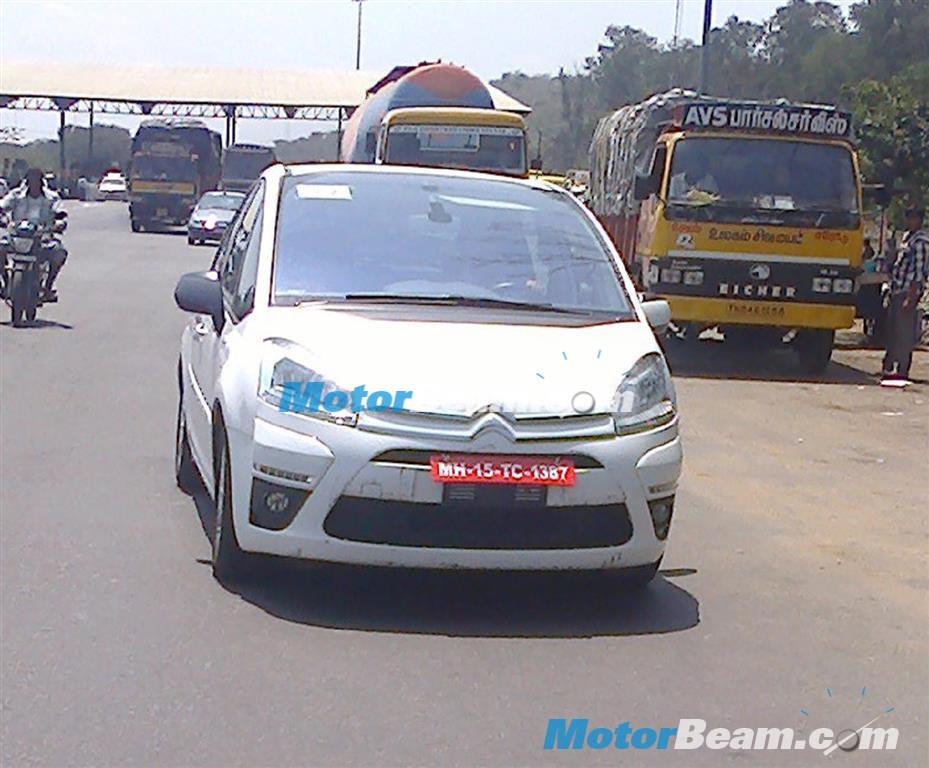 It is a very well-known fact that the automobile industry is facing a major slowdown. India is a big market for many major vehicle manufacturers but the slowdown has been a great deterrent for new companies to enter the Indian auto market. Peugoet-Citroen had big plans for India and the company had signed a State Support Agreement (SSA) with the Gujarat government. The automaker was planning to invest heavily into setting up a production facility at Sanand. The Peugeot 508 was slated for a 2014 launch. However, going by the current developments it can be concluded that none of the Peugeot or Citroen vehicles will be launched in India anytime soon.
Not just the Indian auto market, even the European market has been facing a crisis and companies like Peugeot-Citroen have been affected. The automakers are currently rewriting their global expansion policies and Citroen is conducting global tests of some of its new products. The Citroen C4 Picasso is one such vehicle that has been spotted testing in Chennai by MotorBeam reader Prakash G. The C4 Picasso is an MPV and is powered by a 2.0-litre oil-burner. It is based on the new EMP2 platform developed by PSA Peugeot-Citroen. It is designed to provide a complete blend of functionality and compactness.
The test mule is Nashik registered (MH 15) and in one of the pictures we can see a Mahindra Quanto with similar registration plates too. The Citroen test mule also has a 'V2' sticker while the Quanto has a 'V1' sticker so it is easy to say that there might be some Mahindra connection in this testing process. The manufacturer's India plans are on hold for now but it does not mean that they will never launch their products here. Peugeot-Citroen surely must be having some new strategies and we can expect them to enter India after a few years. The auto industry crisis has affected the fate of many promising products and each and every company is trying to come up with something that will help boost their growth and avoid major losses as far as possible.