Confirmed! Tata Nano Diesel Caught On Test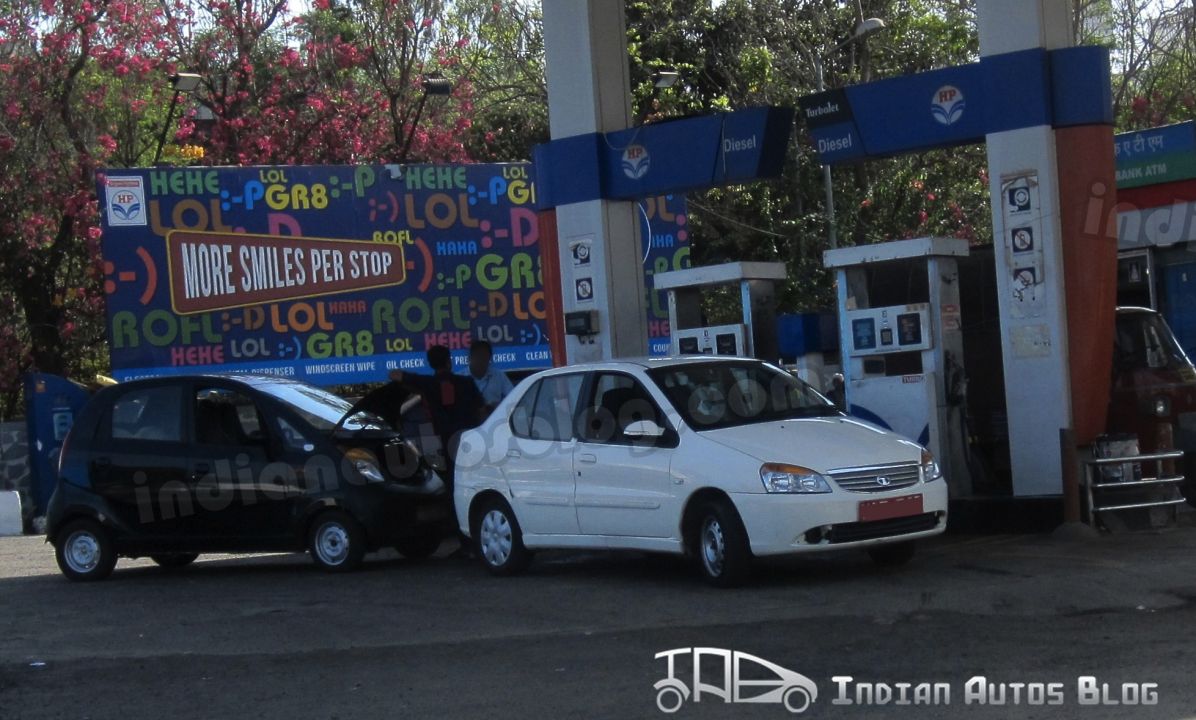 As soon as the 2012-2013 Union Budget arrived, every company's dreams got re-fueled by diesel ofcourse. The diesel car projects which have been derailed for a while now are back on track in full throttle. The most awaited and most discussed diesel car since long time – Tata Nano Diesel has finally showed up. Every other Nano with temporary plates were being stamped as diesel and was creating news for every one of us. But this time thanks to Rohan, a reader of IndianAutosBlog.com, the Tata Nano Diesel was caught on test. This time the proof can be seen in the image clearly. Nano was standing at a fuel station in front of a diesel pump! Now this is solid proof of the Nano diesel doing test rounds and its launch is near but no sooner than early 2013.
Also as seen in the images, changes have been done to rear and front bumpers. We think the rear bumper have been made a little bigger, may be to accommodate a slightly bigger engine. The exhaust has been shifted to the right as compared to the center in petrol model. The diesel Nano may get an open able boot as well, as image is showing highly camouflaged rear boot.
The Tata Nano Diesel will have a CRDI Diesel Engine from Bosch. The detailed specifications have not been announced as yet, but it is expected to be around 0.7-litre engine with a maximum power output of about 30 BHP, mated to a 5-speed manual transmission. The main USP of the Nano diesel is its fuel efficiency, 40 km/l. At 40 kms per litre, the running cost of the new Nano will be Rs. 1 per km. The capacity of the fuel tank is expected to be 15-litres. Now overall this proposition makes sense in present scenario. As being said by many people, it may put a challenge before the 2-wheeler industry as well, as running costs are almost Rs. 1 per km. Whatever it may be, the Nano diesel will only come next year.
Spy Picture Source – IAB