Every Fourth Two-Wheeler Sold In India Is A Gearless Scooter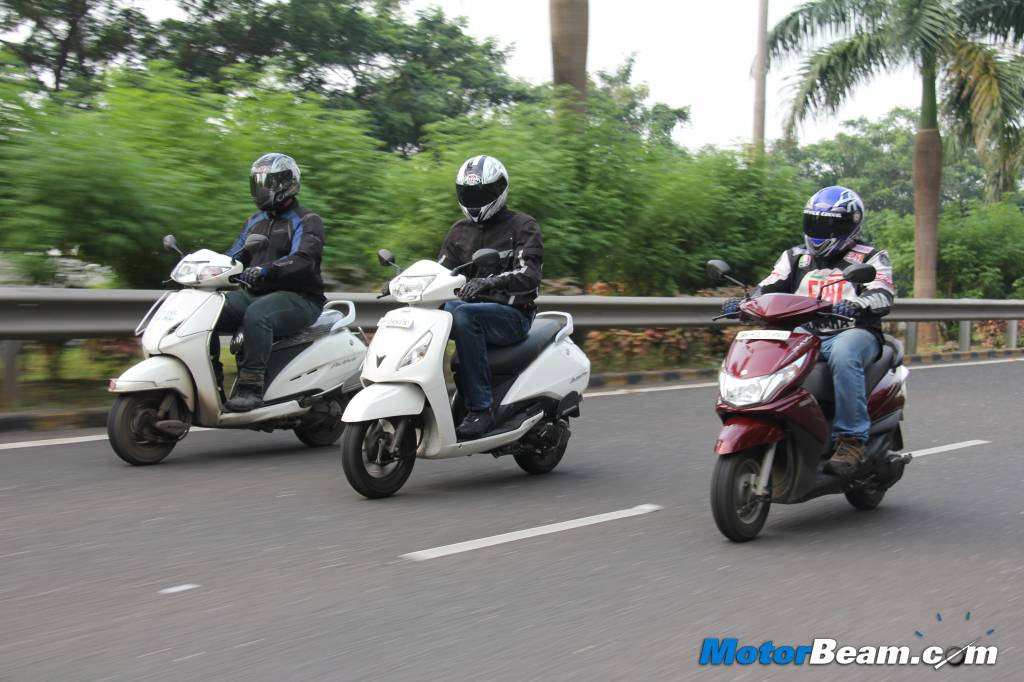 As we all know that the second biggest two-wheeler model in India this year was scooters. The Honda Activa, is the model which is credited for reviving the dying scooter market after the exit of Bajaj Auto, outpaced many of the established motorcycle brands to emerge as the second largest selling two-wheeler brand, even higher than top sellers like the Hero Splendor in some months. The revival has been in the works over the last few years, has been driven by Honda (HMSI) in 2001 which has brought scooter demand back.
According to numbers from the industry, the share of scooters in the country has gone up to nearly 25% at the end of fiscal year 2013-14 against 14% in 2007-08. A total of 36 lakh scooters were bought in 2013-14 by the people, helping in registering a growth of 23%, while motorcycle sales moved up by only 4%. However, motorcycles had reported a volume of 104.8 lakh units. The growth rate for scooters has been faster than motorcycles for the last seven to eight years, indicating the rise of the category among buyers because of the comfort and ease of use they offer.
Manufacturers like Hero, TVS, Suzuki and Yamaha have been quick to sense an opportunity as they launched newer products across price points. Meanwhile, dealers of Bajaj Auto said they have been asking the company's management to re-think its strategy of being absent from this fast growing two-wheeler category as the profit margin is quite high or similar to a motorcycle in the commuter segment. The rising demand for scooters saw Italian maker Piaggio launch its premium Vespa range nearly two years back as it positioned the vehicles in the higher side of the shelf. Even LML, a brand that is so old in the scooter market, is now gearing up for a revival.
Rapid urbanisation will result in continued strong demand for scooters because as cities grow, the sales of scooters will grow too. Scooters today are seen as a new fashion accessory and carry an appeal to the people who earlier opted for a motorcycle because the same level of commuter motorcycles feel a downgrade while the scooter in the same segment offer less mileage and high maintenance are still ruling the market because one scooter can be used by multiple people in the family and the word of mouth today in the market calls scooters these days as a "Premium" entity.