February 2012 Sales Figures & Analysis
There is no better way to analyze the market than doing it with numbers. Numbers will give us clearer figure of the market. Where it is going? Who gained and who lost? Which is the current hot favorite? and who is the market leader and who lags behind all? We are trying to analyze our country's four wheel market.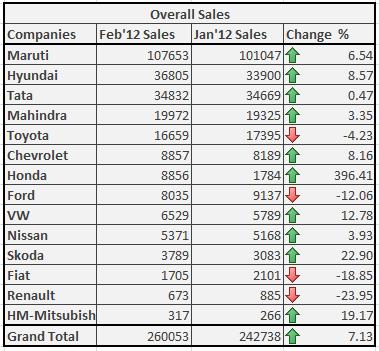 If we see the gross sales figures of main volume sellers, we will find total sales for the month of Feb 2012 stood at 2,60,053 units with 7.13% increase compared to 2,42,738 units of Jan 2012. Among top three, with Maruti Suzuki leading the top spot by selling 1,07,653 units followed by Hyundai which sold 36,805 units and to take the Third spot Tata Motors managed to sell 34,832 units. Maruti Suzuki and Hyundai showed 6.54% and 8.57% increase while Tata Motors showed almost no increase on MoM (Month on Month) basis.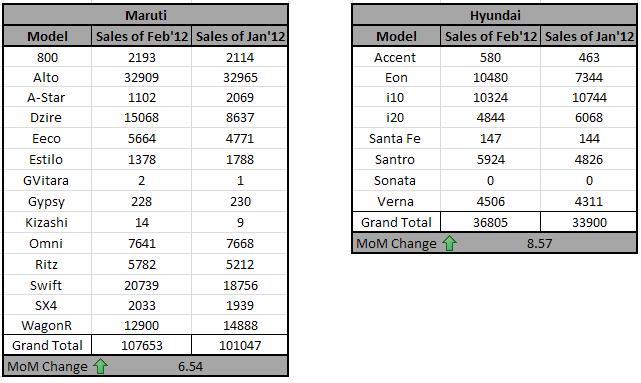 Among the rest, after recovering from natural calamities, remarkable change in sales volume was recorded by Honda with almost four fold increase in sales of February with 8856 units compared to January's 1784 units. Another Japanese automaker Toyota is facing problem on all fronts. While MUV Innova lost some numbers despite being upgraded, Toyota's Made for India products Etios is taking downturn as people came across many facts and its built to cost quality.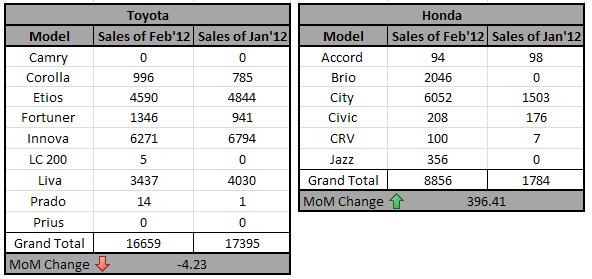 Skoda showed 22% growth, thanks to its new entrant Rapid. On the other hand Volkswagen showed growth in sales with help of its hot favorite Polo but Vento sales went neutral taking the hit from its sister Rapid.

Nissan managed to clock their highest sales numbers as Sunny diesel continued its strong march with the Micra also performing quite well. But the case with Renault was little disappointing, as sales fell down by almost 24%. Main reason is the higher pricing of Pulse as compared to Micra.

Finally, it was a mixed month for two of the American auto giants as Chevrolet showed growth of 8% as Beat diesel and Spark clocking some rise in sales. Also after long time Tavera being launched in new BS IV compliant variant was sold in numbers close to 2000 units. But for reasons unknown, Ford lost numbers on all fronts. Especially Endeavor which managed only 23 units and sadly Figo also lost some 1000 units than previous month.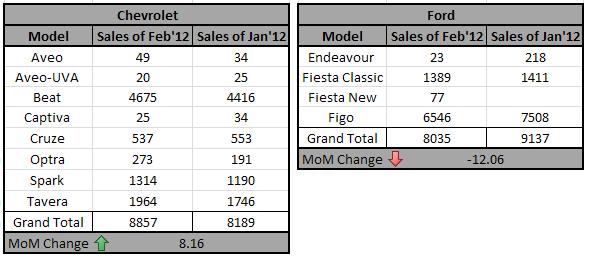 Top 20 Sellers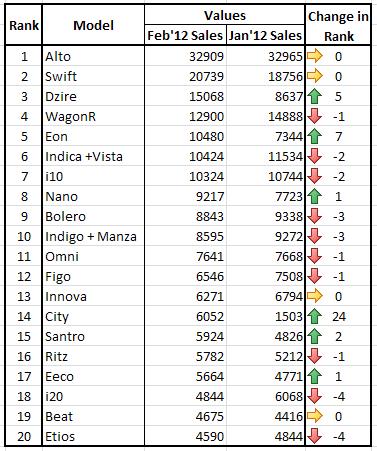 Key Highlights of TOP 20 Charts
– Alto and Swift continues to top the chart with huge volumes.
– With new model launched and ramped up deliveries Dzire sales shot up by almost 200%.
– A wannabe Alto of India, Eon suddenly crossed 10k mark. But still long way to go.
– Continues efforts from Tata is slowing showing up as Nano sales crossed 9k figure.
– All other Tata vehicles had decline in sales.
Gainers Vs Losers
This is how models gained and lost their ranks in sales.
Gainers: Top gainers have all Honda cars in there. The reason we know, as Honda started to operate and deliver in full strength. While Volvo also made some upturn in sales.
Losers: Loser list is full of premium category vehicles except A-star and Endeavor. It seems that the Endeavour is another prey to the Mahindra XUV500. A-Star faces lost interest of buyers as well as competition from its own siblings as well as from other companies.

Segment wise Break-up