Fiat Unveils 7-Seater 500L Living MPV
The blurb about the extended version of the Fiat 500L emerged last year with artist impressions and a few spy images that bloomed the web world without any confirmation from the Italian car maker. But recently, Fiat has confirmed the debut of the 7-seater MPV '500L Living' which will go on sale in Europe by the end of 2013. Fiat has increased the 500L in two dimensions to accommodate the third 2-seater row for the 500L Living. The length has increased by 210 mm (4350 mm) and the height is up by 10 mm (1670 mm). The width of the 500L Living remains same at 1780 mm.
The luggage volume in MPVs has always been one of the reason that persuades customers to buy them and the Fiat 500L Living is not behind in this league with an impressive 638-litres boot volume with a folded third row. If we compare the figure with Indian MPVs, the total volume is 8-litres more than the Chevrolet Enjoy and 158-litres more than the Maruti Suzuki Ertiga. The 500L Living will not get any new exterior changes compared to the 5-seater 500L and the vehicle will also be powered by the same powerplants with slightly tuned suspension to handle the extra weight.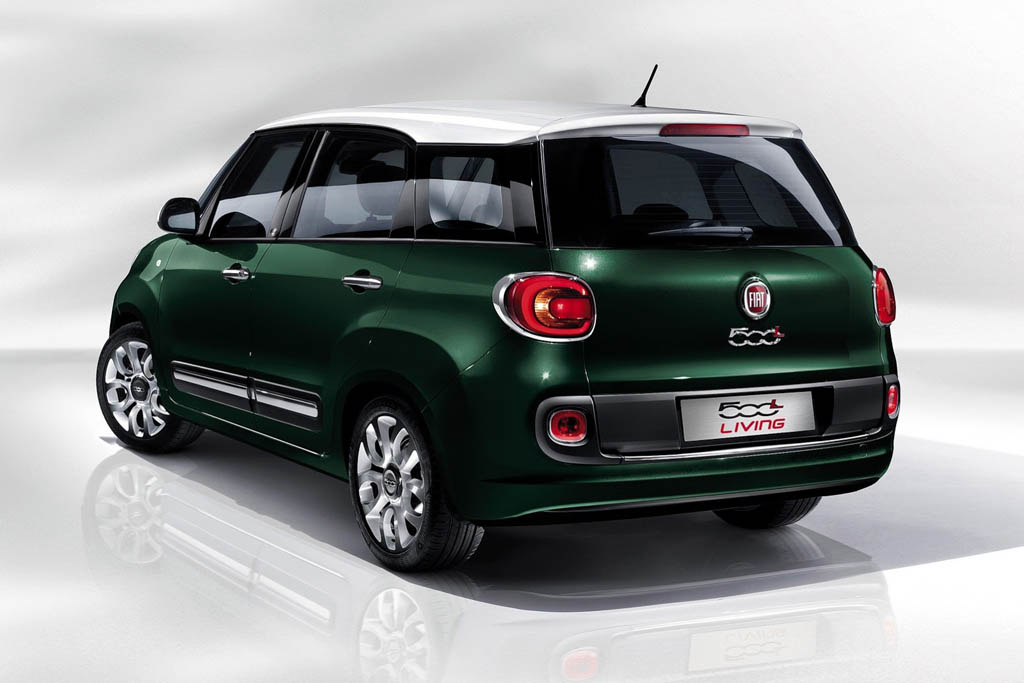 Fiat will offer the 500L Living in two petrol and two diesel engines, one is 94 BHP, 1.4-litre natural aspirated engine and the other is a 104 BHP, 0.9-litre twin turbo mill that competed with Ford's 1.0-litre EcoBoost engine for the International Engine Award. The diesel options include a 104 BHP, 1.6-litre motor and the famous 1.3-litre Mutijet engine. The vehicle will feature both manual and automatic transmissions with a front wheel drive layout. Fiat announced two trim levels – Pop Star and Lounge, 19 colors and 6 interior trim choices will be offered on the 500L Living in the European markets.
Besides, all traditional and funky tweaks from Fiat, 15 designs of alloy wheels will be offered to customize the car according to the customer's preference. Fiat will assemble the 500L Living at its Serbian factory at Kragujevac, the order bookings will commence from next month in Italy, followed by the other countries in Europe later this year. Unfortunately, the Fiat 500L Living is not peeping out on the Italian automaker's card for India but if the company manages to launch the vehicle in the near future, it would be a nemesis for the Ertiga and Enjoy from the same segment.