Ford Figo Launched In India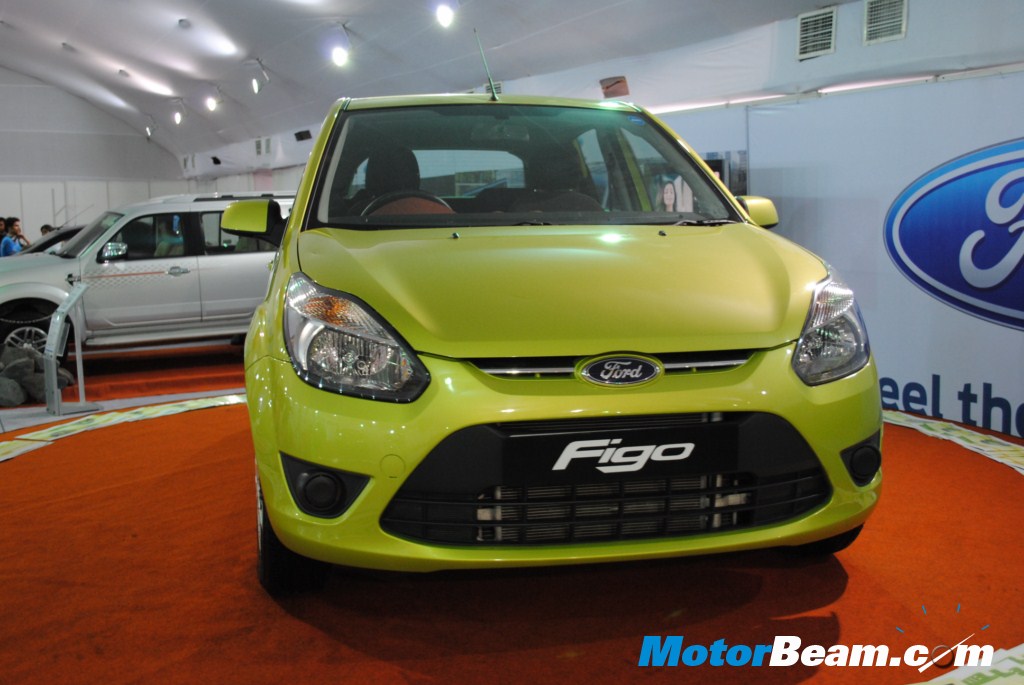 Ford India has finally launched the Figo. The prices we posted last week seemed too good to be true and now Ford India has officially announced the prices of the Figo, which again seem to be too good to be true. The company has priced the Figo very aggressively and under cut the competition by a comfortable margin. We really have nothing to say except the fact that Ford has hit the bulls eye with the Figo pricing.
Both the ZXI and Titanium models are extensively equipped and include specific door panel inserts and a standard driver-side airbag. Other features included on the ZXI and Titanium models include dual-cluster instrument gauges for speedometer and tachometer, vanity mirror for the front seat passenger, power-activated rearview mirrors for both passenger and driver and a full length console. The interior of both models also includes extensive use of bright or polished aluminum trim on the door handles, console and around the gauges. An anti-lock braking system is offered on the EXI, ZXI and Titanium models.
Among the many standard interior features is a heater and air-conditioning system designed to provide best-in-class performance for a range of temperatures from -10 to 49 degrees Celsius. Other smart features include Lane Change Indication that, when momentarily depressed, flashes indicators three times, eliminating the need to hold the stalk. Hazard deceleration alerts trailing drivers when vehicle speed rapidly decreases. The hazard lamps automatically flash when vehicle speed suddenly decreases to below 96 kilometres per hour.
A new 1.2-litre petrol engine delivers 52.44 kW (71.35 PS) @ 6250 rpm and 102 Nm (10.4 kg) @ 4000 rpm. Ideally geared for Indian traffic, fuel efficiency for the 1.2-litre is 15.6 kilometres per litre. The proven, class-leading 1.4-litre Duratorq diesel engine also will be available for Figo with outstanding fuel efficiency of 20 kilometres per litre. Horsepower is rated at 50.72 kW (69 PS) @ 4000 rpm. Torque is equally impressive with 160Nm (16.3 kg) at 2000 rpm.
A five-speed manual transmission is standard equipment on both engines. The clutch has been designed for low effort due to frequent application for shifting in high traffic found in the Indian market. Zero to 100 kilometres per hour performance is 15.5 seconds for the petrol engine and 15.8 seconds for the diesel variant. Based on Ford's proven global small car architecture, Figo has been thoroughly tuned for Indian drivers. With the longest wheelbase in the B-car segment at 2489 millimetres, chassis dynamics have been optimised with new steering and suspension components.
Service for the new Figo also has been enhanced. Ford India recently announced the opening of 28 dealerships in India, bringing the total number of Ford outlets to 164 facilities in 97 cities. Nearly 50 facilities feature Quick Service, a new servicing process that is designed to quickly perform routine maintenance in less than 90 minutes. As part of the initial pricing, all Figo models will be covered with Roadside Assistance for two years. Additional extended warranty plans and total maintenance options will be available to the consumer. Figo is among the leaders with a standard scheduled service plan of five years or 100,000 kilometres.
2010 Ford Figo Prices (ex-showroom, Delhi) : –
1.2L Duratec LXi – Rs. 3,49,900/-
1.2L Duratec EXi – Rs. 3,81,900/-
1.2L Duratec ZXi – Rs. 3,99,900/-
1.2L Duratec Titanium – Rs. 4,42,900/-
1.4L TDCi LXi – Rs. 4,47,900/-
1.4L TDCi EXi – Rs. 4,72,900/-
1.4L TDCi ZXi – Rs. 4,96,900/-
1.4L TDCi Titanium – Rs 5,29,900/-
[youtube:http://www.youtube.com/watch?v=3Otl9YzYL5c 540 330]