Honda Presents A Mean & Fast Lawn Mower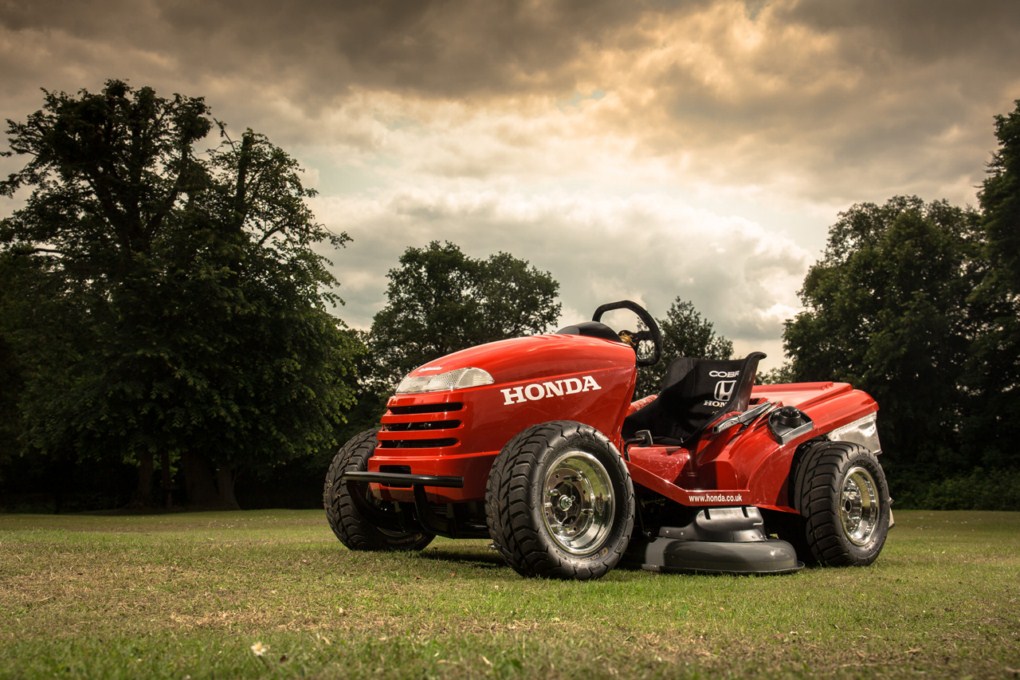 What on earth could be the reason we at MotorBeam are discussing lawn mowers? Well, speed and power are those reasons. The Honda Mean Mower takes pride in being the fastest at a top speed of 209 km/hr. Top Gear took the initiative of this fast mower and did so in collaboration with Honda and British firm Team Dynamics. The Mean Mower is based on stock Honda HF2620 but almost everything typical to a conventional mower has been replaced by performance parts. It is based on a custom made 4130 chromoly chassis. What remains from the production version is the bodywork.
Discussing the engine, the reason for this mower to be a stand apart, it is a 1000cc unit from Honda VTR Firestorm sports bike. This engine produces a maximum power of 109 BHP coupled to a six-speed paddle shift transmission. It derives its wheels from an ATV, a back axle from a go-kart, custom made suspension, Scorpion exhaust and a steering rack from Morris Minor. It tops the charts among mowers with a 0-100 km/hr run in just 4 seconds and a top speed of 209 km/hr. Earlier in 2010, Bobby Cleveland had his mower Snapper achieve a top speed of 155 km/hr at the Bonneville speedway. The Honda Mean Mower has not yet gone official, so Cleveland still holds the record.
Among all these figures is the purpose lost? Not one bit but only revised upwards. It replaces mower blades with steel-cutting cables mounted on two electric motors spinning at 4000 RPM. It is twice as fast in mowing the lawn at 24 km/hr than the original HF2620. The engine and the motors, overall prove to be very noisy. The Mean houses a high capacity oil cooler and a secondary radiator at the rear. It has a kerb weight of 140 kgs. Featuring in the picture and a teaser video is Team Dynamic's BTCC champion Gordon Shedden.
[youtube:http://www.youtube.com/watch?v=oH_Qb4fdHfg 540 375]