Mahindra Customizes Bolero With Attitude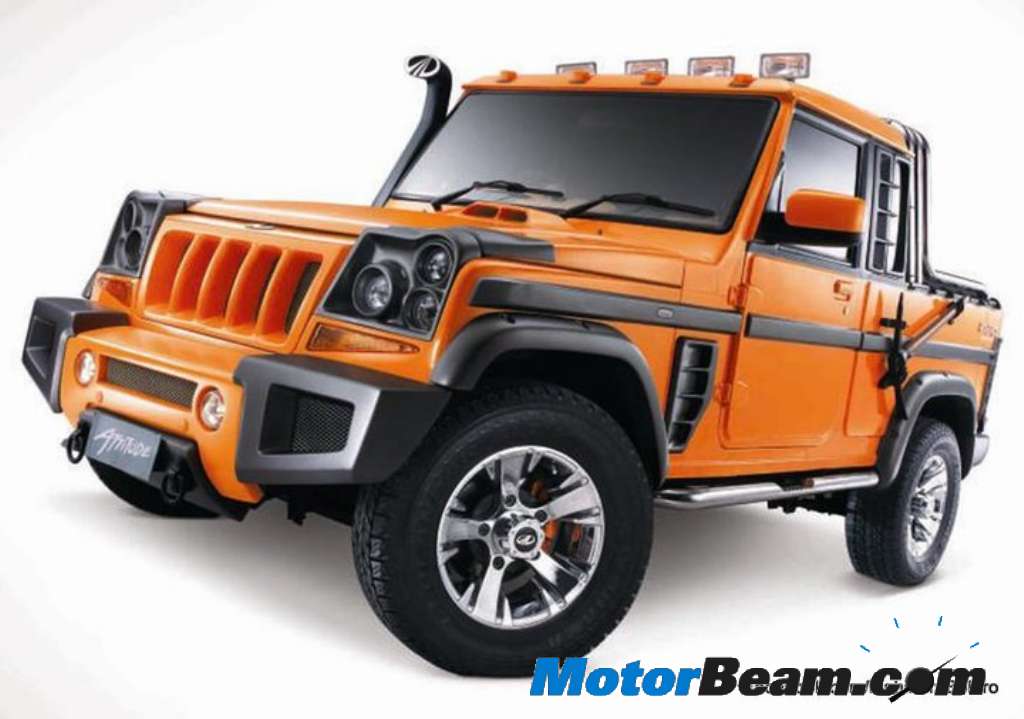 "Bolero Attitude" Concept is built on the Mahindra Bolero platform. The base vehicle – Bolero VLX is powered by the 97hp CRDe engine and is a 2WD variant. However, the "Bolero Attitude" Concept can be built on any of the Bolero variants. The "Bolero Attitude" Concept is also available to Customers who already are proud owners of the Mahindra Bolero vehicle. The Customized component would remain the same for these vehicles as well. The company would only need to run a health check on the condition of the vehicle as regards the bodyline and the mechanicals & the necessary upgrades for refurbishing would be at an extra cost.
Exteriors : –
* Body modification to convert a 5 door to a 2 door
* Modified front bumper
* Custom made headlamp bezel
* Styled front grill
* Bumper mounted towing rings
* Halogen Projector lamps
* Xenon projector lamps
* Auxiliary lamps mounted on rear roll cage
* Bonnet scoop
* Snorkel
* Body claddings
* Wheel arches with allen head studs
* Alloy wheels
* Motorized ORVM
* Custom made driver & co-driver door glass
* Restyled "B" pillar bezel
* Side guards with checkered inset step ins
* Custom made triple pipe rear roll cage in Stainless steel
* Modified tail lamp with bezel
* Custom built rear bumper
* Bumper mounted lamps
* Rear towing hook
* Jerry cans on tail gate
* Motorized antenna on tail gate
* Cargo bay mounted spare wheel behind driver
* Cargo cover in see through canopy
* Body mounted Pick axe & spade
* Roof marker lamps
* Rear auxiliary lamp connected to the reverse gear
* Brake caliper custom painting
* Stainless steel mesh inside grills & bezels
* Twin exhausts
* Rear number plate bezel
Interiors : –
* Motorized Sunroof assembly
* Xylo Driver & co-driver seats
* Leather upholstery in black with orange stitch
* Interiors in a combo of black with orange
* Modified dash with round A/C vents with chrome rings
* Dash bezels in matt orange finish
* Door trims in black with orange tint
* Cargo bay treatment
* Color coded Instrument cluster in black & orange
* Ipod docking station – Harmenn Karden
* MP3 player with Bluetooth
* Black inner linings for all interior trims
* Custom made matts
* Black carpet
* Moulded Pillar claddings
* Puddle lamps
* Reading lamp
* Roof lamps
* Moulded sunvisors with illuminated vanity mirror
* Motorized ORVM
Total Cost – Rs. 4,50,000/- taxes as applicable would be extra (this is post registration & over and above the cost of the vehicle).
The following is the Order Flow : –
* Customer registers & insures the Mahindra Bolero (any version) from the Local Dealership
* Customer would pay a DD favouring M/s. NBS International Ltd, Mumbai for the Customization component
* Post registration & insurance, the vehicle is sent to Mahindra Towers, Worli, Mumbai for the Customization to be carried out
* The Customization process would take approximately 45 to 60 working days from the time we receive the base vehicle at Mahindra Towers
* Post Customization, the Customized vehicle will be sent back to the AO for final delivery to the Customer
Kindly note the following key elements as well : –
* Pricing does not include the movement of the registered & insured vehicle to and fro from the Customer / Dealer Location. Any incidence during the transit would be borne by the Customer
* Pricing does not include the transit insurance of the same. This is to be borne by the Customer
* There is no technical change in the vehicle – hence, the same vehicle warranty would stand
* Customization has been done to the effect of only aesthetic changes and we will provide a 6 month manufacturing warranty for the same
* All concepts are hand crafted and could vary from variant to variant