Maruti Suzuki Launches A-Star Aktiv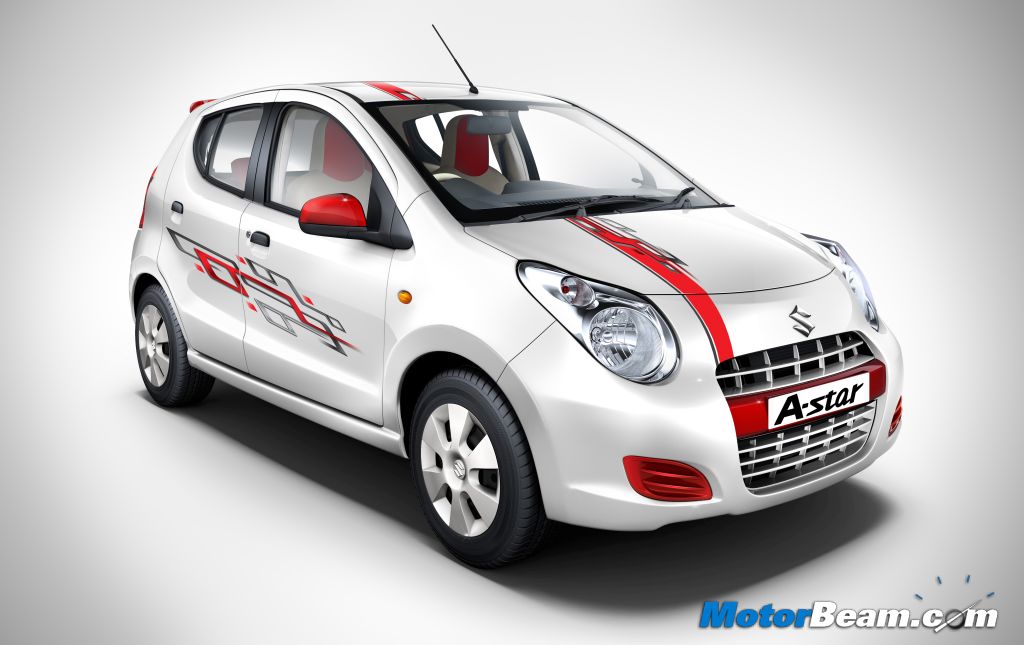 Maruti Suzuki is the largest car maker in India, selling more cars than Hyundai, Tata Motors and Mahindra combined (number 2, 3 and 4 respectively). However that doesn't mean all their products are hot selling. The latest generation Alto, or as Maruti Suzuki likes to call it, the A-Star, has performed miserably in the Indian market. The low interior space and high pricing hasn't worked in the A-Star's favor. Last month, the company sold just 953 units of the A-Star, which is nothing short of appalling for a small car.
Now Maruti Suzuki has done, what is does best – launch another limited edition variant. This time, its the A-Star Aktiv, which is available in VXi and VXi AT variants. Maruti Suzuki believes the A-Star Aktiv wil attract the youth and thus has offered the vehicle with fitments, which they feel will make the car look more attractive. The A-Star Aktiv gets graphics all around (front, side, rear, roof), red colored rear view mirrors, red bumper, red spoiler, blackened out B-pillar and red fog light cover plate.
On the inside, the Maruti Suzuki A-Star Aktiv gets new seat covers, steering wheel cover, door sill guard, keyless entry, rear parcel shelf and floor mats. Maruti Suzuki values these 14 additional features on the limited edition A-Star at Rs. 14,990/-. All these extra fittings can be procured for much cheaper at any local accessory store in the country. Thus these add-ons aren't really going to give the A-Star's sales a short in the arm.
The Maruti A-Star is powered by a 998cc, 3-cylinder, K10B petrol engine which churns out 67 PS of power at 6200 RPM and 90 Nm of torque at 3500 RPM. The vehicle was given a minor facelift in India in January, while a global facelift happened just a few months back. Maruti Suzuki is expected to launch the facelifted A-Star in the Indian market next year. A diesel engine is being developed by Suzuki Japan, which will find its way into the A-Star by 2015.