May 2013 Sales Figures & Analysis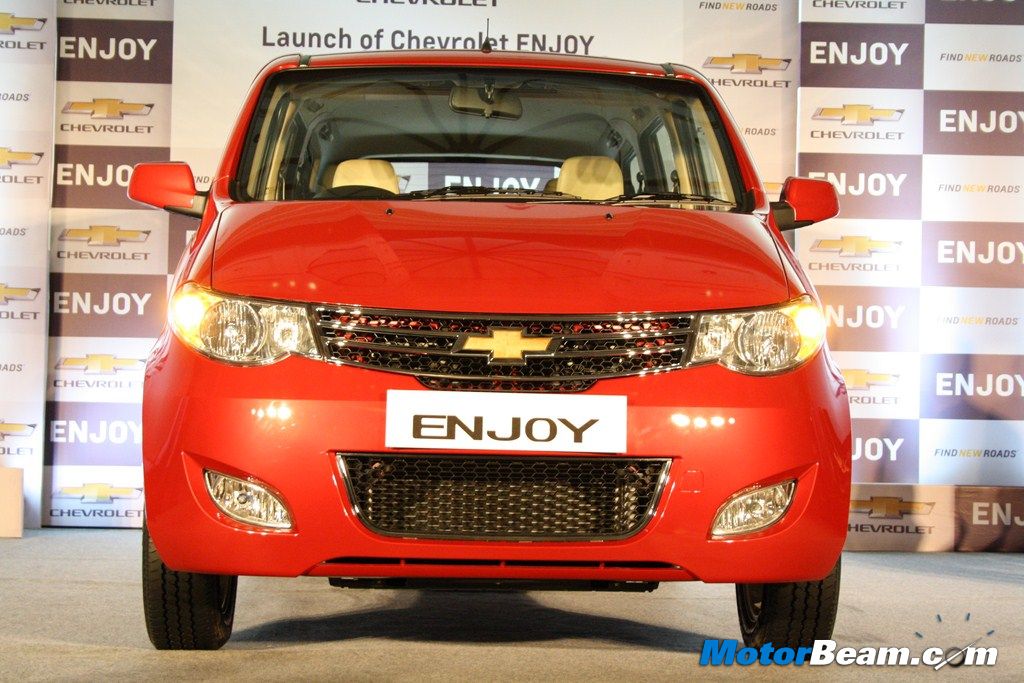 The Big Picture –
Sales figures for the month of May are worrying but have brought us some surprises.
Industry recorded fall in sales of 3.28% over the last month. But there is 9.11% fall in sales as compared to same month of the last year, which is not at all a good sign.
The following table brings us some mixed result as some big companies faced the heat of slowdown while some managed to come out with flying colors.
Biggest shuffle of table is Honda taking over Tata Motors and Toyota to take on the 4th position. This situation clearly reflects the Indian car market very well and can be a very good case study subject for any B-school student.
Quite a big surprise this month is that Maruti Suzuki Dzire is heading the sales chart ahead of its entry level hatch Alto 800.
Even after a big drop in sales, Maruti Suzuki tops the chart followed by Hyundai at second place and Mahindra & Mahindra at the number three.
At the bottom of the chart there is some twist as Fiat, after very long sleep, has moved upwards and ended the month of May on second last place. Even this feels like an achievement in certain cases.
So we can tag this month of May to be a Month of some special cars like Honda Amaze and Chevrolet Enjoy. It clearly depicts that good car can make the fortunes of the company.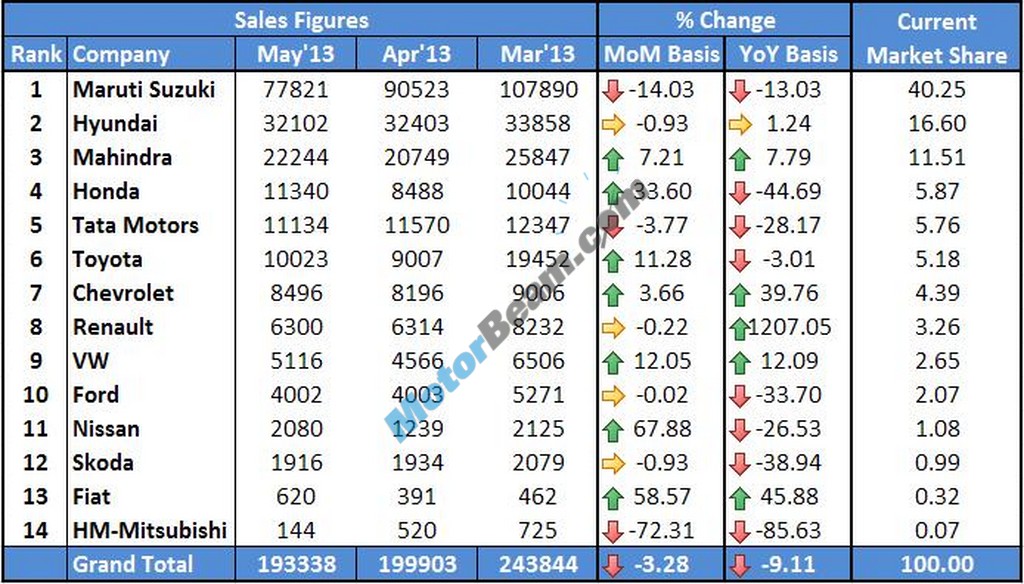 Top 20 –
After Honda has launched its Amaze, many tagged it as Maruti Suzuki Dzire killer. But surprisingly Dzire has climbed to the top of the table by leaving behind India's most popular car Alto 800.
But if we go into the depth of this, we can guess that the company might have prioritized Dzire's production over that of Alto 800 as both shares same manufacturing facility. Company wants to attract buyers by offering zero waiting periods for its compact sedan which is under heavy attack from competition.
Honda Amaze entered the Top20 table last month and now it is well in Top10 list.
Mahindra Scorpio, an old school SUV, is still doing wonders for the company and has fared pretty well in the test of time.
Surprisingly, XUV 500 is out of this table this month too. Point to note is that Bolero and Scorpio are marking their presence felt strongly at the 5th and 11th place respectively.
There are two new and unexpected guests in the table this month. Those guests are Honda City at the 19th place and Volkswagen Polo at 20th place.
Company wise contribution to this table has also changed quite noticeably this month.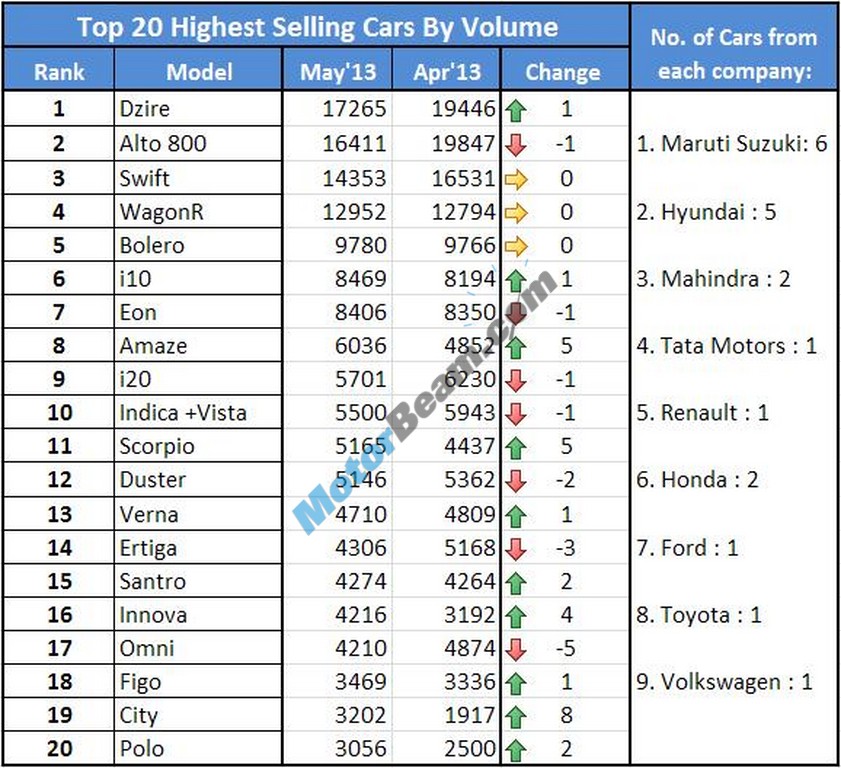 Company wise Break-up –
Being a huge company in terms of volume, Maruti Suzuki has secured it first place as always. But it has lost huge chunk of its sales volume in May, as it recorded sales of only 77,821 vehicles.
This month's sales figures are third lowest in the last one year, bottom two being the sales figures of labor strike affected months.
Prioritizing Dzire to reduce the waiting period has affected Swift and Alto 800 as both the models lost their sales volume by 2000-3000 units.
On the other hand, Korean giant Hyundai has fared well this month, as all the entry level cars from them are doing well.
Point to note is i10, Eon and Santro are consistently doing well even though they lack the diesel heart.
There is moment of celebration for Mahindra this month, as it has recorded rise in sales volume in both monthly as well as yearly comparison.
Their old school, ladder on frame type constructed SUVs are bringing in 2/3rd of their total sales.
Rest all the new entrants have lost their steam and now doing below average numbers.
But Mahindra is not giving up and it has brought in one new product into the market i.e Verito Vibe a first small car from Mahindra.
We'll get to see what it can do for the company in the next month's report card.
Very old script with aged characters makes a flop movie and the same is happening with Tata Motors since past few months.
It looks like that the company has lost the momentum so badly that they are unable to do the damage control.

This month the moment has arrived when the company with very narrow product portfolio which is having no car in high volume entry level car segment, went ahead of Tata Motors to take the 4th spot. You might have guessed the company which is on the 4th place, its Honda.
Like Mahindra comfortably secured the third position ahead of Tata Motors for long time, Honda also is very likely to secure their fourth place for the coming months.
Let's see if Tata Motors can stand ahead of Toyota or it loses their fifth place too.
Aria once again created a record low sales of 3 units in May.
With below expectation performance of Etios twins, Toyota is up against situation which needs to be addressed on war footing, otherwise it may drive them into situation like the Tata Motors did.
Honda, the rival from their homeland, has taken them by storm and now has a lead of around 1000+ units.
Honda Amaze was directly targeted at Maruti Suzuki Dzire but its shock-waves did the damage in this camp too, as Etios sedan is losing sales continuously.
Honda is flying very high, as anticipated, with its iDtec powered Amaze.
Surprisingly, its elder sibling, City, too did well in this month.
Now the only limitation up against Honda is its own manufacturing capacity.
If that limitation would have been not there, then the company has potential to sell 3000-4000 more units every month.
But the biggest highlight for the company is that it climbed the ladder too fast so that it skipped one step and secured 4th place directly from previous month's 6th place.
Thus, the company has recorded strong rise in sales of 33.60% MoM basis and 41.27 YoY basis.
Another company which is sharing limelight nowadays is Chevrolet, with its Chinese product onslaught.
Differing with the criticism from many, company has fared pretty well with two of the latest launches.
It might be that Enjoy MPV and Sail sedan is riding high and cashing in on initial hype created around the products.
Chevrolet dispatched 2173 units of Enjoy in May, which is more than Tavera.
Now we have to see if Enjoy can enjoy such high sales figures for a long time or not.
Ford with its limited product lineup is finding it hard to sustain as almost all of their product are under-performing.
All of the four products are waiting to get accompanied by the EcoSport in showrooms.
Volkswagen managed to record a rise in sales of 12.05% on MoM basis.
All of their products are doing below average but the figures are quite stable for the past few months.
But point to note is that their big muscular SUV Touareg is not finding any takers for last successive two months.
There might have been very few visitors at the Skoda dealerships for the past many months and it is reflecting in their sales chart too.
None of their product has the charm left in them to attract the buyers.
Somehow Laura managed to perform exceptionally well in May.
After long time there is some activity in Nissan's camp.
It is very likely that Nissan has started dispatching the facelift Micra.
Now the company is relying highly on its one and only hatchback by bringing in the variants- one cut priced variant and another with cosmetic changes to give it a manly look.
Future months will tell us whether the company can manage to have some bigger share of the market.
Renault is cruising steadily and enjoying the long success run of Duster.
Month of June will bring that moment when Duster will face the heat and its nightmare rivalry from the Ford EcoSport.
This time we don't have the sales figure of Hindustan Motors Ambassador, which is the key seller for the company.
The point of concern for the company is they are failing to sell single units of Montero and Outlander for the past many months.
Like an oasis, Fiat suddenly started showing rise in monthly sales and we hope that this doesn't turn out to be oasis.
This time the company has managed to sell 620 units totally, which is quite good if one sees its past record.
This has made the company to leave its bottom most position in the table (even if we consider average 400 Ambassador being sold in May) which they have been habitual to.

Category wise Break-Up –
Gainers Vs Losers –
Podium Finishers –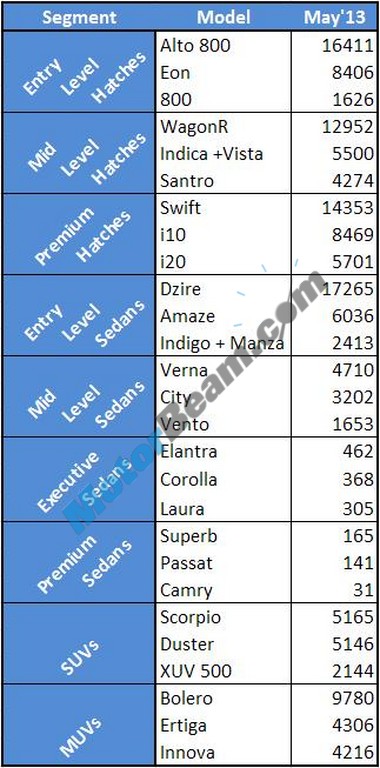 Watch list –
Things to Look Out For –
–  How well the Mahindra Verito Vibe gets accepted?
–  Can Honda Amaze go further and do the damage to the competition or its momentum gets harnessed by limitation of manufacturing capacity?
–  How Honda Amaze has its impact on Chevrolet Sail and Toyota Etios?
–  Can Chevrolet Enjoy establish itself well in the market?
–  Most hyped Ford EcoSport, will the launch happen this month?