Surjeesh Shares His Yamaha RX135 Ownership Experience
Obsession With Biking – Unlike everyone, I started biking a little late. I was 22 years old (now 25) when I was able to find rhythm between clutch and throttle. It was an Apache RTR 180 on which I swung over my leg for the very first time. I started as a regular office commuter, home>office>home, that's it. It was hard to find friends who could come along for rides on weekends. As I grew up with biking, I started exploring Delhi on my own on weekends. Gradually I was addicted to biking and I began to learn more about the machine, its components and functions. Few months later I couldn't wait for every coming weekend to go for a ride. Now I had friends to go along with me and we started exploring outside Delhi also. My Apache served me well and I have no complaints at all with it. Even after 50,000 kms it is smooth as it was on the first day.
After riding it for more than a year, I planned to upgrade myself with little more power. I started checking every motoring website accessible to me. It was MotorBeam who responded to me first, thanks Faisal! I would suggest everyone to take an advice from their team before going for any automobile purchase. They won't only advice with automobile's specifications, but also will advice you with your financial situation which suits you best. They'll even give tips on how to maintain your bike. After his suggestions and little more research I bought a KTM Duke 200.
Everyone knows it's a fantastic bike, so not much about it. I would like to thank KTM for their rides where I met few more friends who share the same passion for riding. As my circle grew more and strong we had more frequent rides.
Buying RX135 – One more year passed by and I joined college for my post-graduation in Jabalpur, unfortunately I had to leave both my bikes back in Delhi only. I was looking up for a second hand bike here as biking was part of my life now. One of my fantasies was to have a classic bike with a long history. In Jabalpur, there are lots of Yamaha RX100 and RX135 in good condition. People are still obsessed with it; most of them are well maintained here. I started hunting one for myself. Finally after a few weeks of hunt, I did get one. But there was some confusion between RX100 and RX135, as side panels were different on each side, RX100 on the left and RX135 on the right. It was only when the seller of the bike gave me the RC on which it was written that it's an RX135 I got assured.
The condition of the bike was not that good, though engine was doing well, other parts were not that great. Shifting from 1st to 2nd was little untidy, rest it was fine. Meter console was not original RX135; it was borrowed from the Yamaha Crux, but doesn't matter as I was going to replace it as it was not working; only part which was functional in the entire console was the neutral light. Front tyre had worn out and the rubber was so fragile that it was very easy to chip off with hand. Fuel tank was all scratched and paint was coming off it. Good parts were the seat, felt like newly bought, definitely more comfortable than the Duke. Rear tyre was also new from Ceat and all the grooves were there. Brakes were not that good but were serving my purpose. After inspecting the bike for around an hour and a half we started bargaining and ended up paying Rs. 14,000/- for it. I was happy with the deal.
After doing some paper work, the bike was in my hands. It was dark on the way back and I was shocked to know that headlights were very dim. Flashlight from my phone was working better than it. Also the left side indicator stopped working. I called the seller regarding the problems and he assured me to get the bike next day to him so that he could fix the problems.
Next day I went back to him and the conclusion was to change the battery. We did some replacements like front tyre, battery, accelerator cable, brake shoes and headlamp. All of this cost me another Rs. 1850/-, that was it when I felt that I'm paying more for this bike. Now it was running smooth and performing well.
Trip to Amarkantak – One of my friends had been there once and he showed me pictures and hence I was tempted to ride my newly owned bike. We started planning for it a month ago, who all will come, how many motorcycles we have and all. Finally it was done on Dushera holiday. Few of our friends were unfortunate to not be on this trip as we couldn't arrange for more bikes and at the end it was the RX135 and Avenger with us.
We filled up our tanks one day ago before we started our trip. Inspected our bikes thoroughly if there are any changes required or not. Everything was clear, we were good to go. We started early in the morning at 5:30 AM and it was too cold out there. We were not having proper riding kit as other friends here were not frequent riders; also helmet which I was assured by one of my friend that he'll avail me wasn't able to arrange one for me. I was little tensed, but knowing that we are not going to rev hard I agreed to be without helmet. We did carry necessary equipment, medical kit and spare parts.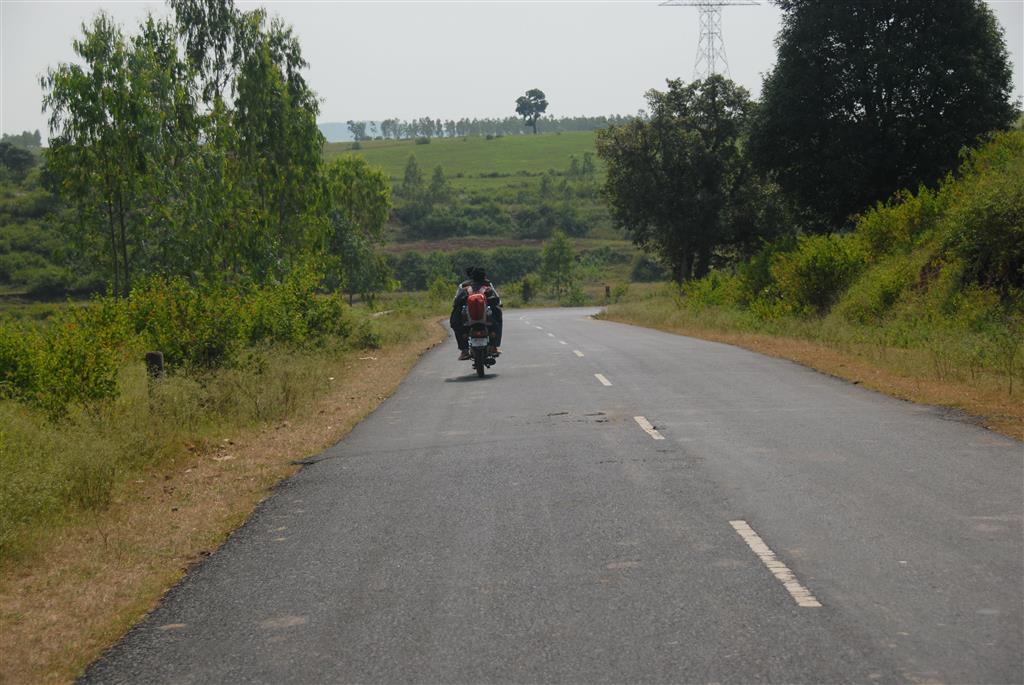 Our aim was to get out of the city as quick as possible to avoid traffic in the morning hours. Within a few hours we were out of the city. We maintained an average speed of 50-60 km/hr. I didn't want to open up the throttle to the maximum as I wasn't sure about the bike, whether it could handle it or not. It was heating up very quickly, and after each stop it was difficult to kick start it again. We poured water on it to keep it cool. At this optimum speed we were going very fine.
Trust me, the roadside chaiwalas have one of the best teas anywhere in India. We had our first tea after 100 kms on board. It was very pleasing to ride on such roads with scenic beauty all around. Roads were without any potholes, good job by the government. Villagers on the way have their own way of making speed breakers, they have kept broken pieces of pots, which might be no problem for four wheelers, but for bikes you have to be careful while going over it.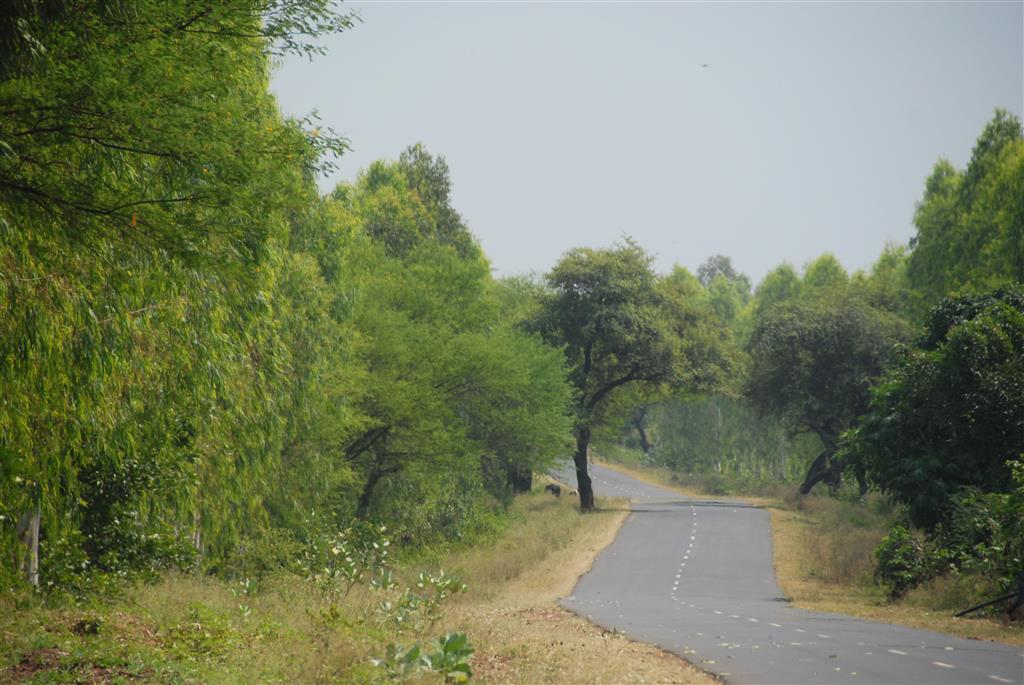 We faced straight line stretches, up and down roller coaster rides and twisties. On few occasions going down was so easy, and also as I was running out of fuel I killed the engine and let my bike roll on its own. It was doing 30 km/hr, which is decent enough to go on blind corners. We halted for refueling and breakfast, on an average we found out that it was giving 32 km/l, comparative to the Duke. On straight line we tried to test the limit of the bike and revved little harder as if the bike was asking me to do it. It was doing 80 km/hr, but when we stopped for natures call, I found the engine oil leaking. On inspection I found that screws had loosened up. We took out our toolkit and did the needful and were again good to go. On a particular section we had trees planted on either sides of roads and we felt like going through a tunnel because of the shades, it was 3 PM but we didn't feel it. It was very well planned.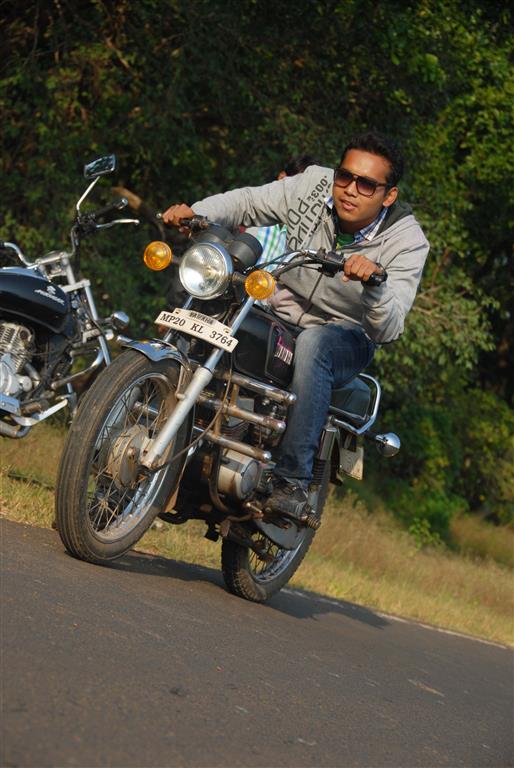 After that we started going up on hills covered with pine trees and monkeys on the road. It was difficult for the bike to pull up continuously on corners with a pillion. However slowly on 2nd and 3rd gear we managed to cover the entire region. After that climb we reached Amarkantak, the source of holy river Narmada. It is covered with hills from all the directions. Natural beauty can't be described in words, best way is to feel it. We looked up for lodges there and ended up staying in an ashram. It was in a very poor condition but considering that we had to stay for a night, we managed somehow.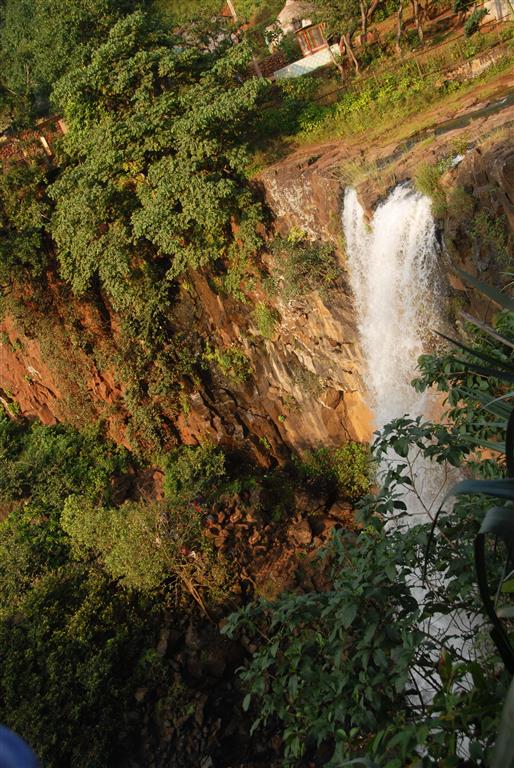 Next morning we again left early, it was foggy in the morning. On the way back the downhill roads were uphill and vice versa. So wherever I struggled to climb up, it was now easy and I could enjoy nature rather than focusing on keeping the bike in control and vice versa. We stopped more often while returning for photo sessions as it was so beautiful all around we couldn't resist. MP tourism too asks citizens to see the heart of India and it truly is beautiful.
Overall I was happy with my bike, it did well. Maybe after a few more changes I could check its potential. Few damages to the bike after this trip were the exhaust pipe leaking and the loosened handle. For those who are interested in numbers, it did 0-60 km/hr in 9 seconds and 11 seconds with a pillion. Overall fuel economy was 34 km/l.
– Surjeesh Laishram