15 Least Selling Cars Of November 2016
Among the 15 least selling cars of November 2016, a few of them are expected to get discontinued in 2017.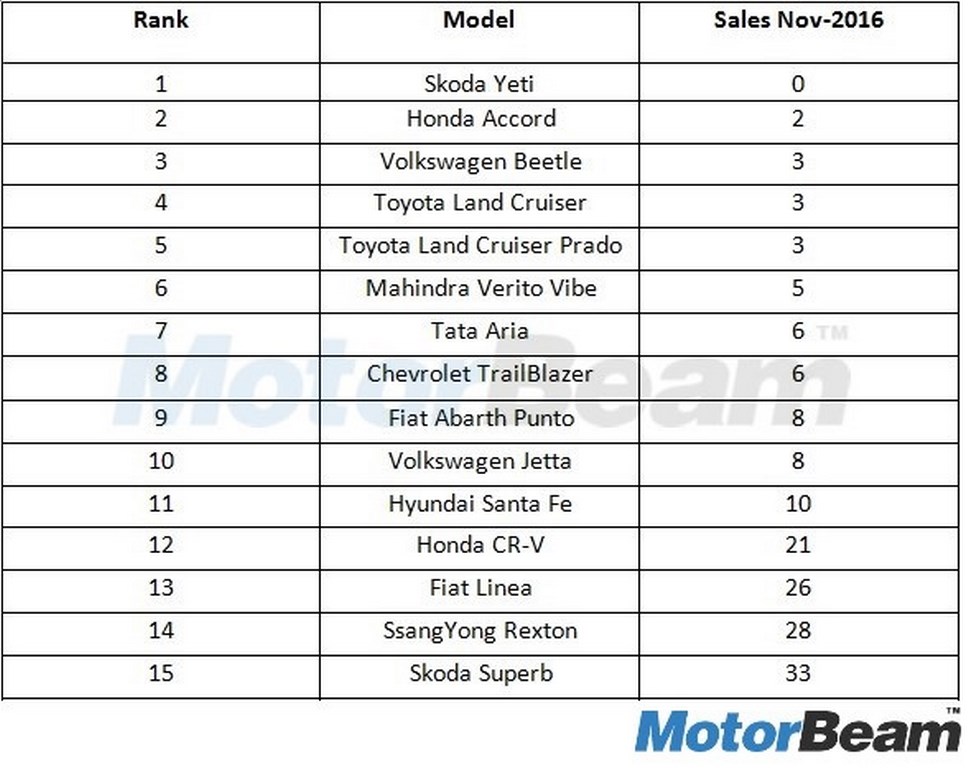 As 2016 is about to end, the year has shown too many ups and downs to the automobile industry in India. Some of the companies made an unbelievable trail of profit with their offerings while the same brands had to see disappointment as well with some of the vehicles. With the varying hike and degradation in the sales of cars, we have 15 names which were the least sold as per the reports of November 2016.
Starting with the big sized offerings, the Land Cruiser was the one to acquire the lowest sales from the Toyota fleet that fetched sales of only 3 units and the Land Cruiser Prado with sales of 3 units as well. Then, the Tata Aria continued to lose its retail and the counting came down to 6 units being sold, it is being replaced by the Hexa next month. The list was further extended by the Chevrolet TrailBlazer with 6 units, Hyundai Santa Fe with 10 units, Honda CR-V with 21 units and the Skoda Yeti did not acquire even a single buyer. Finally, the SsangYong Rexton sold by Mahindra fetched sales of only 28 units.
Further moving to the sedan segment, the Mahindra Verito Vibe had clocked sales of only 5 units. However, the Honda Accord getting only 2 customers was a bit of a shock for the Japanese automaker. A few more good looking sedans are present in the list such as the Volkswagen Jetta, Fiat Linea and Skoda Superb that were able to get booked by only 8, 26 and 33 customers respectively.
Coming to hatchbacks, there are very few with just two cars making it to the list. The value for money performance hatchback from Fiat, the Abarth Punto was purchased by only 8 customers while the Volkswagen Bettle fetched sales of only 3 units.
Least Selling Cars Of November 2016
– Sales of some of the SUVs have degraded by a huge number
– Only 2 units of the Honda Accord were sold in November
– Many of the vehicles among the list could get discontinued