2012 Audi TT Launched At Rs. 48.36 Lakhs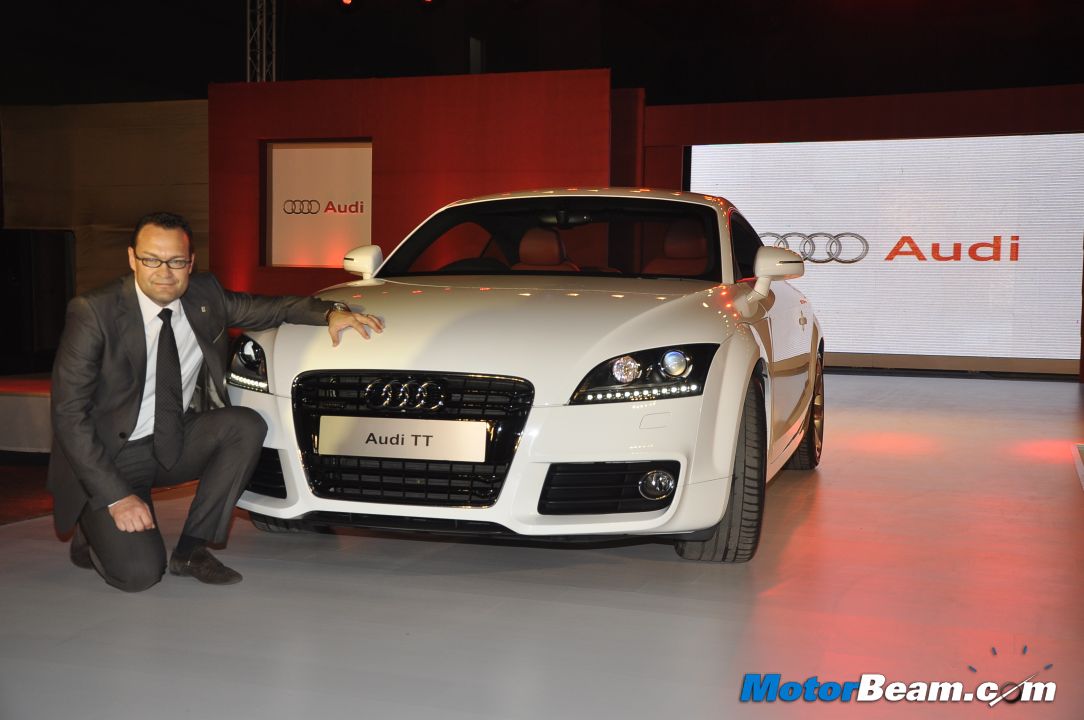 Audi India has launched its latest generation TT in India. The German automaker is bringing the Audi TT Coupe as a completely built unit (CBU), pricing the sports car at Rs. 48.36 lakhs (ex-showroom, Delhi). The pricing could have been more aggressive but now CBUs attract an additional 15% duty (total custom duty of 75%). The Volkswagen owned automaker is not planning to sell many units of the Audi TT in India, as the sports car segment sees an annual sale of just 250 units. Thus the company expects to sell around 30 TT cars in India in 2012, while the target for 2013 is to sell atleast 50 units of the TT. Deliveries of the Audi TT will start in June.
The 2012 Audi TT is powered by a 2.0-litre TFSI (Turbocharged Fuel Stratified Injection) engine that produces 211 PS of peak power between 4300 – 6000 RPM and 350 Nm of peak torque between 1600 – 4000 RPM. The engine has received many engine of the year awards and is mated to a 6-speed S-tronic automatic gearbox. Power is delivered via the quattro permanent all-wheel drive system and helps the Audi TT to reach 100 km/h in 5.6 seconds and onto a top speed of 250 km/h. This turbocharged unit is quite frugal too returning 10 km/l in real driving conditions. The Audi TT is quite light too, weighing just 1240 kgs, thanks to the liberal use of light weight aluminum and Audi's Space Frame Technology.
The second generation Audi TT is also available with a 2.0-litre TDI engine internationally. This engine is not offered in the Indian market and could be an excellent option for performance enthusiasts who love the torque rush offered by diesel engines. The 2.0-litre TDI engine produces 170 PS pf power and 350 Nm of torque. Audi also plans to get the convertible version to India, as well as the top of the line R S in the near future. The full form of TT is Tourist Trophy, coming from the British Isle of Man TT.
[youtube:http://www.youtube.com/watch?v=lr0bREmjvT4 540 375]