Ford Commences EcoSport Testing In India
The Ford EcoSport is undoubtedly the hottest product to be unveiled at the 2012 Auto Expo. Infact the interest from prospective customers is so high that Ford even went ahead and showcased the vehicle at a couple of malls in Mumbai. Roads in Brazil are full of Ford EcoSport prototypes, with heavy camouflage to protect what lies beneath. But finally a non-camouflaged production ready version of the EcoSport has been caught. The said vehicle was caught in Brazil and seems to be going for a crash test. The production version loses the LED head lamps, while the rest of the styling is the same as the concept version showcased earlier. This means that Ford showcased an almost production ready concept of the EcoSport at the Auto Expo.
Brazil is not the only market where the Ford EcoSport will be produced as India is also an important production country for this compact SUV. Now Ford has commenced testing of the EcoSport in India, which was spotted with heavy camouflage, sporting TN plates in Chennai. The EcoSport is based on the B2E compact car platform, which has high torsonal regidity and weight saving. Underneath this compact SUV, one will find bits and pieces from the Fiesta, while the recent interior shots have revealed the dashboard parts to be lifted directly out of the B-Max and Fiesta.
Ford commencing the test of EcoSport on Indian roads only points towards a market launch in the second half of the year. Currently Ford has not revealed details about the diesel engine but the Fiesta's diesel motor is most likely going to do duty on the EcoSport. Further more the company is stressing on the 1.0-litre EcoBoost engine, which is by far the most advanced compact petrol engines in the country. Producing power equivalent to a 1.6-litre engine, the EcoSport's petrol engine will produce a mind boggling 120 PS of power and 170 Nm of torque. With the use of OverBoost technology, an extra 20-30 Nm of torque will be available at full throttle for a few seconds. Ford already has a winner on its hands, with the price being the only factor which is still a mystery.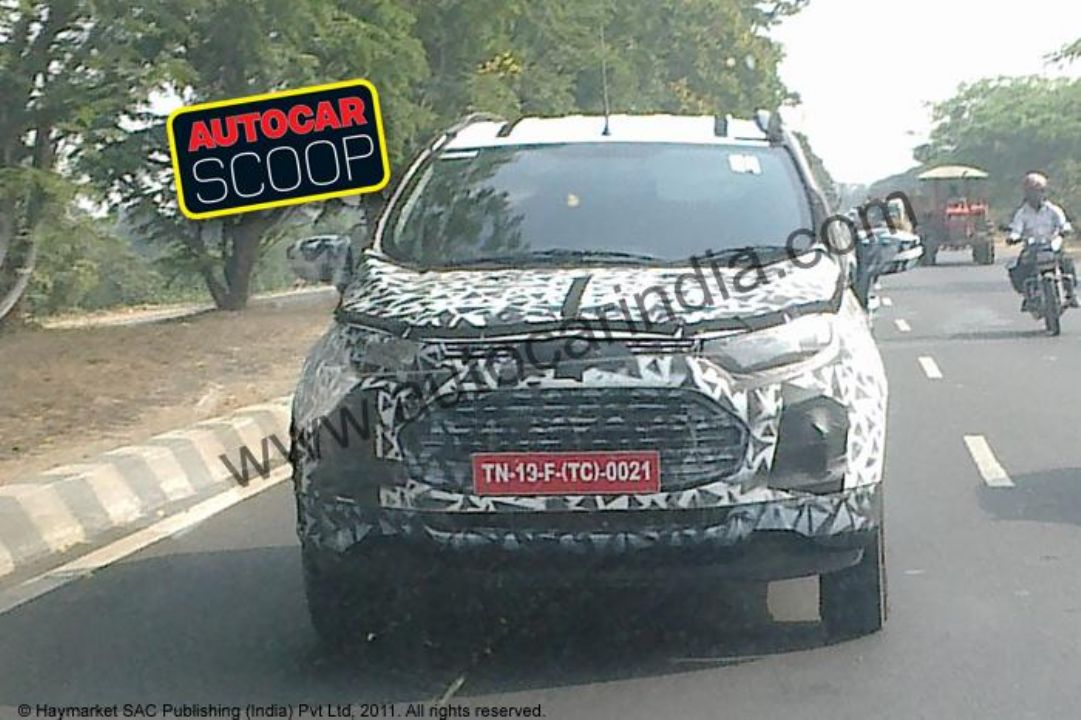 Orange EcoSport Spy Pictures Source – Noticias Automotivas.; Camouflaged EcoSport Spy Pictures Source – Autocar India