2012 Tata Nano Road Test Review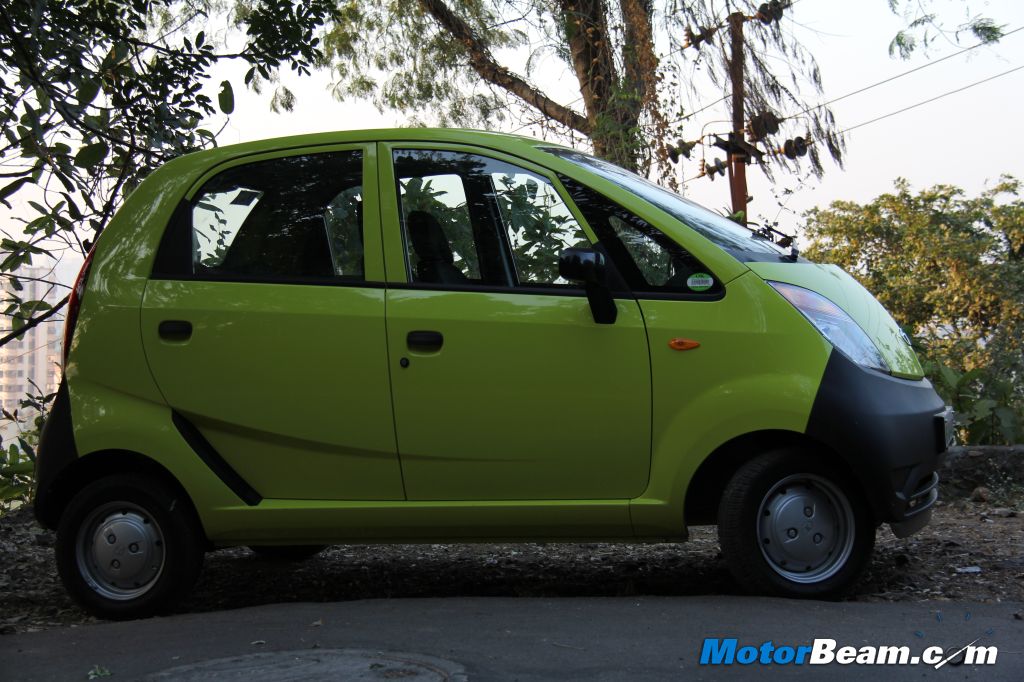 Car tested: 2012 Tata Nano CX
Price OTR Mumbai: Rs. 2,07,218/-
At the times when everybody was speculating about its diesel version, TATA NANO 2012 is the car which arrived as a little surprise to Indian consumers. And when we came to know that TATA is giving added features and improvements at No added cost, then that surprise turned to be a pleasant surprise. Considering history of TATA Motors to listen to customers voice and improve their products, reviewing the updated Tata Nano was interesting. TATA did the same thing when Indica failed to meet customer expectation miserably, and come today we are still seeing Indica V2 doing well after 10+ years. This is the fact that half of the huge installed capacity going idle and Nano is flagship model for Tata. Tata Motors can't let the Nano sales decline. After all it's an innovative product developed by bright Indian minds from the house of Tata. We know that there are some added features and technical tweaks under the hood (under the boot we can say). So we'll be focusing mainly on the changes made since the previous version and not on the complete product. The comprehensive review of the original Tata Nano can be read here.
[singlepic id=8342 w=540 h=375 float=center]
Exteriors – To mark its upgrade, Nano presents its new avatar in totally new colors. With Papaya Orange, Neon Rush and Mojito Green being bold and eye catchy, there is one color Serene White which looks fabulous and adds one star to the cuteness of the Tata Nano. As far as front is concerned no change whatsoever. Moving on to side, we get full wheel caps only on the LX. One useful feature we observed was passenger side wing mirror (absent on Std, Black on CX and Body colored on LX). The story with rear is same as the front, with no changes. As speculated (also seen in some spy-shots), the covering flaps on the engines are still not observed. Many have been saying that visible engine at rear gives Nano a rickshaw look, so that covers may come with Nano diesel.
[singlepic id=8338 w=540 h=375 float=center]
Interiors – Once we open the door, we can breathe the freshness inside the car which is absolute welcome. Interiors feels vastly improved in first look because it the color has been changed to beige. Firstly talking about its dashboard, Barley Beige (as Tata names it) is the color in LX. It adds feeling of space in already spacious Nano and also gives little up-market feel as compared to cars seated one level above in terms of pricing. Cheaper versions get Medium Graphite (same as old Nano) and Ebony Black (dark black) dash in Std and CX versions respectively. Then comes the center console which is now in Silver color in metallic texture (Std gets Ebony Black and CX gets Silver Dust finish). Gear knob now looks good in silver and also feels good to hold. All-in-all, total front portion seems to be worked upon to improve its 'Feel Good' factor. Plastic quality is still the same, no such improvement on that front.
[singlepic id=8331 w=540 h=375 float=center]
Seats are the next thing which also got the beige treatment and now comes in fabric instead of Vinyl (Std. Dual tone Vinyl and CX Premium Black Fabric). Fabric quality is average, but feels better. In order to improve the comfort of Front seats, contours of cushioning have changed. Now thick pads of cushions are provided with good contouring for your back and under thigh support. But under thigh support is not good enough for any 6 feet + tall person. Head rests are adjustable, but with very little up and down travel. Reclining angle for front seats is slightly bigger, which was limited in old version. Rear seats have also improved, with added pads of cushions at back and underneath. Some improvement in under thigh support here as well. So overall seat area has seen quite a lot of rework done.
[singlepic id=8341 w=540 h=375 float=center]
On doors you'll find fabric combined with vinyl, of which fabric color is same as seat color. Door pockets also now come in useful size. The Nano, we tested, was having fabric pockets just below the dashboard on side walls which can hold some light stuff inside. Cost effective storage space created there. Engine noise inside the cabin is partly reduced. So after all these, we can say that interiors get complete refreshment so as to please the one who will own it "The Common Indian Man".
[singlepic id=8317 w=540 h=375 float=center]
Ride, Handling and Braking – Remarkable thing to notice on the new Nano is Anti Roll bar on the front wheels. The biggest problem with the original Nano was its steering, which felt heavy at slow speeds. Little attention has also been paid to the suspension, and the steering now feels noticeably lighter, but still requires some effort when at low speeds. Power steering would be an excellent thing for the Nano, but would lead to increase in costs. The Nano's smallest turning circle makes it really easy in crowded city traffic. Stability has improved too and the Nano does not feel out of control at 100 kmph. Noticeable difference is observed here.
The brakes are similar as before, the overall feel is not so predictable. Brake really hard at speed and the Nano might not just stop in line. For the city, the brakes are adequate though. The handling of the Nano is very good. The rear-wheel drive helps in having some fun. But over push the Nano and it loses control quite easily. The low weight does not give it much grip when cornering hard over uneven road. The Nano goes airborne with ease.
[singlepic id=8339 w=540 h=375 float=center]
Performance – Tata has tweaked the Nano's 624cc engine to make it more fuel-efficient as well as to slightly increase power output.
Parameter

Nano 2012

Nano (OLD)

Engine :624 cc, 2 cylinder, MPFI, Petrol

Power Output

38 PS @ 5500 rpm

35 PS @ 5250 rpm

Torque

51 N-m

48 N-m

Fuel Efficiency (per ARAI)

25.4 kmpl

23.6 kmpl
In-spite of all improved figures of power on paper, It does not translate into driving in reality. In terms of driving, it is almost identical to old counterpart. These changes might have made Nano a 1 or 2 seconds quicker but it is very hard to notice. At last we are not at all expecting Nano to be rocket, as it is a meant to roam in city traffic. Gearing has been tweaked a bit, 3rd and 4th gear is now little taller. Power is adequate for city driving and you have to constantly work the gears to keep ahead. The Nano does reach its top speed 105 kmph, and the engine check light switches on.
[singlepic id=8319 w=540 h=375 float=center]
One factor which was criticized the most in old Nano was its engine noise resembling to an auto rickshaw. So this area is also not left untouched by Tata. They say some modification has been done in ports to change noise, but whatever may be the reason, at start-up and idle, the 2012 Nano sounds smooth and silent. But as I revved it hard it gave the same old exhaust note. Please don't get confused if speeding (!) Nano passes by you. Very little improvement observed on this front.
[singlepic id=8333 w=540 h=375 float=center]
Conclusion – Listening to the voice of common man of India, Tata Motors did some commendable changes in their Nano. With very good changes inside the car, marginally improved power, nicely improved handling and suspension and eye-catching colors, the 2012 Tata Nano is a welcome upgrade. But Nano LX taking major changes, CX changing few and Std gets almost none. Best of all, the features in the new Nano is that you get all of this stuff at the same old price. Being Indian we'll be happy if we can buy new and improved things at old price. While the Nano Diesel is still in the pipe line, this upgrade will keep the Nano buzz in market alive. The 2012 Nano is a very good car to commute in City for your day to day routine work, but now with improved feel good factor and good value for money.
Whats Cool
* Easy to maneuver in traffic
* Peppy engine
* Price
* Space
* Fuel efficiency
Whats Not So Cool
* Absence of a real boot
* Center mounted instrument cluster not easy to view
* No glove box
[singlepic id=8327 w=540 h=375 float=center]
2012 Tata Nano Specifications
* Engine: 624cc, 2 cylinder, MPFI (BS IV Complaint)
* Power: 38 PS @ 5500 RPM
* Torque: 51 Nm @ 3000 RPM
* Transmission: 4 speed manual
* Top Speed: 105 kmph
* 0-100kmph: 27.50 seconds (est)
* Fuel Consumption: 20 kmpl (City), 24 kmpl (highway)
* Fuel Type: Petrol
* Suspension: Independent, Lower Wishbone, McPherson Strut with gas filled dampers and anti-roll bar (Front), Independent, Semi Trailing arm with coil spring & gas filled shock absorbers
(Rear)
* Tires: 135/70/12 (front) and 155/65/12 (rear) Tubeless Radials
* Brakes: Dual circuit, vertical split operated by tandem master cylinder with vacuum booster with 180 mm drums
* Safety: Crumple zones with intrusion resistant doors
2012 Tata Nano Dimensions
* Overall length x width x height: 3099mm X 1495mm X 1652 mm
* Wheelbase: 2230mm
* Ground clearance: 180 mm
* Turning Radius – 4 m
* Fuel Tank Capacity: 15 litres
* Kerb Weight: 615 kgs (CX)