Tata To Export Nano To Brazil & Indonesia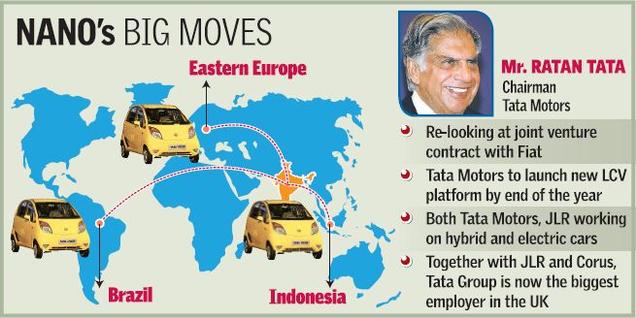 Tata Motors has always been keen on expanding in other countries, the company has successfully been sending vehicles and buses to markets abroad. This time over Tata Motors plans to expand their business in Brazil and Indonesia. The company is now concentrating on exporting the Nano and Ace in markets abroad. Nano is already been exported to our neighboring countries Nepal and Sri Lanka. In recent years Tata Motors has grown a lot in the automobile industry. Once known for their robust Tata Sumo, today Tata has grown to a level where it owns high end car companies like Jaguar and Land Rover.
"We are looking at assembly facility for passenger vehicles in South-East Asia (Indonesia) and some parts of Eastern Europe. We're looking at how to maximise penetration for the Nano and the Ace, We're also looking at Latin America (Brazil). We plan to grow both in India and in other countries," Ratan Tata, Chairman, Tata Sons, said.
Source : The Hindu Business Line