Audi Testing A8 Facelift In Peak Mumbai Traffic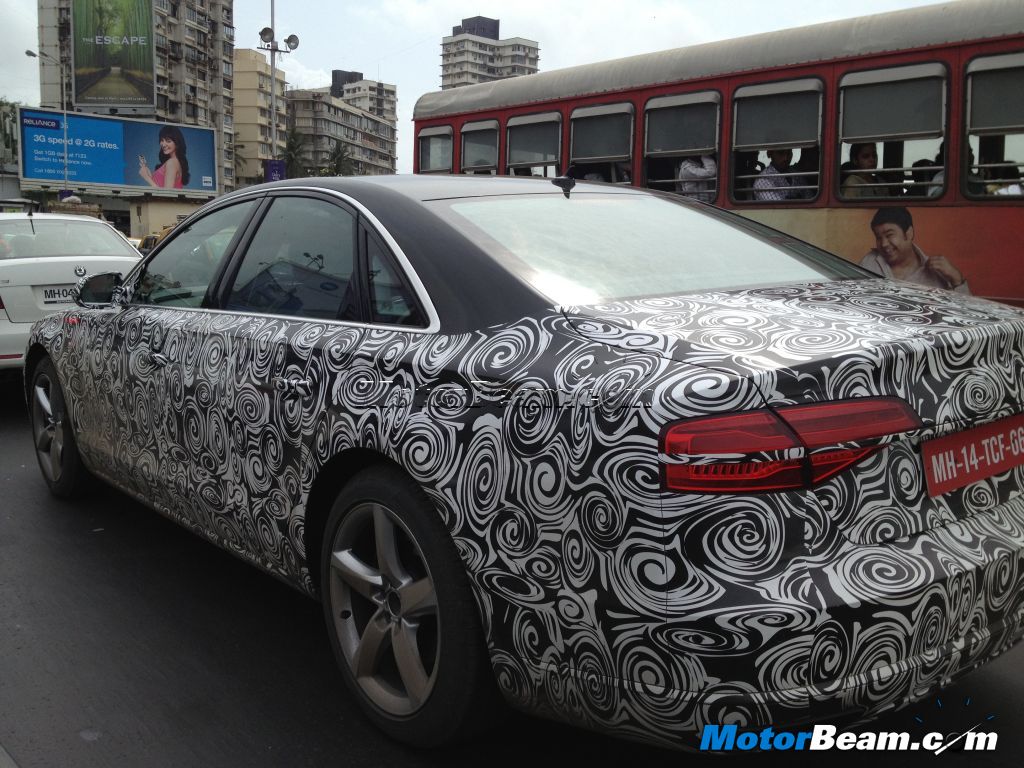 Audi is extensively testing the A8 facelift and the vehicle has already been spied multiple times overseas. The upcoming A8 model is now doing its test rounds in Mumbai and it's not just the outskirts but even peak Mumbai traffic where this camouflaged test mule is raking in the miles. With Mumbai roads being at their worst in the monsoon season, there is no better place to test the ride quality of any vehicle. Audi seems to have found the very right place to fine tune its Mercedes S-Class rival.
The 2014 Audi A8 facelift debuts online on the 21st of August and the German automaker will also unveil the S8 at the same time. The public debut will take place at the 2013 Frankfurt Motor Show. The updated Audi A8 features a host of cosmetic changes with the biggest being the new Matrix headlights. These lights have 25 individual diodes and a camera monitors what's ahead, thereby turning off a few LEDs to prevent blinding effect on oncoming traffic and warning pedestrian in case they are coming too close to the vehicle.
Think of the Matrix headlights as intelligent lights you never have to touch as they automatically dip and light up according to the situation. Sadly though, Audi won't be able to sell the A8 with these lights in the US due to a 1968 regulation wherein both low and high beam lights should be provided in a car. The 2014 Audi A8 has self adjusting lights. The 2014 Mercedes S-Class also does away with bulbs and uses an all LED setup with each headlight having 56 LEDs.
Other changes to the updated Audi A8 include revised bumpers, hood and boot along with minor updates to the interiors to boost the luxury feel even further. The same set of powerful engines will continue to power Audi's flagship vehicle with minor revisions for increased performance and reduced emissions and fuel consumption. The updated Audi A8 will go on sale in India early next year. It will continue to be brought in via the CBU route even though Mercedes-Benz and BMW are locally assembling the S-Class and 7-Series in India respectively. The battle between the updated Audi A8 and all new Mercedes S-Class will be interesting, as the latter has taken the game several notches higher.