2014 Chevrolet Cruze Facelift Test Drive Review
2014 Chevrolet Cruze Review
Car Tested: 2014 Chevrolet Cruze Facelift
Price OTR Mumbai: Rs. 19,86,640/-
The Chevrolet Cruze has super strong mid-range performance that sets your pants on fire
General Motors introduced the Chevrolet Cruze in India in 2009 for replacing the Chevrolet Optra, which did pretty well in its hay days. The Cruze was further appreciated by the Indian audience with its appealing performance and styling. However, some people were not happy with the pronounced turbolag and lethargic 5-speed automatic transmission. Consequently, General Motors updated the Cruze with a new engine and 6-speed transmission in 2012. Now the styling of the Cruze was getting too long in the tooth and here they are with a facelift that comes with some updates. What are the changes you ask? Let's find out.
Exteriors – The changes aren't drastic but people will notice a sharper front profile of the Cruze. The bumper has been revised with big fog lamp housing that gets chrome outlining, looks good. If you compare the dual port grille with the pre-facelift version, you notice that the pattern has been changed from honeycomb to horizontal black slats. On the side profile we appreciate the new sporty alloys with 5 dual-spoke pattern. Now you also get turn indicators neatly integrated on the ORVMs. Not much has changed at the rear apart from the sleeker bumper. The changes make it look a bit fresh but some rivals of the Cruze are better in the styling department. Facelifts are usually mild cosmetic updates but we would have appreciated revised headlamps and tail lamps. No wonder we see so many jazzy aftermarket lights of the Cruze these days.
Interiors – The styling inside the cabin is tastefully done and looks quite premium. The smooth flowing dual tone dashboard makes you feel cocooned in comfort, especially the continual effect from the doors to the centre console with beige trim. The V shaped centre console has superb quality metal finish with a sweet texture that grabs your attention. The Chevrolet Camaro inspired steering unit looks premium and feels good to hold as well. The instrument cluster is funky and easy to read with MID in the middle. The engine start/stop button was rectangular earlier, which is now circular. The media system screen size was decent at the time of its launch in 2009 but now with the growing competition they could have featured a bigger screen with more drama inside. The layout of all the controls in the screen is quite simple and Bluetooth is a big task to find.
For once we thought there's no Bluetooth because there are no controls on the steering and even a button on the console that says Phone. For Bluetooth settings you have to press the CD/AUX button and then Menu. Audio quality is just average. Automatic climate control is quite effective. The quality, fit and finish is good at most of the places but we found some places with poor plastics like the door map pocket is flimsy and bends. Sunroof controls are easy, one touch for ventilation and one touch for open/close otherwise in some cars you keep fiddling with a single control. Instead of grab handle, you get sunglass holder on the driver's side which is neat. Storage space is good inside the cabin, you've got ample size of bottle holders, coin holders and cup holders. Front arm rest has USB and AUX inputs and some storage space, you've also got storage space on top of the dash.
Front seats are very comfortable with good back and thigh support but headroom is lacking for tall passengers both at the front and rear. Driver has electrically adjustable seat that has good flexibility. Rear seat experience is bad considering it's a D-segment sedan, poor legroom, headroom and no rear AC vents. Even the lower segment Honda City is better when it comes to rear seat comfort. The boot space isn't class leading either at 450 litres. All the doors now get request sensor buttons that open/close the doors while the key is in your pocket, earlier it was available only for the front doors.
Performance – As we mentioned earlier, the Chevrolet Cruze initially came with a 1991cc diesel engine with SOHC layout that had deep turbolag and was not so fuel efficient because of its air intake positioning. Now the new 1998cc engine has been strengthened with DOHC, better fueling and more power and torque at lower RPMs. The 2.0-litre oil burner churns out an impressive 164 BHP of power at 3800 RPM and 360 Nm of torque at 2000 RPM. This results in mind numbing straight line performance. The turbo lag is there but it's negotiable now and post 1800 RPM you won't be able to keep track of the tachometer because post that there is a strong mid-range pushback to enjoy. The engine revs smoothly with good power delivery across the rev range but mid-range is where the explosive performance comes out, no wonder they say that the Cruze has a bomb of an engine.
360 Nm of torque at 2000 RPM will shove you back with its strong surge
NVH are kept well under control and the refined diesel engine only makes noise while redlining. Mated to the engine is a 6-speed manual and updated automatic transmission. The automatic gearbox is better now with drivable ratios and relatively quicker shifts but still hesitates in downshifting sometimes. In the manual mode, the good thing is that it doesn't upshift on its own until you do so. Redline comes up at 4800 RPM. The first gear maxes at 50 km/hr, while second will see you doing 78 km/hr and third at 120 km/hr. The engine also stays calm at around 1500 RPM while doing 100 km/hr in sixth gear. The name is Cruze and how can we forget about cruise control, it works pretty well and the steering mounted toggle switch for increasing/decreasing speed is a boon on Indian highways. They claim 17.3 km/l fuel efficiency for the Cruze manual version but expect it to be around 10-11 in real world conditions.
Driving Dynamics – We feel the ride quality has been improved slightly because the earlier version felt quite stiff at low speeds on bumps and potholes. The ride is extremely pliant and cushioned on smooth tarmac and undulations but it still tends to unsettle on big potholes. High speed stability is confident inspiring and straight-line performance is appreciated but the ride and handling don't complement each other. While the suspension feels planted, the handling isn't surefooted. The feedback from the steering despite being hydraulic is inconsistent, it's heavy at low speeds and as the car picks up pace, it doesn't respond as precisely as we would have liked. Braking performance is good, as the vehicle sheds speed quick with the ABS kicking in at the right time but there is a tad bit of nervousness with braking hard. Otherwise brake pedal bite is crisp.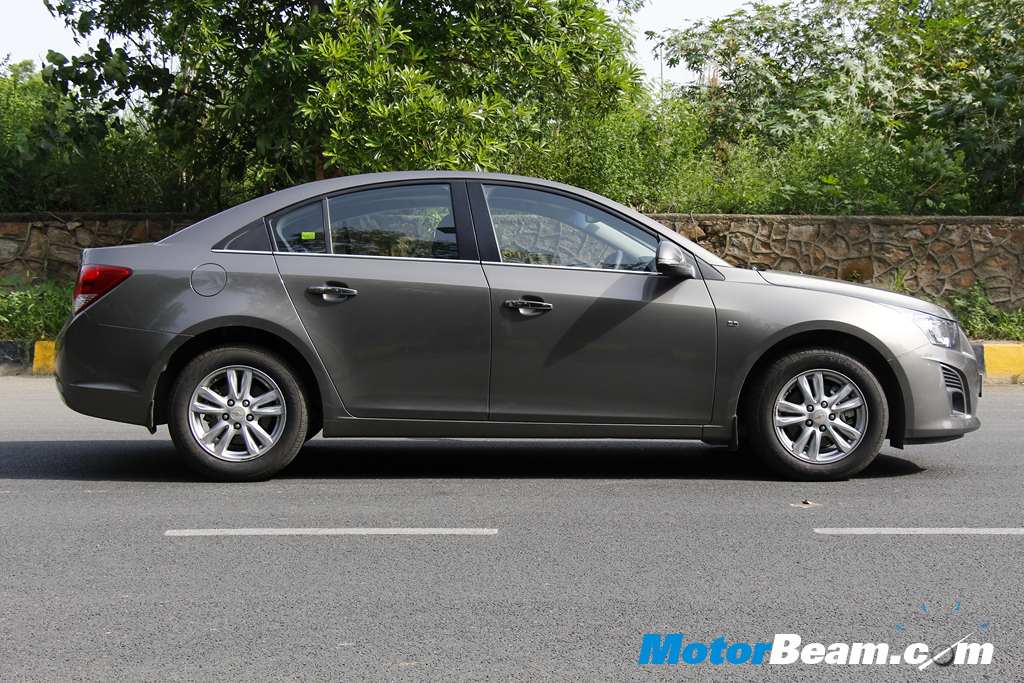 Safety – The Chevrolet Cruze gets a fantastic 5-star Euro NCAP crash test safety rating, where it scores 96 percent for adult occupant safety, 84 percent for child, 34 percent for pedestrian and 71 percent for safety assist. General Motors offers the Chevrolet Cruze in India with four airbags, dual front and side, unlike the Toyota Corolla Altis that only comes with dual airbags. ABS is standard on all variants so the Cruze is a good car in terms of safety equipment.
Verdict – The D-segment is currently having around six sedans in the Indian market and all cars are potent in their own way. When we talk about the Chevrolet Cruze, it has some special characteristics indeed but look at it with a holistic view considering the price that touches Rs. 19.86 lakhs (on-road Mumbai) for the range topping LTZ AT variant, it seems a bit overpriced. At this price point, customers expect good rear seat comfort which is quite lacking in the Cruze, top notch quality and a better sounding and convenient media system. However, the Cruze is the most powerful car in its segment and that explosive mid-range is quite addictive. The engine is tractable, city drivability has improved a lot and the automatic gearbox is very convenient in peak traffic hours. You can sign the cheque if you like the cracking straight-line diesel performance with good comfort.
The Chevrolet Cruze facelift doesn't get much cosmetic changes but what it gets is better drivability and impressive overall performance. The power and torque figures on paper are quite impressive, albeit the Czech opponent is second to none when it comes to performance.
What's Cool
* Interior Styling
* Exhilarating Mid-range
* Ride Quality
What's Not So Cool
* Minimal Cosmetic Changes
* Rear Seat Comfort
* Price
Alternatives: Skoda Octavia, Hyundai Elantra, Volkswagen Jetta, Toyota Corolla Altis, Renault Fluence