Nissan Introduces All New X-Trail At Frankfurt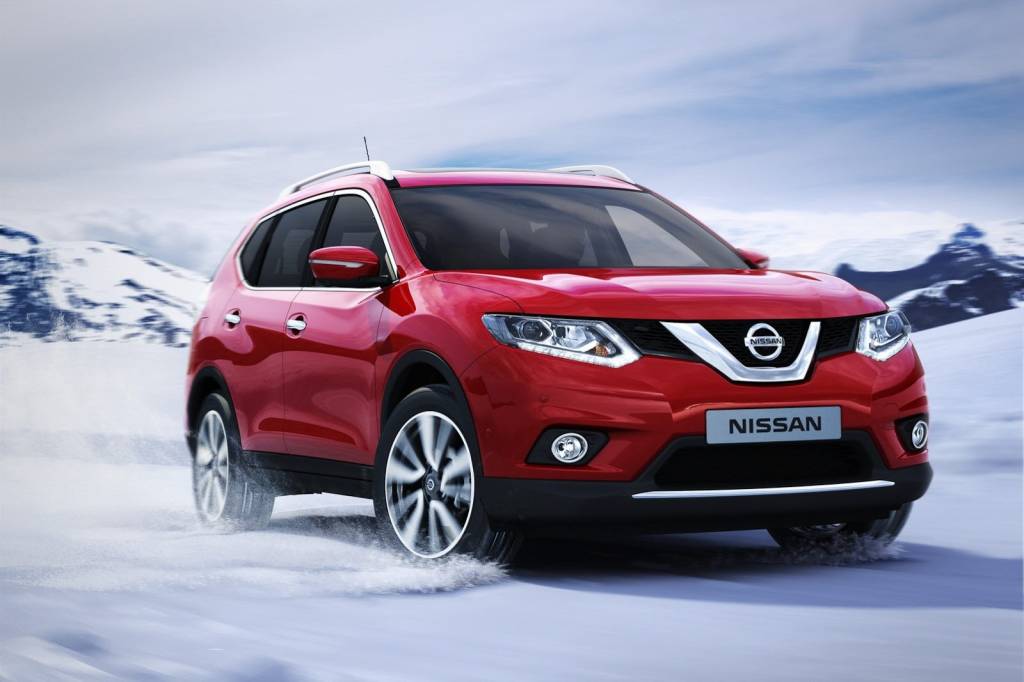 Nissan has unveiled the third generation X-Trail at the 2013 Frankfurt Motor Show that looks world apart compared to the outgoing model. The all new X-Trail looks mature and exhibits a new design tone. The front end features a stylish angular design boasting a prominent chrome finished V on the front grille. The headlamps are sleek, housing LED daytime running lamps and the bumper has a sporty lower end. Notice the fog lamps housing, which will remind you of those used in the Terrano. On the side, the new Nissan X-Trail showcases a broad stance and smooth styling. The new X-Trail comes with 19-inch stylish alloy wheels.
The rear profile of the Nissan X-Trail follows the muscular treatment, having a large set of tail lamps and a curvy tailgate tipped with a chunky spoiler. On the inside, the new Nissan X-Trail comes with optional trim colours of black and beige. It comes with a 5-seater layout as standard but the automaker is offering an additional third row of seats for 7-seat layout. The cabin space has considerably improved thanks to the increased wheelbase. The middle row of seats can be reclined as well as slide for flexibility. The car comes with NissanConnect infotainment system with a 7-inch touch screen.
Engine details of the new Nissan X-Trail will be revealed near the launch of the SUV that goes on sale in Europe next year. The SUV comes with a 4-wheel drive system, which Nissan likes to call as ALL Mode 4x4i. It is controlled via a rotary switch placed on the centre console which has choice between three modes – 2-wheel drive, auto mode and lock mode. The lock mode offers permanent four-wheel drive, while the auto mode monitors and adapts according to the throttle input, engine speed and torque. Other equipments include Active Ride Control, Active Engine Brake and Active Trace Control for stability and comfort.
The new X-Trail is sold in the USA as the Rogue. The vehicle will hit Indian shores soon after its global launch as Nissan currently uses the CBU route to bring the SUV to India. Expect the Japanese firm to bring the X-Trail to the 2014 Auto Expo. The current X-Trail is doing poor numbers but the new model is sure to attract lots of buyers with its high quality design and interiors. When we spoke to a Nissan representative earlier this year, he blamed the lack of 7-seats as the main culprit for the X-Trail's dismal sales in our country. With the new model coming with third row seating, the X-Trail should take off and become a close competitor to the Toyota Fortuner, the current segment leader.
[flickr size="center" float="medium"]http://www.flickr.com/photos/motorbeam/9718101720/[/flickr]
[flickr size="center" float="medium"]http://www.flickr.com/photos/motorbeam/9718102762/[/flickr]
[flickr size="center" float="medium"]http://www.flickr.com/photos/motorbeam/9714869863/[/flickr]
[flickr size="center" float="medium"]http://www.flickr.com/photos/motorbeam/9718102820/[/flickr]
[flickr size="center" float="medium"]http://www.flickr.com/photos/motorbeam/9714870973/[/flickr]
[flickr size="center" float="medium"]http://www.flickr.com/photos/motorbeam/9718102888/[/flickr]
[flickr size="center" float="medium"]http://www.flickr.com/photos/motorbeam/9714871361/[/flickr]
[flickr size="center" float="medium"]http://www.flickr.com/photos/motorbeam/9714870491/[/flickr]
[flickr size="center" float="medium"]http://www.flickr.com/photos/motorbeam/9718102322/[/flickr]
[flickr size="center" float="medium"]http://www.flickr.com/photos/motorbeam/9714870215/[/flickr]
[flickr size="center" float="medium"]http://www.flickr.com/photos/motorbeam/9718102086/[/flickr]
[flickr size="center" float="medium"]http://www.flickr.com/photos/motorbeam/9718101924/[/flickr]
[flickr size="center" float="medium"]http://www.flickr.com/photos/motorbeam/9718103266/[/flickr]
[flickr size="center" float="medium"]http://www.flickr.com/photos/motorbeam/9714871447/[/flickr]