2014 TVS Jupiter Long Term Review
TVS Jupiter Long Term Review
Bike Tested: TVS Jupiter
Kms Done: 1535 kms
Test Started at: 2765 kms
Test Concluded at: 4300 kms
Fuel Cost: Rs. 1280/-
Liters: 19.6
Mileage: 48 km/l (Combined), 46.6 km/l (City), 54 km/l (Highway)
The TVS Jupiter has shaken and stirred the 110cc scooter segment with its qualities.
TVS has always been known for making scooters. Let it be the iconic Scooty, which is female friendly and remains a top choice for women in Tier-II and rural markets. Time flies by and technology takes a leap. TVS changed the scooter idea by introducing the unisex Wego and made it an excellent package. To repeat the success and take their scooters even higher, late last year the Jupiter was introduced. The Jupiter has been the scooter of the year at MotorBeam because of the value for money quotient, attention to detail and fantastic ride and handling balance. We even compared the TVS Jupiter to all other 110cc scooters and declared it the winner. This product does not fall short in any single aspect. So to really test this fact, we called the scooter for a longer time to try and find out how it is to live with the TVS Jupiter on a daily basis. Does it impress us with its features? We find out by doing the most number of kms done on any other long term scooter yet.
When it comes to styling, it has a so-called "problem". To the eagle eye it is easily spotted as a Jupiter but if it's the junta which makes decisions hastily as always, they don't seem to notice it because it looks very similar to the Honda Activa, but every panel is very different to the Japanese scooter. LED tail light and curving side body panels are immediately striking. The front with the top mounted headlight and the grab rail are immensely identical to the market leader. It is a good thing if you want to go unnoticed (get the white color, which is a complete sleeper). TVS has done a good job by giving limited colours and shades which are different to any other scooter such as matte grey. Styling is impressive, there is no doubt about that. Big sized 3D badges on side panels, black alloy wheels and suspension bits help it distinguish itself even further. Like the Suzuki, the Jupiter wears a 3D "TVS" badge at the front.
Fit, finish is excellent and material quality is good too. The tell-tale lights remain the same as any other scooter but the addition here is the fuel warning light and Power/Eco modes. Dedicated turn indicator on each side is always a good idea. Switchgear is borrowed from the Wego and has contours for your finger. Red colour start button and yellow for horn is a swell idea. The back-lit instrument cluster is a nice touch, while the font and meter layout is slightly dated. Turn indicators come with a buzzing sound as standard. Seating position is upright and seat is on the softer side. High beam button also has a pass light switch integrated into it, we used it quite often and the design has no flaws whatsoever. We are so addicted to it that we ended up missing this feature on other long term scooters.
Thumb start the engine and it starts with a throaty note. Engine is the same as on the Wego but there are changes to the gearbox and combustion chamber. All of this has made the power delivery linear, the energetic feel of the engine (seen on the Wego) is gone. Low end is just about adequate while mid range offers excellent punch and on the highway you just need to twist the wrist and it pulls strongly post 50 km/hr. Producing 8 BHP and 8 Nm of torque with a kerb weight of 104 kgs, the Jupiter has a good power to weight ratio. The mill is very smooth and refined all day long even though full throttle inputs were used for the entire highway journey. The scooter easily does 90 km/hr and if given a long endless stretch of road, it ends up doing 95 km/hr. Despite full throttle on the highway, it managed to obtain 43.3 km/l mileage. In other conditions, the Jupiter returns 46 km/l in bumper-to-bumper city traffic while 48.5 km/l when doing city and highway riding. Pure highway economy is around 54 km/l which is quite near to what TVS claims. The worst mileage we came across was 40.4 km/l with full throttle inputs during spirited riding in the city and on the highway.
Dynamically too, the TVS Jupiter does not fail and that's one of the major points where it eats its brownie very proudly. This scooter is nippy and agile in the city like any other scooter. Low to medium speed sweepers and corners are taken well and high-speed dynamics and stability is excellent too. It rides so maturely over broken roads without losing its composure whether at low or high speeds, we are just left surprised every single time. Brakes are also excellent on this Indian scooter. Front brakes are good but not excellent as always. However, the rear brake does most of the job.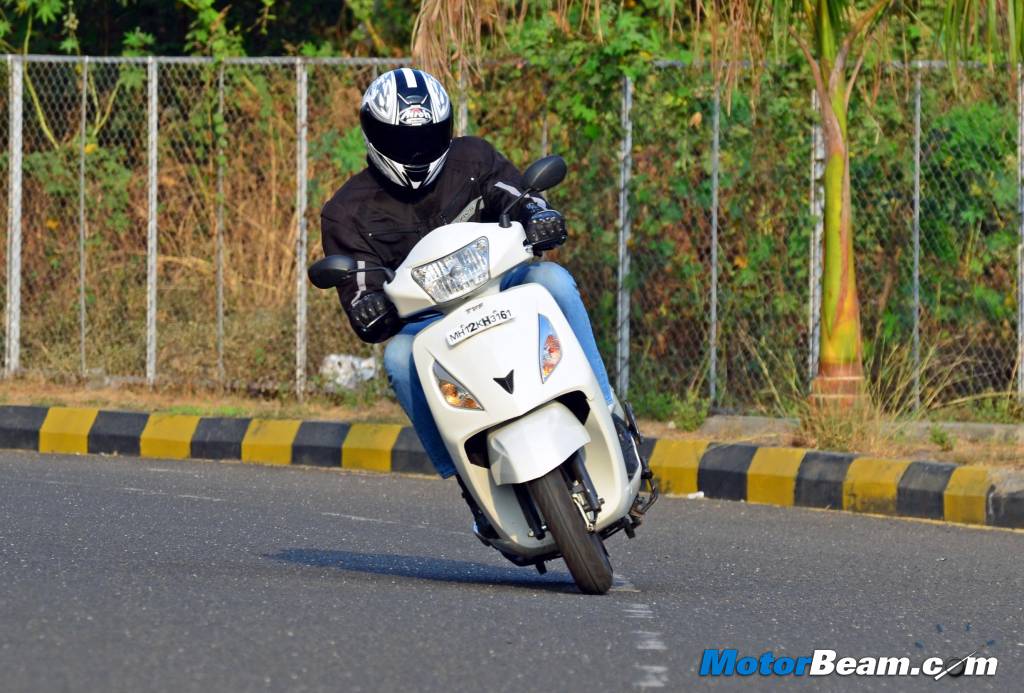 Power and Eco modes help a lot in achieving high economy numbers. However, they can be disturbing and annoying with the constant flickering at some point but you get used to it because concentrating on the road is far more important than anything else. These modes are calculated on throttle inputs rather than speed sensitivity, which is the reason why they flicker. Another cool feature is that power mode constantly keeps blinking if you are stationed at a red light for more then 20 seconds with the engine left on. Like we said, these modes are extremely helpful and to make them go away, you need to follow their way. Pilot lamps help every time during twilight. External fuel filler cap is the best part as it just needs a twist to the left and you are done, no need to get up from the seat. However, it is a slight stretch. Shutter lock is as always very useful and keeps your scooter protected in those unsafe parking lots and localities.
The fuel gauge is well calibrated. The headlight has a wide and long throw. Illumination is excellent and sparkly with the new clear lens. Horn sounds good and is loud enough too. The under seat storage looks like the deepest in the segment and can store a full-face helmet easily. The hook placed below the seat is pretty much useless if you want to carry big bags. However, there is a hook below the handlebar for bigger bags and you can use the lower hook for small bags (usually plastic bags). Fuel warning light comes up when you have around 1.5 litres left and the scooter has a range of 40-45 kms on reserve. LED tail light is always a great idea and they illuminate the road very well and warn fellow road users when you are braking.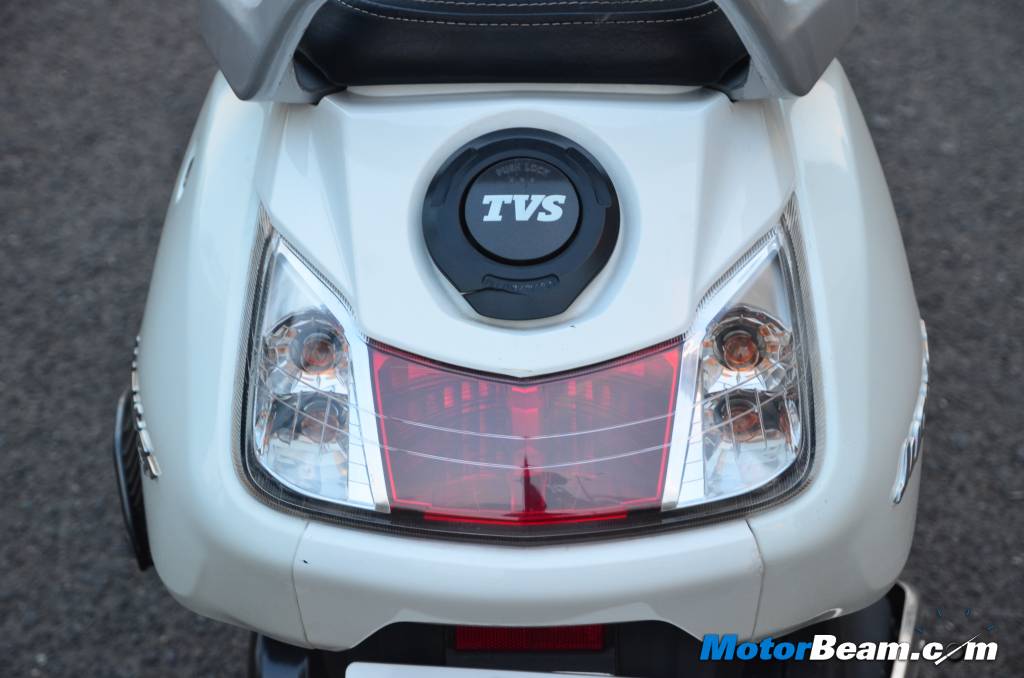 TVS only needs to strengthen their dealership and service network in key cities and towns to enjoy a lot more success. Repeatedly we have tested and reviewed the TVS Jupiter and it just manages to come out as an excellent product. Right from performance to ride and handling, from features to comfort, the TVS Jupiter scores high on everything. Practicality is in abundance and there is hardly anything wrong. The TVS Jupiter was MotorBeam scooter of the year 2013 and there are numerous reasons for it to be the ultimate choice in 110cc segment. A lot of competition is on its way as always. However, right now, this scooter is our pick of the lot.
The Jupiter offers everything you will ever need from a scooter. Let us not forget that it's a scooter which is extremely easy to ride and comes with a lot of features. Value for money quotient with so many features and TVS quality makes it a no brainer in the segment.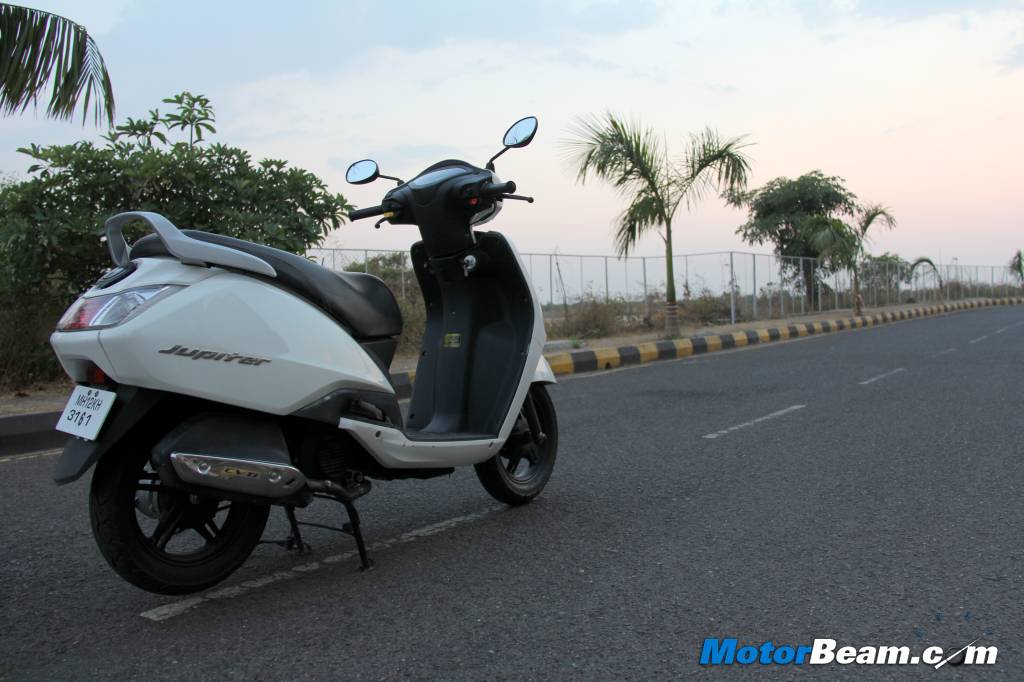 TVS Jupiter Cost Of Service
* Paid Service – Rs. 280/-
* Engine Oil – Rs. 270/-
* Spark Plug – Rs. 120/-
* Brake Liner – Rs. 170/- (Front and Rear)
* Air Filter – Rs. 150/-
Further Reading –
TVS Jupiter First Ride Review
TVS Jupiter Test Ride Review
TVS Jupiter Video Review
TVS Jupiter vs Yamaha Alpha