2015 Mahindra Royal Escape – Exploring Rajasthan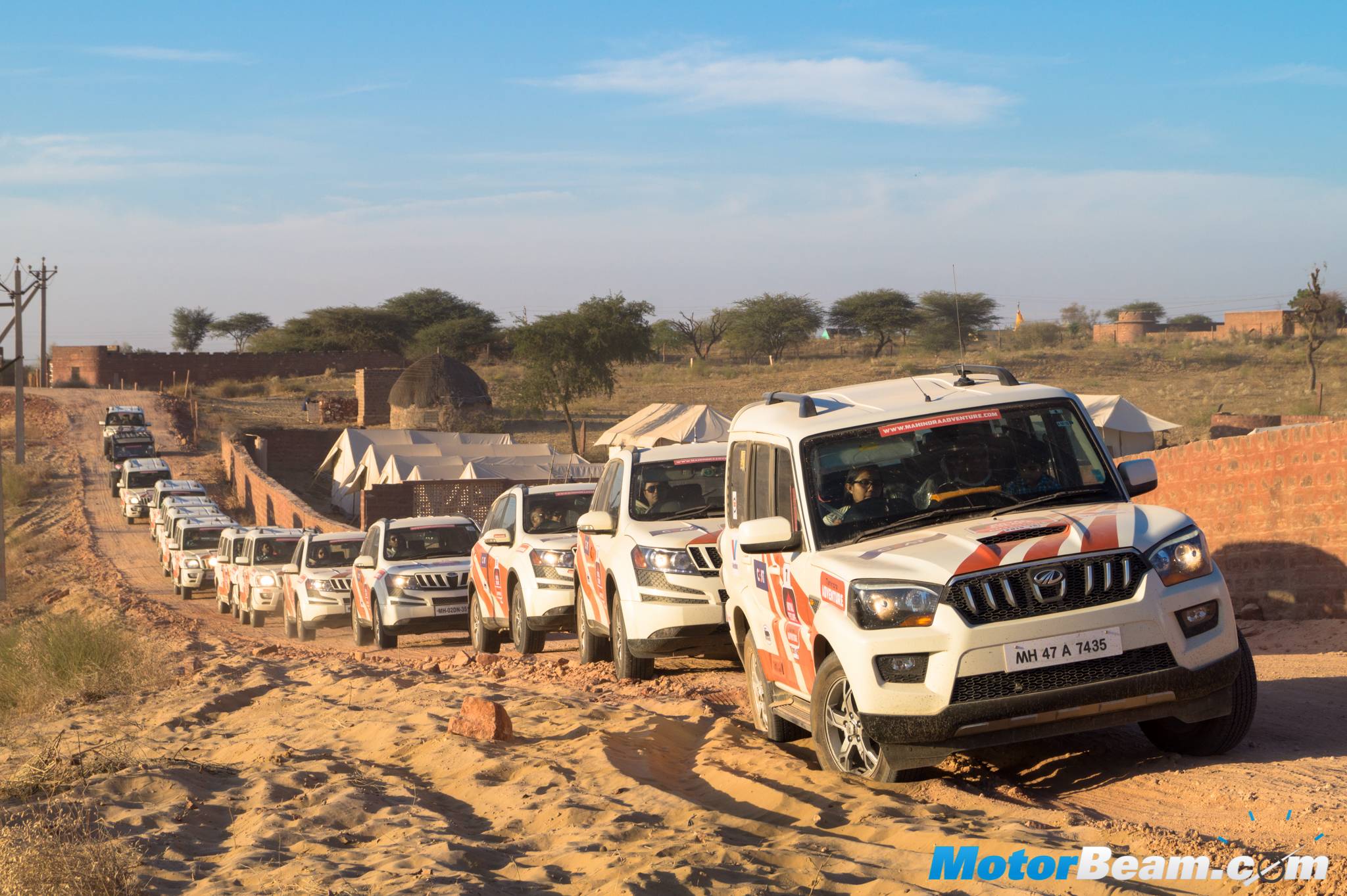 The Royal Escape was indeed a very royal experience with all delicious food and exotic stay locations that Mahindra organised
When was the last time you did something for the first time? As a kid, I used to hate going out of town without my family. In fact, I used to throw tantrums if I had to go to stay at a friend or a relative's place overnight. Then destiny got me to a day when I became a motoring journalist and frequent travels became a part and parcel of my life. When I came to know about the Mahindra Royal Escape, I knew I had to go for it. Was I really interested in checking out Rajasthan? Well, not really. But what I wanted to do was escape from the mundane city life and do something royal, whilst enjoying some hardcore driving on a variety of roads. And so it was the 26th December when I landed at Delhi airport, leaving aside all the stress and looking forward to what was going to be an exciting trip. Maybe, a trip to remember for lifetime!
So it was a chilly morning when I landed in Delhi and as I quickly grabbed a bite at the airport, my cabbie frantically called me asking me my whereabouts. Dumped my luggage in the boot and got a quick nap in the car while he tackled the traffic on NH8 to make way to Hyatt Regency, located at Manesar, Gurgaon. The Royal Escape is organised by Mahindra Adventure in association with Xtreme Sports Organization (XSO) which is led by Mr. Raj Kapoor who is a very well-known name in the Indian motorsport industry. Raj and his team have a lot of experience in organising motorsport events and that we got to know throughout the course of the Royal Escape too.
A total of 30 cars in the convoy meant we got a lot of curious glances from passer-bys on the roads
All participants and media guys were handed over their welcome kits which included a couple of t-shirts, a jacket, some XSO badges, ID cards and of course the keys to their vehicles. Parked in the gleaming backyard of Hyatt were 30 Mahindra cars, most of them being Scorpios (old as well as new) while there were a bunch of XUVs and Thars thrown in too. There were also a couple of Getaways which were carrying a lot of spare parts with them. We all proceeded towards our respective vehicles and few minutes later I found myself in the driver's seat of an almost new Scorpio 4×4 driving at the fag end of the convoy proceeding towards the hotel podium for a ceremonial flag-off event. We all then parked our cars back and the rest of the day, the agenda was to chill and relax and also get to know other participants. Mahindra kept a small event in the evening where each one of us came on the stage and introduced ourselves. Soon, the lights were off since the next day was supposed to be quite a long one!
Day 1 – The weather was cold and the day looked bright. Cocooned inside the comfort and insulation of the hotel were a bunch of like-minded people having breakfast and exchanging notes on how they were excited for the day that lied ahead. We were supposed to roll out from the hotel at 7.30 AM sharp. Every car had a walkie-talkie in it so that the lead car could give us instructions. The cars were numbered from Adventure 01 to Adventure 20, apart from the 3 media cars, 1 lead car, 1 float car, 1 sweep car and a bunch of service vehicles. There was also an Advance vehicle which stayed ahead of the convoy by a gap of 2-3 hours and reached the destinations before us to make sure all the arrangements were made properly.
We were given clear instructions to drive in a single file and no overtaking was to be done. Everyone was supposed to be belted up by default and we were told to listen to the conversations happening in the walkie-talkie properly. The sweep car was at the end of the convoy while the float car kept changing its position all the time, thus keeping a vigil eye on every car and taking care of any issues that cropped up. So, off we were on the NH8, headed from Gurgaon, Haryana to Gajner, Rajasthan. A total distance of 450 kms meant we were going to drive all day long. After clearing the initial mess of the traffic on the NH8, the roads were relatively emptier and all of us gathered pace to proceed towards the city.
If you're a foodie, Rajasthan has a lot of options to offer, both veg and non-veg!
A lunch halt had been planned in advance and that happened at a very exquisite palace in Rajasthan itself. Talking about the palace, well it was huge and nicely decorated. It had a couple of dining halls and a small cafe too. The dining hall itself was quite a revelation. It had royalty stamped all over it. Right from the decor on the walls to the utensils to the chairs and tables, everything had a proper royal charm to it and looked really beautiful. While most people enjoyed non-vegetarian delicacies like Laal Maans, I was pretty much content with my Paneer Lababdar being a vegetarian (yes others from the MotorBeam team will be grinning now).
We headed towards Gajner Palace which is located in Gajner and after a quick freshening up session, we all headed to the lawn for a lavish dinner and some cocktails. All of us also got a chance to interact with fellow participants. Certain repeat participants were also sharing their experiences of other Mahindra adventures that they have been a part off. The weather in Gajner was nice and chilly and after the dinner was over, the lights went off since everyone was quite tired.
Day 2 – Today we were heading from Gajner to Osian which is known for its famous sand dunes. The town is 300 kms away from Gajner and a late start was scheduled from Gajner. Everyone got up at ease, had a quick breakfast and stroll around the palace and off we were in the parking lot by 10.30 AM for a briefing session. Time and again it was emphasised that we drive in an orderly manner and all of us were also told to keep our headlights switched on throughout the trip. This ensures better visibility to other highway users.
The route from Gajner to Osian was pretty much an empty highway with barren land all around. We did stop for a couple of photo ops on the way. A lunch was scheduled at a resort on the way and just outside the resort was a large and empty ground. When you have an empty ground and some rear-wheel drive cars with you, what does that mean? Yes! Some of us decided to have some fun with our machines and it also made a good sight for all the kids who had come for the trip. We reached Osian by evening and the route leading to our camp site required us to drive in 4H mode.
All of us got instructions and were told what do 4H and 4L mean. The guys driving XUV500s were explained how to switch on the AWD mode. The path leading to the camp site was narrow and we were told to keep momentum while climbing across the hills. We reached the camping place soon and it was a basic but nicely set up area with large tents over a sprawling location. The luggage was unloaded and we were back in the cars, heading to the dunes for a party.
Staying at a basic camp site is quite fun, especially when the weather is so good
The route to the dunes again involved some driving in 4H and 4L mode. There was a moment when the convoy got divided into two parts with my car leading the second convoy. We managed to take a wrong turn and ended up going in the other direction for quite a few kms. After a lot of discussions with locals of the village and of course on the walkie talkie, we did manage to find our way out and also reached our destination way before the other convoy which actually took the correct route. Now that's some adventure, eh? There was a nice party in the cool dessert and each one of us had a gala time there.
Day 3 – After a quick breakfast at the Osian camping site itself, we got into our cars and headed back to the same dunes where we went the previous night. No, there was no early morning party and we were heading there for some hardcore dune bashing. I first got into the driver's seat of our Scorpio 4×4 and really got a chance to push the car through its paces here. The SUV impressed with its off-roading abilities and the 2.2-litre engine made sure we had enough power on tap to keep us going. The most important aspect of dune bashing was to maintain our momentum. We drove in 4L mode in 2nd and 3rd gear mostly with constant throttle inputs and the vehicle didn't fail to impress.
Then I got behind the wheel of the Thar CRDe and after a thorough dune bashing session concluded that it is the better car over these terrains. All you need to do is keep the vehicle in its power band and don't halt on inclines. While I managed to get away without getting any of the car's stuck in the sand, there were a couple of instances where cars did get stuck. Mahindra had some recovery cars with them which were fitted with winches and their experienced driver's got out all the stuck vehicles in no time.
After the dune bashing session, we headed back to the camp site where we got fresh, packed our bags and headed for lunch. The lunch was a simple affair but the delicacies were quite tasty. Once everyone was done, it was time to hit the road again and head to Jaisalmer. The distance was around 240 kms which included a blend of a state highway and a national highway. The journey was pretty much uneventful and we hit the city by 8 PM. In Jaisalmer too, we were supposed to stay at a camping site which was located far inside the city. The weather was super awesome and a nice party with some lip-smacking food and drinks followed near the camp fire. The fact that there was no mobile network there was an added bonus.
Day 4 – The fourth day of our fantastic journey was quite chilled out. We all got up late, had a nice breakfast at the camping site where we were staying, i.e. Le Royale, and went site seeing. I being an adventurous guy wanted to check out the nearby Kuldhara village which is said to be haunted. We were quite curious to check out what is so haunted about the village and all our curiousness died out the moment we entered the village. It was nothing but a mere tourist spot cashing in on the rumour of it being haunted. I don't know how true or false the story is, but what I know is the fact that locals were having a gala time entertaining tourists with their versions of the story.
The Pokhran Palace has an excellent piece of art, amazing food on offer too
Anyway, the convoy gathered at 1 PM at the starting of the Jaisalmer-Jodhpur highway and we had to cover a distance of almost 300 kms. The convoy got going nicely and we stopped for a very sumptuous lunch at the magnificent Pokhran Palace. The Palace looks really wonderful and is well-decorated with flowers. The entire view is quite mesmerising and the food that was served was also quite delicious. In fact, even on day 3 we had stopped for a bit at the same place for a quick evening high tea where we were served some lip-smacking pakodas too. Once everyone was done filling their appetite, we hit the highway again and managed to reach Jodhpur by 8 PM. We were staying at ITC WelcomHotel which is a sprawling property and it kind of felt good to come back to a luxurious hotel again. A dinner buffet was organised in the garden area and the day came to an end.
Day 5 – The last day of 2015. We were supposed to head to Pushkar and since the distance was just 200 kms, we left a bit late from our hotel where we had a very filling brunch. We hit the highway and the Scorpio performed very well without breaking a sweat. Our car was loaded with 4 people, a lot of luggage and some camera equipment. The SUV easily cruised at speeds well above 100 km/hr and even returned an excellent fuel efficiency of 15 km/l. Apart from the slightly bumpy ride, there were no complaints about the Scorpio and in fact it is quite fun to drive too, giving out an unadulterated driving feel.
We reached Pushkar by late evening and checked in to Ananta Resorts and Spa which is an exotic property with cottages spread across the area. The entire locale is thoroughly beautiful and the weather was just perfect. My room was on the first floor of the cottage and the balcony opened out to a scenic view of the hills outside. Since it was the 31st, there was an awesome party organised at the resort itself where everyone made merry till the wee hours.
Day 6 – Being the first day of the year 2016, there was a nice champagne and brunch organised at Ananta and we all had a leisure time till the afternoon, post which we started rolling towards Manesar, Gurgaon. The distance was long and we were going to spend a major portion of the day driving. The route starting from Pushkar had a lot of ghats and hilly stretches. In fact, we encountered ghats only on the last day of the journey.
It was a terrific experience being part of this days long Mahindra expedition
We crossed Jaipur city on our way to Gurgaon and even encountered a lot of traffic on the NH8. We finally entered Haryana late in the evening and then each one of the participants started sharing their experiences using the walkie talkie. It was good to note that everyone had a blast on this expedition. We soon hit Hyatt Regency in Manesar, the same place where started off 6 days back. What was the difference between 26th December 2015 and 1st January 2016? The difference was that all of had experienced a wonderful road trip, got a chance to know and interact with a lot of people coming from different parts of the country and also learnt that there are times in life when you just have to switch off your gadgets, forget your worries and embark on a journey that you would cherish for a lifetime.
All in all, a splendid initiative by Mahindra Adventure for organising such activities and also kudos to the entire team of XSO who made sure the entire road trip was completed successfully without any fuss or major issues.