2015 Volvo XC90 Test Drive Review
Volvo XC90 Review
Car Tested: 2015 Volvo XC90 Inscription
Price OTR Mumbai: Rs. 79.42 – 95.52 lakhs
Volvo has come up with a classy SUV that ticks all the right boxes, it packs in amazing levels of comfort
Volvo. A name that is quite known amongst Indians. However, there's just one difference. Most of our countrymen are synonymous with the long Volvo bus that takes them from point A to point B in utmost luxury. Over here, we are taking about another Volvo. A Volvo that looks very beautiful. A Volvo that is immensely luxurious. A Volvo that oozes of style inside out. A Volvo that is so safe that the company guarantees you won't die in it. We are talking about the new Volvo XC90. A vehicle that is more than a leap ahead of its previous generation, a vehicle that we were quite kicked to drive and a vehicle that made us feel very special for the entire duration that we drove it.
Motor Quest: Volvo entered the Indian market a long time back but only now have buyers in the luxury segment started to recognise the brand. The first generation XC90 came out 13 years ago and the new one has completely evolved. The earlier model was quite fun to drive and it had the signature feeling that many European cars have. The XC90 is the only SUV in its segment to be brought down as a CBU while all others are CKD models and yet the Volvo is cheaper than most of its rivals!
Exteriors – When you see the 2015 Volvo XC90 for the first time in person, time comes to a halt. You enjoy staring at the car just like you're enjoying a bar of dark chocolate. The earlier XC90 looked like a tough SUV and its face had the go-anywhere expression. The new XC90 might have got a little softer but it still looks big and tough. The front of the SUV has a large chrome grille with a big Volvo logo placed in the centre. The headlights look very distinct and the LED strip that passes across the centre of the headlamp unit looks classy as well as attention-grabbing. Just below the headlamp unit is a washer on either side of the car. The lower part of the front bumper gets unique chrome garnishes while the fog lamps sit at the very bottom end of the bumper.
The new XC90 might remind one of the first gen Q7 from certain angles
After getting a taste of the front design of the SUV, we slowly moved towards the side profile and noticed how the Swedish manufacturer has managed to keep the profile very neat and yet beautiful. There is not even a single line or crease and everything seems very smoothly flowing. The glass area is pretty big and the 20-inch multi-spoke alloys add a lot of character to the car without going overboard. There is a small side-step below the doors which is just the right size – not big and not small. The window trim gets chrome surrounds and the quality looks quite top-notch. The B and C pillars are finished in a shade of glossy black.
Move to the rear of the car and you see that the simplistic design philosophy has been carried over here too. The tail lamps carry a similar design that is used on other Volvos and they come across as a huge change compared to other tail lamp units that we're so used to seeing on other vehicles in the same segment. The lower part of the rear bumper gets a thin reflector strip on either side and below that is a nice rectangle exhaust opening, again one on either side. The silver skid plate on the rear bumper adds just the right amount of sporty dash that is required on the XC90. The spoiler is quite subtle in nature and the rear wiper looks sleek. The silver roof rails atop the SUV look premium. All in all, the XC90 is very good to look at and since Volvo cars are not very common on our roads, this one invites a lot of glances and smiles from people on the road, many of them stop in their steps to just look at the car for a while.
Interiors – When you have a vehicle that costs so much, you always expect the interiors to be top-notch when it comes to quality, ease of use, comfort, features and so on. The Volvo XC90 fails to disappoint in this matter. The insides of this big SUV are very luxurious. Carrying forward the neat design of the exteriors, the interiors too have a simple yet premium layout. The dashboard has a pleasant design and one thing that we noticed at the very beginning is that the centre console has hardly any buttons. Usually, there are tons of buttons on luxury vehicles that make everything feel very complicated, but the XC90 has minimal use of buttons. Some people might argue that a touchscreen robs away the feel that actual buttons provide, and I too felt the same initially. However, the large infotainment system with its 9-inch screen and Sensus OS is quite a breeze to use.
Volvo has put in lots of attention to detail in the luxurious interiors
The infotainment system has a lot of options for entertainment, navigation, vehicle settings, seat positions, driving modes, etc. that you could just play around with it all day long. The lower part of the screen has the AC controls. Since parking such a huge SUV can be a task, especially in our crowded cities, there is a reverse camera that provides a clear view of the derriere in the display in a crisp manner. It has two options – Park In and Park Out along with three modes – Lines, PAS and Zoom. Talking about the dashboard and other trims, you notice that Volvo has made use of leather and wood in much abundance. There are three leather options to choose from – Black, Blonde and Beige. There is a metal knob that is used to start the car and that part gets a sweet diamond finish.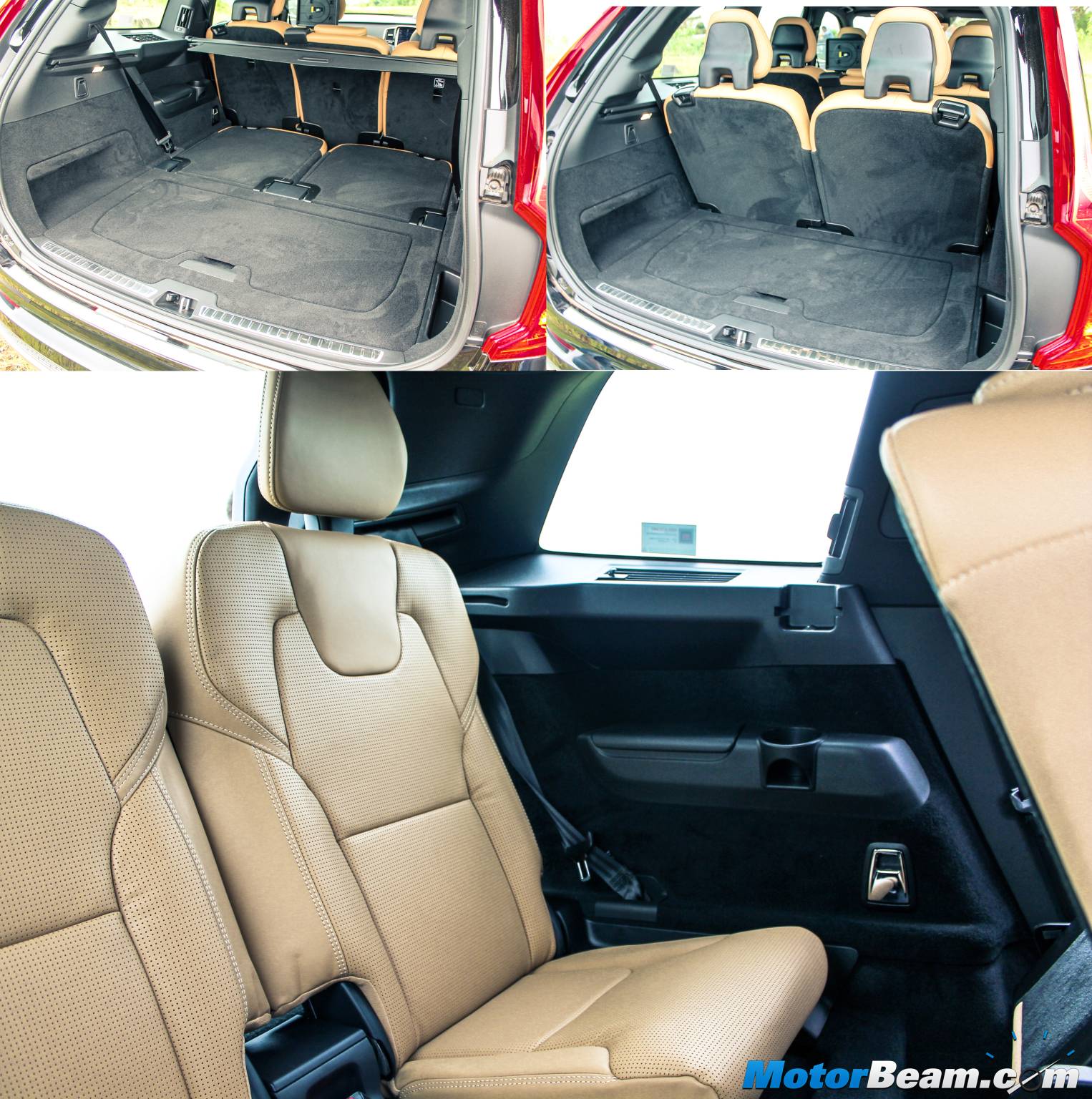 Earlier we mentioned about the large windows and now we mention it again. Thanks to the large glass area and also the huge panoramic sunroof, the cabin feels very airy and has a lot of feel-good factor about it. The driver enjoys great visibility all around. Volvo has taken inputs from orthopaedic doctors for designing the front seats and they are extremely comfortable. The middle row gets reclinable contoured seats. The seats get a cooling as well as a heating function which works well. Space in the middle row is very good and it also boasts of a two-zone climate control system which can be controlled using the touchscreen (there is also a laptop charger). Full-sized adults can sit comfortably at the centre in the middle row but Volvo has also installed a platform for kids which raises the seat when a kid is seating, which is good for safety and also gives the child a better view of outside. The third row seats are large in size and accommodating enough although not for long distances. Boot space is decent with all rows in place and massive when the last row of seats are folded down.
A special mention goes to the Bowers and Wilkins audio system that comes in the Inscription variant. This 19-speaker audio system sounds so awesome that it can easily give you an eargasm. It has a lot of settings to play around with and honestly this is the best car audio system I've ever heard. I would buy the car for this system alone! Volvo has paid a lot of attention to detail. When you unlock the vehicle, the height of the vehicle decreases by a small amount and the car lowers itself to allow you to get inside easily. Once seated and doors closed, the car again raises itself to the normal level. The boot also has a button that allows you to lower the rear portion of the car by 50 mm so that luggage can be put inside easily. The XC90 gets a waterproof key as a spare. It does not have any buttons and can be worn around the neck with the help of the lanyard.
Performance – The Volvo XC90 is available with only one engine option in India. The 2.0-litre, 4-cylinder oil-burner pumps out 225 horses and 470 Nm of twisting force. Having experienced many 2.0-litre engines with similar power figures, I thought I knew what to expect from this engine too, same mediocre performance. Surprisingly, this engine is quite performance-packed and I liked driving the car. It pulls the 2-tonne plus SUV very easily. Sure, the power figures are nothing great, but yet the engine performs very nicely. Power delivery is very linear and the oil-burner belts out punch right from 1400 RPM all the way to 5000 RPM. Torque at the low-end is satisfactory but we would have fancied a little more grunt higher up the rev range.
The XC90 has good power and fuel efficiency, NVH levels are very low
The engine is mated to an 8-speed Aisin automatic transmission which is quite smooth in its gearshifts. One thing that we noticed is that the gearbox tends to become slightly confused at times and it takes a couple of seconds to figure what gear to slot the vehicle in. Even when you go full throttle on the SUV, the transmission takes 1-2 seconds before it downshifts a gear or two, which can get slightly irritating when you are driving fast. There are no paddle-shifters present on the XC90 and neither does it get a Sports mode. However, there is a manual mode available if you feel like extracting the most juice from the car. The XC90 cruises comfortably at 1500 RPM at 100 km/hr in 8th gear.
There are four driving modes to choose from – Eco, Comfort, Off-Road and Dynamic. In Eco and Comfort mode the engine maps are suitable for relaxed driving while the Dynamic mode adds a sporty edge to the car. The Dynamic mode also lowers the car's ground clearance slightly. Shift into Off-Road mode and the vehicle raises itself by 30 mm from 238 mm to 268 mm and activates Hill Descent Control. The XC90 accelerates from standstill to 100 km/hr in approximately 7.8 seconds which is quite decent for a car of this size. The vehicle also gets full time AWD and even though it isn't a true-blue off-roader, it can surely manage rough and uneven terrains without breaking into a sweat. Claimed fuel efficiency for this behemoth is 17.2 km/l and we managed to extract 10-11 km/l which is pretty good considering that the XC90 weighs a lot.
Driving Dynamics – The Volvo XC90 gets an air suspension that does its job pretty well. The SUV has very smooth ride quality and feels comfortable most of times, with the car handling broken pieces of tarmac with ease. The Inscription variant that we drove comes with 20-inch wheels which are not much suited to our uneven roads and hence the car tends to crash in to sharp and prominent potholes with a thud. At cruising speeds however, there are no complaints on the ride. The Momentum variant comes with smaller 19-inch wheels which might just be better suited to our road conditions.
The Volvo XC90 is a very surefooted car and has balanced dynamics
The older XC90 came with a hydraulic steering wheel which offered lots of feel. The new one has a very light steering and gives out predictable handling. Switch to Dynamic mode and the suspension and steering weigh up a bit but again it's not that significant. Body-roll is obviously present but it is not too significant and feels extremely well-controlled. The roll gets even more negated in Dynamic mode. The SUV gets huge 275 section Michelin tubeless tyres which provide immense grip and do their job nicely. The brakes also work excellently and provide good stopping power to this giant SUV.
Safety and After Sales Service – Volvo has loaded the XC90 with a lot of safety features like six airbags, ABS with EBD, ESC, Roll Stability Control, Driver Alert Control, Road Sign Information, Speed Limiter, Safety cage, run-off road protection, Whiplash Injury Protection System, Park Assist Pilot (Optional) and Integrated booster cushion (Optional). The vehicle misses out on side curtain airbags at the rear and that's because the company was able to match rear side impact performance with that of the front-seat area, this was done using passive measures like thicker doors and a stronger C-pillar. Talking about service, at present the Swede company just cannot match the service network of the German trio but the company is slowly and steadily working its way there. Volvo also claims that the XC90 is significantly cheaper to service than its rivals.
Verdict – So after driving the Volvo XC90 extensively, it was time to say goodbye to it. As I sat in our long term Tata Bolt and cranked the engine, I gave one last glance to the XC90 which stood beaming in the Bolt's ORVM. While the SUV isn't a pure driver's car, it really loves cruising and could go on and on the entire day without skipping a beat. There is something special about the XC90's styling that makes you crave for it. Volvo has taken a giant leap with this car and the entire package is too good. The vehicle has style, luxury, comfort, power and a lot of safety. It also feels really exclusive on our roads where Audis, Mercedes and BMWs are plying in abundance. The Momentum variant is cheaper than the Inscription variant by Rs. 15 lakhs and according to us, the former is the one that you should really buy. The Swede automaker has made a terrific product which will make the Germans think hard because the XC90 comes out as a fantastic buy in this segment and it should definitely turn around Volvo's fortunes in India.
The second generation Volvo XC90 is a terrific car and offers a lot of bang for the buck. Buyers are going to love the vehicle for what it offers and the SUV will help Volvo gain a significant amount of market share and presence in all countries where it is sold, including India.
What's Cool
* Looks futuristic, stands out from other SUVs
* Interiors are spacious and loaded to the brim
* Comfortable seats, lots of safety tech on offer
* Audio system is easily the best in class
What's Not So Cool
* Volvo's after-sales network is not as good as competition
* Long waiting period as demand is very high currently
Alternatives: Mercedes GL, Audi Q7, Range Rover Sport, BMW X5
Volvo XC90 Specifications
* Engine: 1969cc, 4-cylinder DOHC, Twin Turbo
* Power: 225 BHP @ 4250 RPM
* Torque: 420 Nm @ 1750 – 2500 RPM
* Transmission: 8-speed Aisin automatic
* 0-100 km/hr: 7.8 seconds
* Top Speed: 230 km/hr
* Fuel Consumption: 17.2 km/l (European cycle)
* Fuel Type: Diesel
* Suspension: Hydraulic Shock Absorbers, Stabiliser Bar, Air Suspension
* Tyres: 275/45/20 (Inscription), 235/55/19 (Momentum)
* Brakes: Ventilated Disc (Front and Rear)
* Safety: Six airbags, ABS with EBD, ESC, Roll Stability Control, Driver Alert Control
Volvo XC90 Dimensions
* Overall length x width x height: 4950 mm X 2008 mm X 1776 mm
* Wheelbase: 2984 mm
* Turning Radius: 5.95-metres
* Ground clearance: 238-268 mm
* Boot Volume: 530 litres
* Fuel Tank Capacity: 71 litres
* Kerb Weight: 2130 kgs
Testers' Note:
"I have always liked Volvo cars but the XC90 makes me love it. While I have driven all its rivals quite recently, it's only the XC90 that connects with one on the emotional level. It's not just another SUV in the segment, it's a car which has been made with a lot of thought and like Volvo says, it's build around people, it shows. Quality, style, performance, space, comfort, etc. are all present and the XC90 stays true to being a fantastic luxury SUV." – Faisal Khan, Editor, MotorBeam.
"While I have driven a lot of Audis and BMWs, this is the first time I drove a Volvo and there was something about the car that instantly made me fall for it. The design is oh-so-sexy, the interiors are a good place to be in and the audio system is mind-blowing. Power delivery is decent and the XC90 isn't a driver's car by any chance. However, the overall package is what it offers and Volvo has a winner on their hands with this one." – Parth Gohil, Road Tester, MotorBeam.
Picture Editing – Sri Manikanta Achanta