2022 Kia Sonet & Seltos Launched, Priced From Rs. 7.15 Lakhs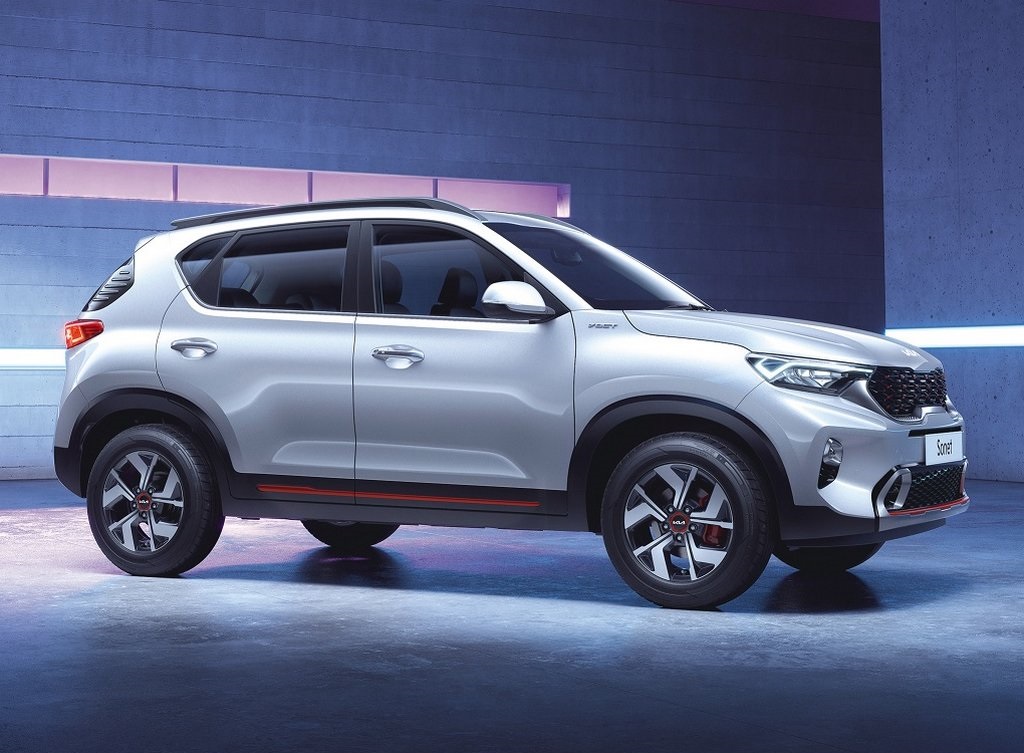 The asking price of the 2022 Kia Seltos starts from Rs. 10.19 lakhs (ex-showroom)
Kia has launched the 2022 Sonet with a base price of Rs. 7.15 lakhs and the 2022 Seltos at Rs. 10.19 lakhs (prices are ex-showroom), today in India.
The refreshed versions of the Tata Nexon rival and the Hyundai Creta rival now come with 4 airbags (dual front and side) as standard and also get a revamped Kia Connect app.
Their colour palette has also grown into accommodate 2 new shades, namely Imperial Blue and Sparkling Silver. Hereon, let us look at the updates each model has received, in detail.
2022 Kia Sonet –
Kia says the model year 2022 (MY22) Sonet will (apart from the above-mentioned updates) come with a 'Highline Tyre Pressure Monitoring System' (Highline TPMS) as standard.
The iMT grades of the compact SUV will come as standard with Electronic Stability Control (ESC), Vehicle Stability Management (VSM), Brake Assist (BA) and Hill Assist Control (HAC).
Further, from the HTX+ variant onward, curtain airbags will be offered as standard fitment. Apart from safety-related changes, the car will also come with more features from select variants.
Customers will now get semi-leatherette seat upholstery from the base variant, while from the HTX grade, the car will feature a 4.2-inch colour instrument display. The 2022 Sonet will also sport design changes to the model's logo.
2022 Kia Seltos –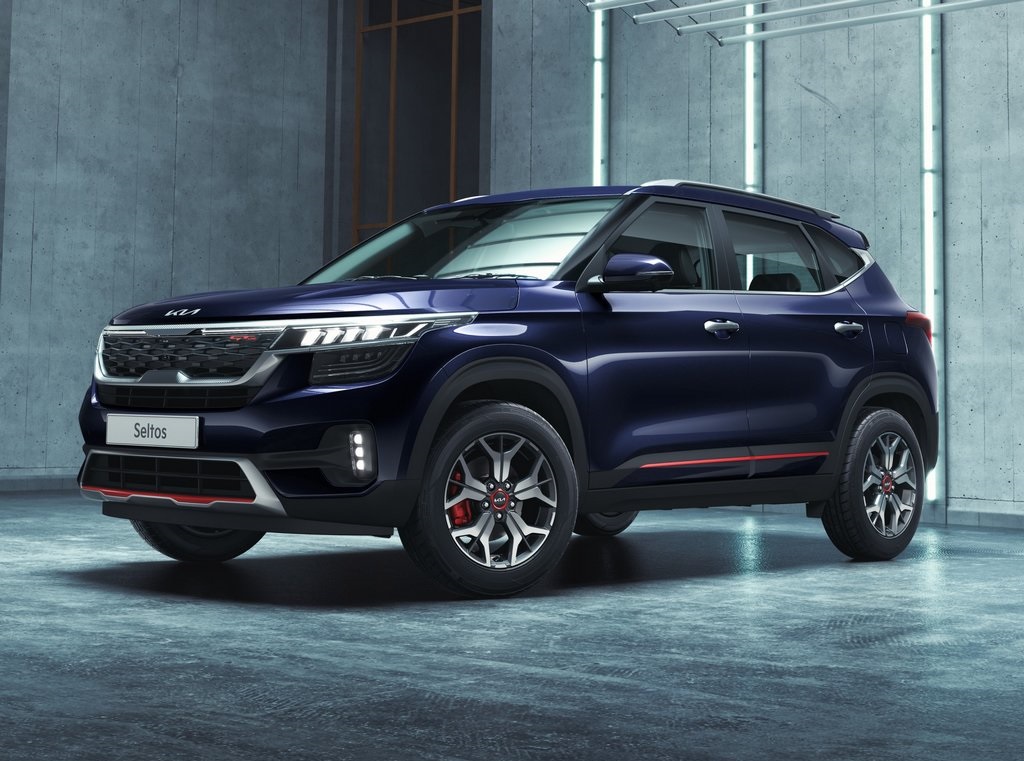 For the updated price, 2022 Kia Seltos will come with standard safety features such as 4 airbags, ESC, VSM, BA, HAC, Highline TPMS and chiefly, disc brakes on all corners.
Moreover, the updated Seltos will come with the 6-speed iMT option for the 1.5-litre diesel engine in HTK+ variant. Also new is the 1.5-litre diesel HTX AT variant. Also, Kia will offer paddle shifters, drive and traction modes in all automatic variants of 2022 Seltos.
Finally, the compact SUV has received some design changes as well. The Seltos logo on the steering wheel, scuff plate and boot lid has been slightly altered, while the X Line variant will get 'X Line' logo embossing on the Indigo Pera seats.
Below is the complete 2022 Kia Sonet price list –
| Variant | Price |
| --- | --- |
| 1.2-litre Petrol HTE 5MT | Rs. 7.15 lakhs |
| 1.2-litre Petrol HTK 5MT | Rs. 8.15 lakhs |
| 1.2-litre Petrol HTK+ 5MT | Rs. 9.05 lakhs |
| 1.0-litre T-GDI HTK+ 6iMT | Rs. 9.99 lakhs |
| 1.0-litre T-GDI HTX 6iMT | Rs. 10.79 lakhs |
| 1.0-litre T-GDI HTX AE 6iMT | Rs. 11.19 lakhs |
| 1.0-litre T-GDI HTX 7DCT | Rs. 11.39 lakhs |
| 1.0-litre T-GDI HTX AE 7DCT | Rs. 11.79 lakhs |
| 1.0-litre T-GDI HTX+ 6iMT | Rs. 12.09 lakhs |
| 1.0-litre T-GDI GTX+ 6iMT | Rs. 12.45 lakhs |
| 1.0-litre T-GDI GTX+ 7DCT | Rs. 13.09 lakhs |
| 1.5-litre Diesel WGT HTE 6MT | Rs. 8.89 lakhs |
| 1.5-litre Diesel WGT HTK 6MT | Rs. 9.69 lakhs |
| 1.5-litre Diesel WGT HTK+ 6MT | Rs. 10.35 lakhs |
| 1.5-litre Diesel WGT HTX 6MT | Rs. 11.19 lakhs |
| 1.5-litre Diesel WGT HTX AE 6MT | Rs. 11.59 lakhs |
| 1.5-litre Diesel WGT HTX+ 6MT | Rs. 12.49 lakhs |
| 1.5-litre Diesel WGT GTX+ 6MT | Rs. 12.85 lakhs |
| 1.5-litre Diesel VGT HTX 6AT | Rs. 11.99 lakhs |
| 1.5-litre Diesel VGT HTX AE 6AT | Rs. 12.39 lakhs |
| 1.5-litre Diesel VGT GTX+ 6AT | Rs. 13.69 lakhs |
Prices are ex-showroom
The complete 2022 Kia Seltos price list is as follows –
| Variant | Price |
| --- | --- |
| 1.5-litre Petrol HTE 6MT | Rs. 10.19 lakhs |
| 1.5-litre Petrol HTK 6MT | Rs. 11.25 lakhs |
| 1.5-litre Petrol HTK+ 6MT | Rs. 12.35 lakhs |
| 1.5-litre Petrol HTK+ 6iMT | Rs. 12.75 lakhs |
| 1.5-litre Petrol HTX 6MT | Rs. 14.15 lakhs |
| 1.5-litre Petrol HTX IVT | Rs. 15.15 lakhs |
| 1.4-litre T-GDI GTX(O) 6MT | Rs. 15.85 lakhs |
| 1.4-litre T-GDI GTX+ 6MT | Rs. 16.95 lakhs |
| 1.4-litre T-GDI GTX+ 7DCT | Rs. 17.85 lakhs |
| 1.4-litre T-GDI X Line 7DCT | Rs. 18.15 lakhs |
| 1.5-litre Diesel VGT HTE 6MT | Rs. 11.09 lakhs |
| 1.5-litre Diesel VGT HTK 6MT | Rs. 12.39 lakhs |
| 1.5-litre Diesel VGT HTK+ 6MT | Rs. 13.49 lakhs |
| 1.5-litre Diesel VGT HTK+ 6iMT | Rs. 13.99 lakhs |
| 1.5-litre Diesel VGT HTX 6MT | Rs. 15.29 lakhs |
| 1.5-litre Diesel VGT HTX 6AT | Rs. 16.29 lakhs |
| 1.5-litre Diesel VGT HTX+ 6MT | Rs. 16.39 lakhs |
| 1.5-litre Diesel VGT GTX+ 6AT | Rs. 18.15 lakhs |
| 1.5-litre Diesel VGT X Line 6AT | Rs. 18.45 lakhs |
Prices are ex-showroom