2023 TVS Young Media Racer Program – Round 1
It was in the year 2019, when Dhanil from our team attended the Young Media Racer Program from TVS. Although, a few sessions happened over the years we got a chance to be a part of the 2023 YMRP, the 7th edition by TVS. As the sequence follows, the first round of 2023 TVS YMRP took place at Kari Motor Speedway in Coimbatore on 4th and 5th June 2023.
The two days were divided as follows:
Saturday consisted of

25-minute free practice session
15-minute qualifying session

Sunday featured the main event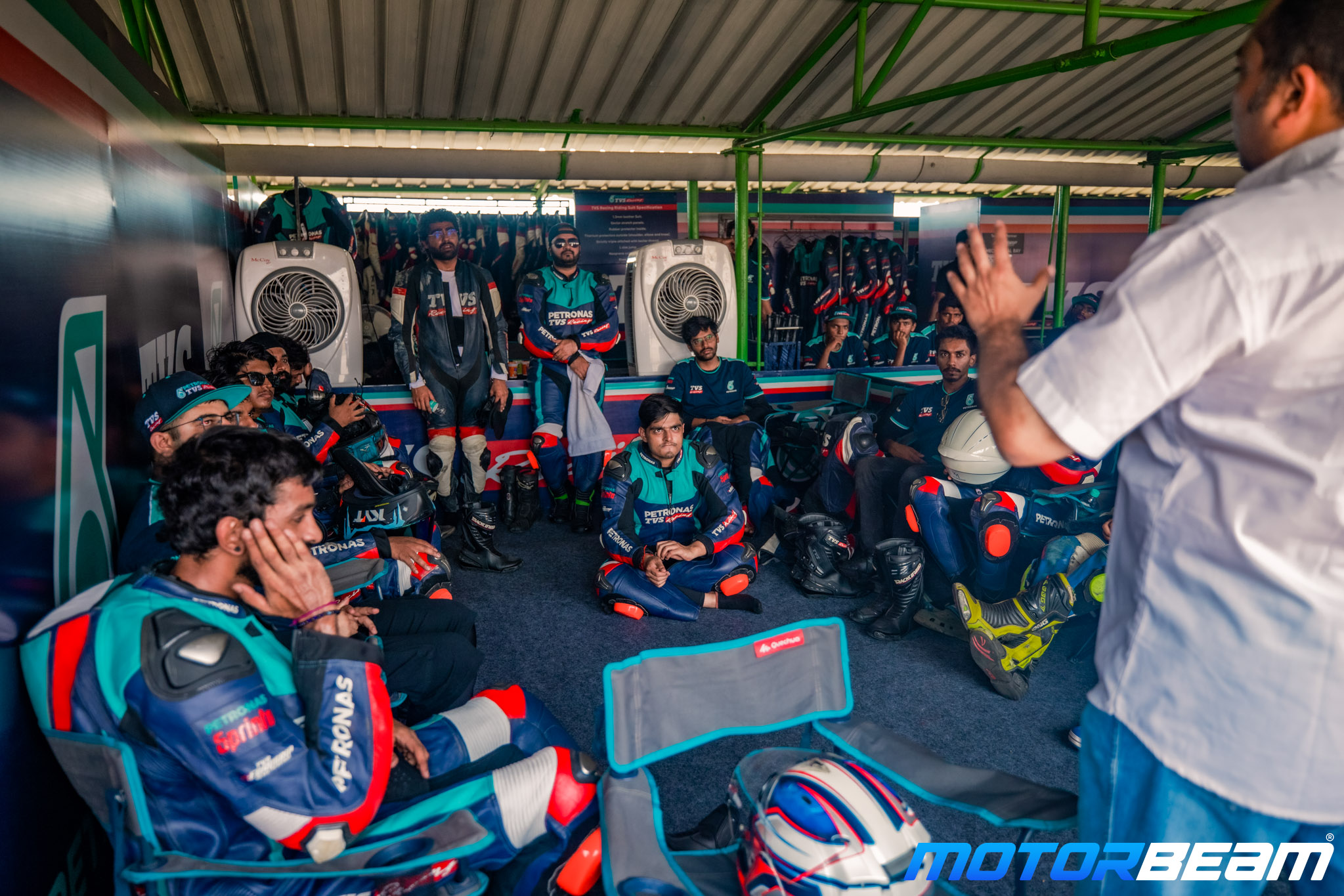 Preparation: Theoretical Knowledge & First-Time Nerves
I am Joel Raju and I participated in a training session at Chennai's MMRT racetrack back in 2018. This, however, was my first time taking part in an official race conducted by an Indian manufacturer and managed by FMSCI. Kudos to the TVS team as even though I am 31 years old, they made an exception for me to be a part of the Young Media Racer Program this year.
Since it was my first race, I did a bunch of digging on YouTube, watched a lot of on-board videos and went through articles about previous races of the media rounds. I desperately wanted to get an idea of what to expect and adequately prepare myself prior to the race event.
However, all my preparation was based purely on theoretical knowledge and a tiny bit of past experience. Therefore, I entered the event with only the theoretical understanding I had accumulated and limited on-track experience.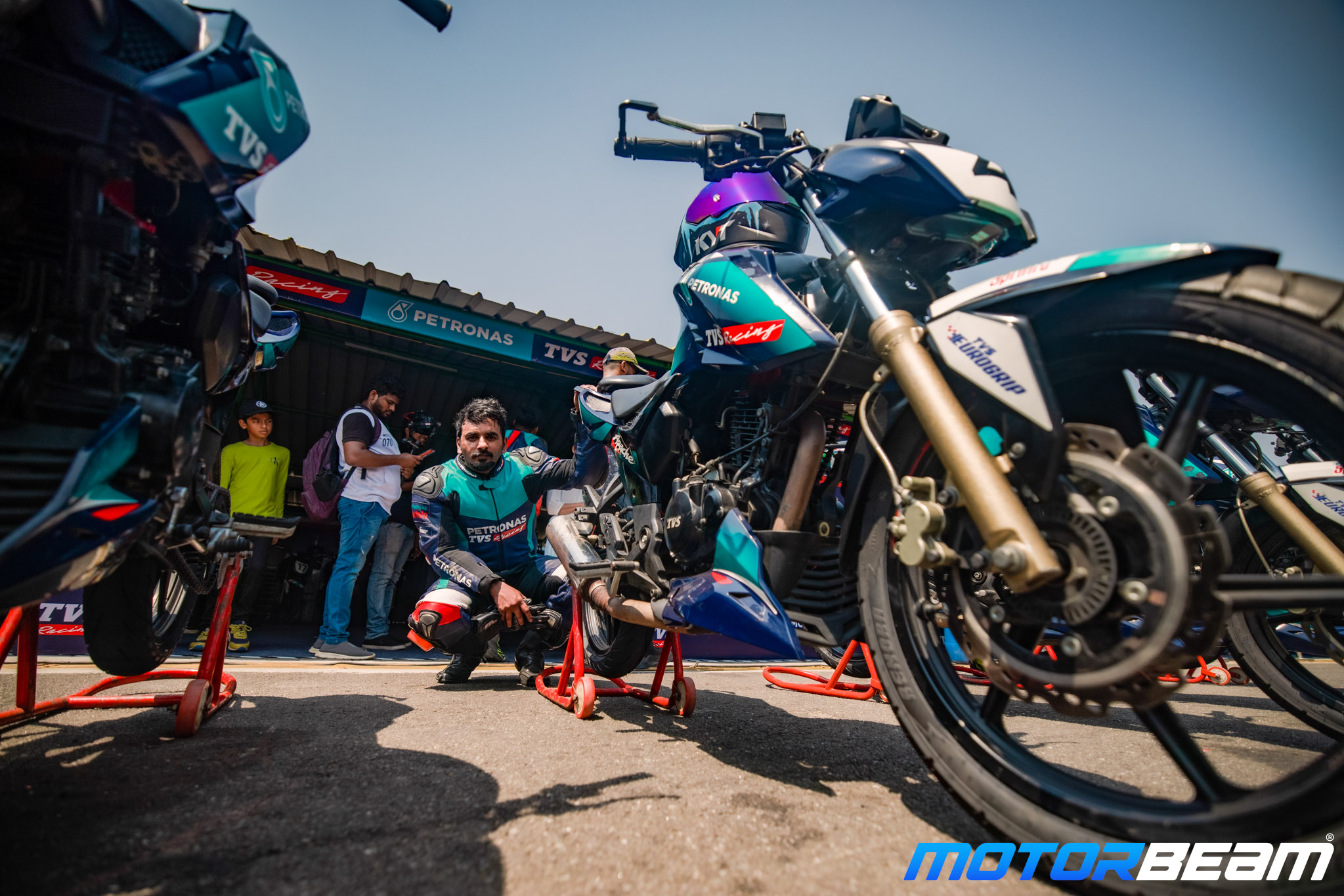 Weapon Of Choice: TVS OMC RTR 200 4V
The race-spec bikes were lined up outside the pit with fresh stickier-compound tyres from TVS. Unlike the road-bike, these bikes have quite a few modifications made to them, which make them lighter and more powerful. In the race-spec guise, it puts out close to 25 BHP thanks to a free flow exhaust and air filter and hi-lift cams. All the unnecessary parts were removed even though it was based on the road-going model, TVS' racing-DNA did shine through.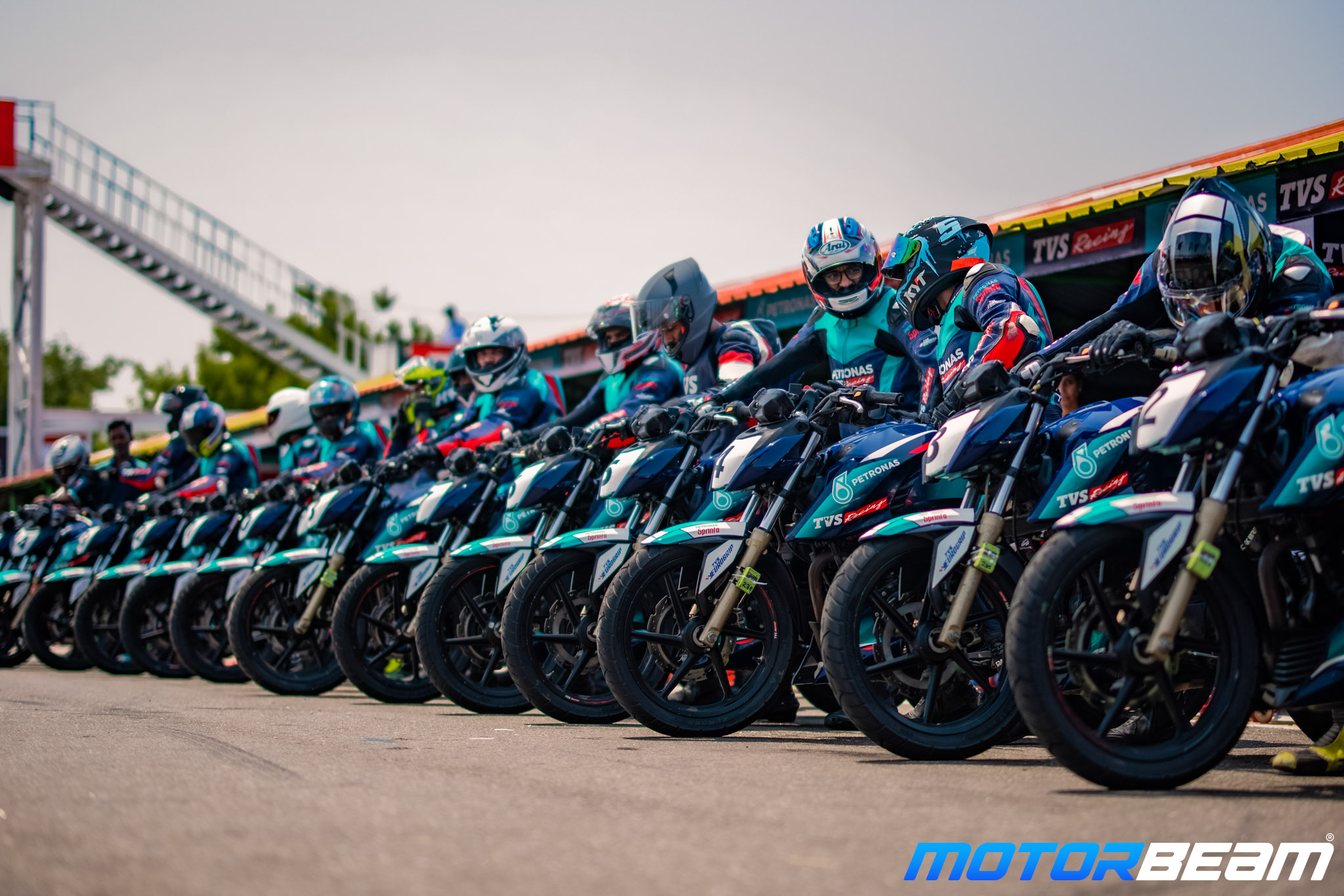 Navigating Challenges & Surprising Success
It was time to apply all the knowledge and skills as I exited the pit lane. Unlike the familiar MIC, Kari Speedway posed a technical challenge. It took me a few laps to get acquainted with the new layout. After ensuring that the tyres were adequately warmed up, I began to push. However, I soon realised that I was struggling. 
I found myself in the wrong gear, taking incorrect lines and lacking knowledge of the optimal race lines since we hadn't received any training specific to this track. Although I had reviewed onboard footage, I struggled to translate theoretical knowledge into practical execution. Despite these difficulties, I managed to understand each corner, focusing on finding the right lines, correct gearing, and braking points to make a quick lap time.
When the practice session ended, I returned to the pit feeling disheartened about not being able to do a proper clean lap. However, to my surprise, I discovered that I ranked second on the list with a time of 1:34.265. It was a revelation that I wasn't the only one facing challenges on this track; everyone else was struggling as well. Seeing my name in second place on the list significantly boosted my confidence.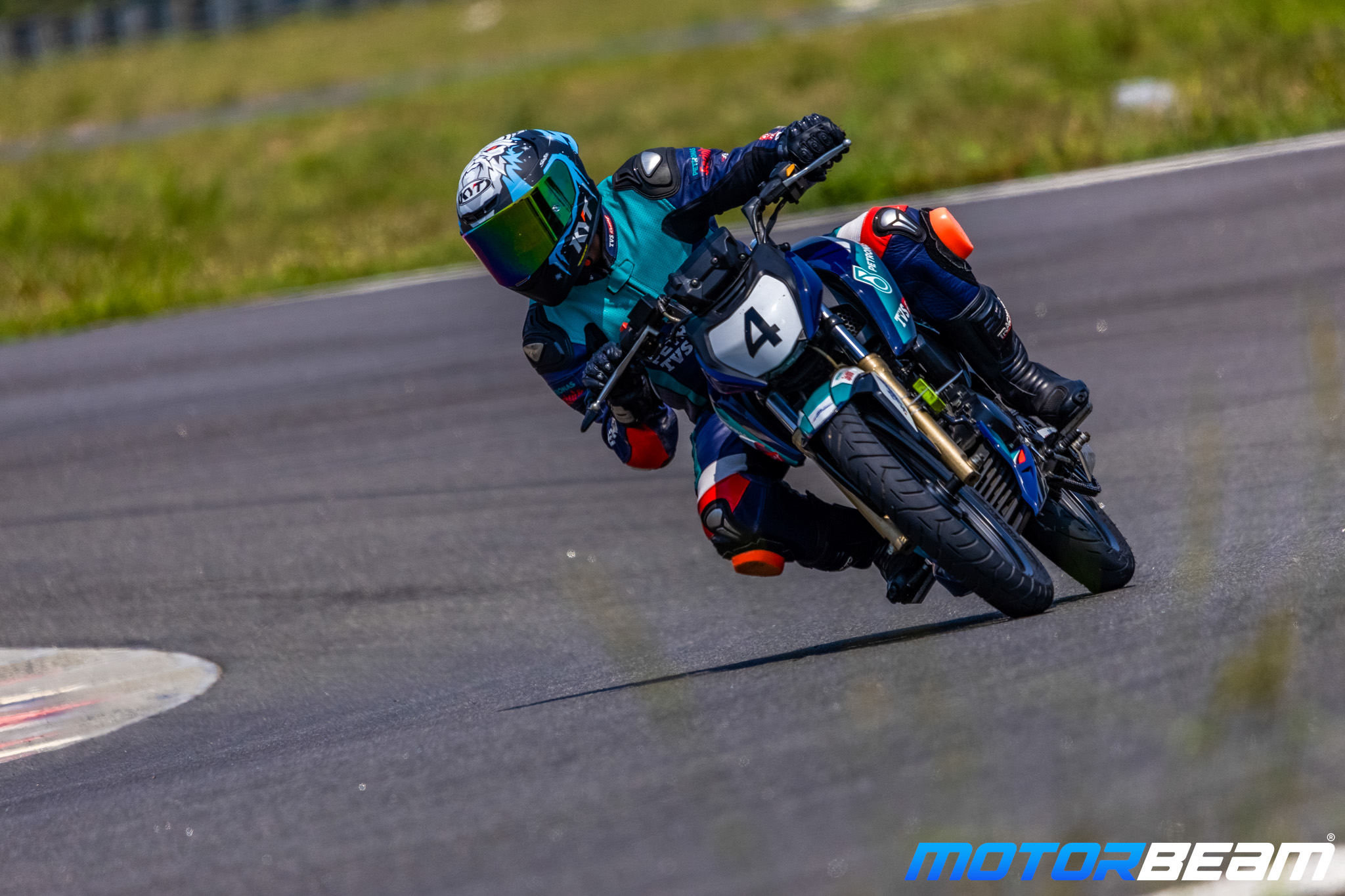 A Close-Fought Qualifying Battle
During the qualifying practice (QP) session, we were allotted 15 minutes to set the best lap time. After leaving the pit lane, like a true race bike, the OMC RTR 200 4V needed its tyres and engine warmed up to perform optimally.
After the initial warm-up lap, I pushed myself from the start line on each subsequent lap. The first flying lap went well until my friend Alshin joined in. From that point on, it felt more like a race than a qualifying session. We battled against each other until the last minute; we were only separated by a distance of one bike length, lap after lap.
This experience gave me a glimpse of what to expect on race day. Once the qualifying round concluded, I found myself in fourth place on the standings with a best time of 1.33.218. The difference between my time and the pole-sitter was 0.718 seconds.
During QP, instead of trying to do a fast lap, I engaged in intense battles on the track. As a result, the fear of falling took a backseat, and I was able to focus on pushing forward without any apprehensions. This mindset proved helpful.
Race Day Thrills & Close Battles
On the race day, we gathered to discuss strategies on how to overcome some of the challenges we anticipated. Harry Sylvester, one of our instructors and an ex-racer, helped us with all our doubts right till the end. After the RTR Rookie race concluded, it was finally our turn. The excitement I felt was indescribable; it was like watching a race on television, except this time I was a part of it. As I stood on the starting line, surrounded by media personnel and someone holding an umbrella for me, it felt like my long-held dream of racing was becoming a reality.
When the 10-second board came out, I engaged first gear and revved the engine to a steady 7000 RPM. Drawing from my experience in drag racing, I hoped for a good start. When the signal turned green, I was off to a good start, leaving others behind. However, as the first corner approached, I found myself on the outside line while two others took the inside line, leaving me in third place after the first corner.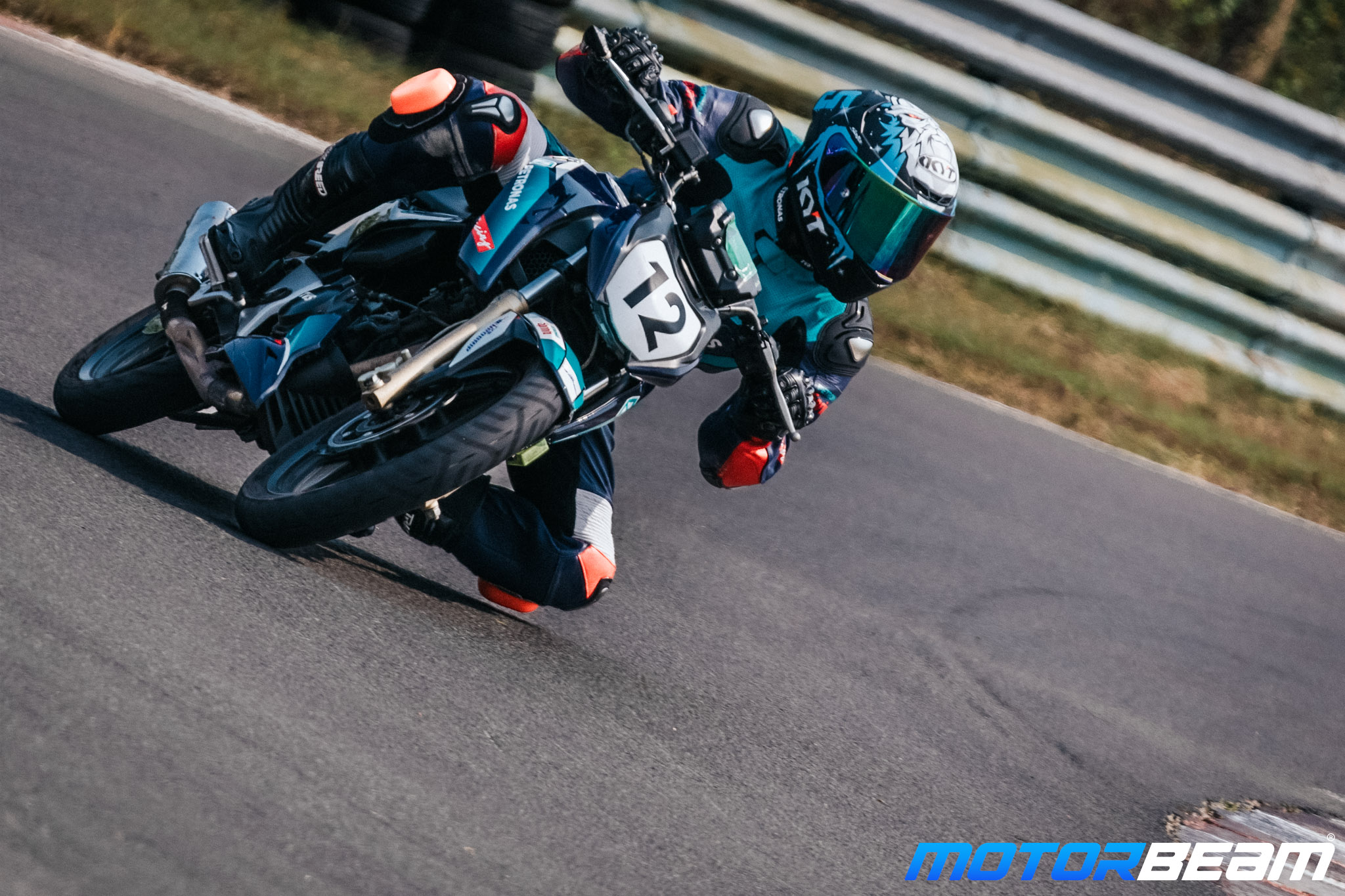 The first few laps were intense battles among the top three contenders: me, Alshin, and Vedant. We constantly exchanged positions, with me mostly fluctuating between second and third place. By the fourth lap, two more racers joined the fray, making it a five-way battle. There were numerous overtakes, and on the sixth lap, Vedant and I were engaged in a close battle. Unfortunately, Vedant lost control on corner 13 (C13) and crashed, causing me to back off slightly, narrowly avoiding a collision.
As a result, the top three racers built a considerable lead over me. However, I somehow managed to catch up and close the gap significantly with the racer in third position. I finished just 0.4 seconds behind the third-place contender and three seconds behind the leader. From the initial free practice session to the actual race, I managed to shave off nearly 3.5 seconds, clocking a best time of 1.31.065 seconds.
Race Reflection: Learning, Improving and Setting Sights On The Podium
Once the race concluded, my mind was filled with thoughts of a possible podium finish. I realised that I needed to put in the work and come prepared.
I learned a great deal from the experience. Despite having acquired theoretical knowledge, it was only through practical experience that I gained a more comprehensive understanding of racing and identified areas where I fell short and could make improvements. Overall, it was an enjoyable and adrenaline-filled race that I thoroughly enjoyed.
Taking everything into account, there are a few key takeaways from the race. I realized the need to work on myself, both in terms of skills and mindset, to enhance my performance in future races and reduce my weight considerably.
With the next race scheduled few months from now, I am determined to come back stronger and get on the Podium.