2024 Skoda Superb & Kodiaq Interior Revealed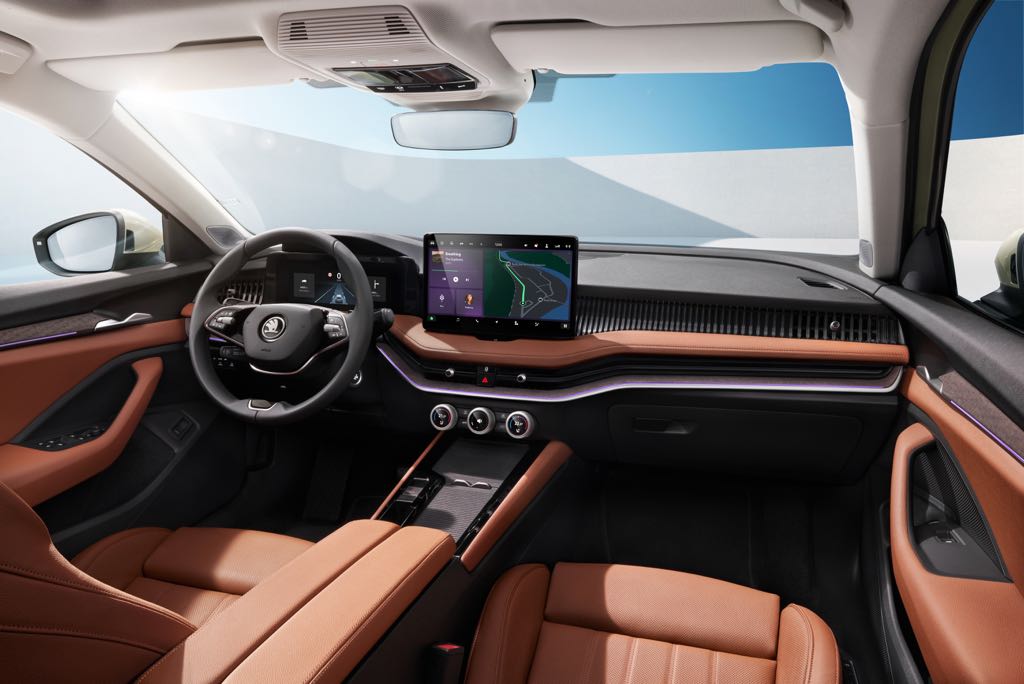 2024 Skoda Superb and Kodiaq siblings to get new features and revised interior design
2024 Skoda Superb and Kodiaq interior design officially revealed. The new generation models are about to make their debut in a few days. Skoda will showcase their new design direction with the upcoming models of their flagship sedan and SUV.
Before they reveal the complete exterior and the details of the new generation models, Skoda has released some images of the interior along with some of the new features. The new Superb gets a sleek new dashboard with a layered design having a mix of colours and materials with each layer. The Kodiaq has a rugged looking dashboard pattern which looks inspired by the outgoing model.
The upholstery gets 100 percent recycled polyester material. The overall cabin theme is black and Cognac colour tones on both the cars.
Skoda has repositioned the gear selector lever to the steering wheel column which frees up space in the cabin for better practicality. There is a large 13-inch free-standing touchscreen infotainment system and a 10-inch all-digital instrument cluster. There is a new head-up display as well.
Skoda has introduced Smart Dials with these new generation models that help keep the centre console neat using minimal buttons. These three rotary push-button dials are offered with haptic and digital controls. These dials have a small display as well.
The two outer dials are for the driver and front passenger that controls interior temperature, seat heating, and seat ventilation, displaying the currently active function. The dial in the centre offers controls for the infotainment volume, fan speed, air direction, smart air conditioning, driving modes and map zoom.
There is a Phone Box which offers fast wireless charging of up to 15 W. This accommodates up to two phones and also offers active cooling feature. The cars offer up to four USB-C ports with power output of 45 W, as well as a 15 W USB-C port on the rear-view mirror.
The Kodiaq will be available with ergo seats complete with a pneumatic massage function. The Superb gets optional massage seats. The seats include ten pneumatically controlled massage cushions and an extensive selection of programs, with four-way adjustable lumbar support. All heating functions for the seats, steering wheel, windscreen and rear window can be conveniently managed via a configurable Heaters button in the climate control menu.
Complete engine details and specs along with more features will be revealed at the time of the world premiere of both the cars. We believe Skoda will offer the new generation Superb and Kodiaq in India as well by next year. However, we will only get petrol engine options.