2024 Skoda Superb Teased, Resembles Slavia!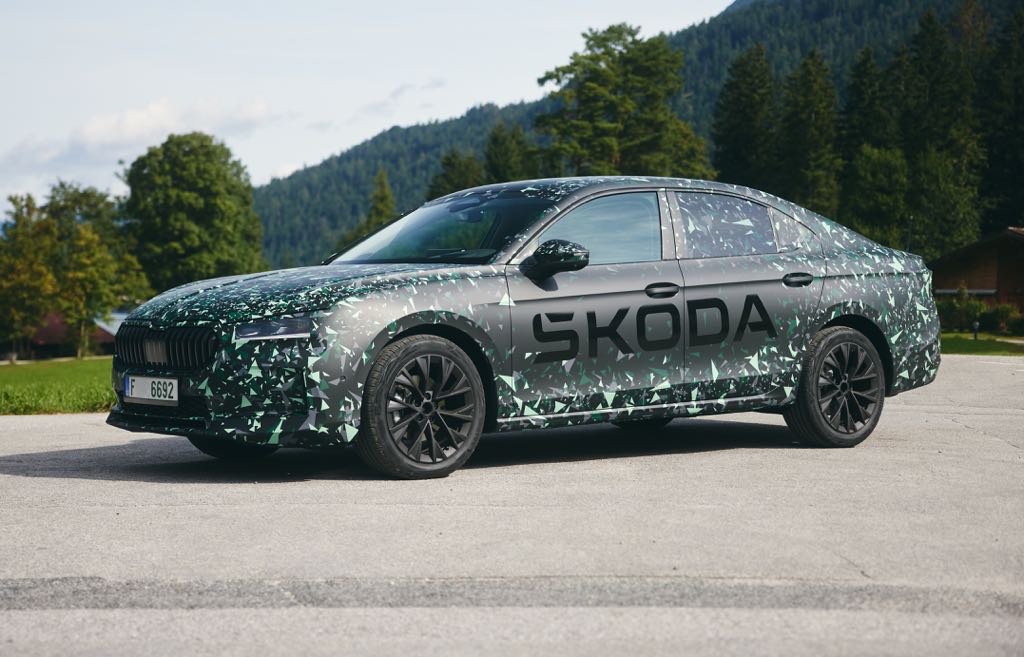 2024 Skoda Superb teased wearing camouflage
2024 Skoda Superb teased as the Czech brand is all set to introduce the fourth generation model very soon. The teaser images showcase the camouflaged vehicle which reveals some of the design details.
At the first glance it looks like a larger version of the Skoda Slavia that is sold in the Indian market. If you notice the grille design, headlights shape and positioning and the overall stance, it will definitely remind you of the Skoda Slavia and Volkswagen Virtus siblings.
Surprisingly, the fourth generation Superb looks more simple and sedate compared to the overall silhouette of the outgoing model which has more cuts and creases. We will get to know more about the styling details when it is fully revealed but we can make out the simpler design elements.
It looks less curvy with a sharp shoulder line that emerges front the front fender and extends way back to the rather simple looking tail light setup. It will be available in both Combi and notchback body styles in the international market.
Skoda has revealed more details of the new Superb. It has grown in length and height and has become more aerodynamic. Compared to the outgoing Superb, it is 43 mm longer at 4912 mm and 12 mm taller at 1481 mm.
With this increase in dimensions, the interior has become more spacious offering more headroom. The luggage capacity of the new Superb has increased by 20 litres to 645 litres.
The new generation sedan will now get mild-hybrid tech for the engines for the first time. It will be offered with three petrol engines and two diesel engine options in the international market.
The entry-level 1.5-litre TSI 4-cylinder turbo petrol will produce 150 HP. This engine is supplemented with a 48-volt belt-driven starter-generator and a 48-volt lithium-ion battery. Then there are two 2.0-litre TSI engine options with 204 HP and 265 HP tune respectively.
Then there are two 2.0-litre TDI diesel engine options with 193 HP and 150 HP of output. All the engines are mated to a 7-speed DSG automatic transmission as standard.
Skoda has already revealed the interior which is completely redesigned. It comes with 13-inch free-standing touchscreen infotainment system on the dashboard and 10-inch all-digital instrument cluster.
We hope Skoda considers introducing the new generation Superb and Kodiaq in India soon after their global launch.