A Donkey Being Sold As A Car!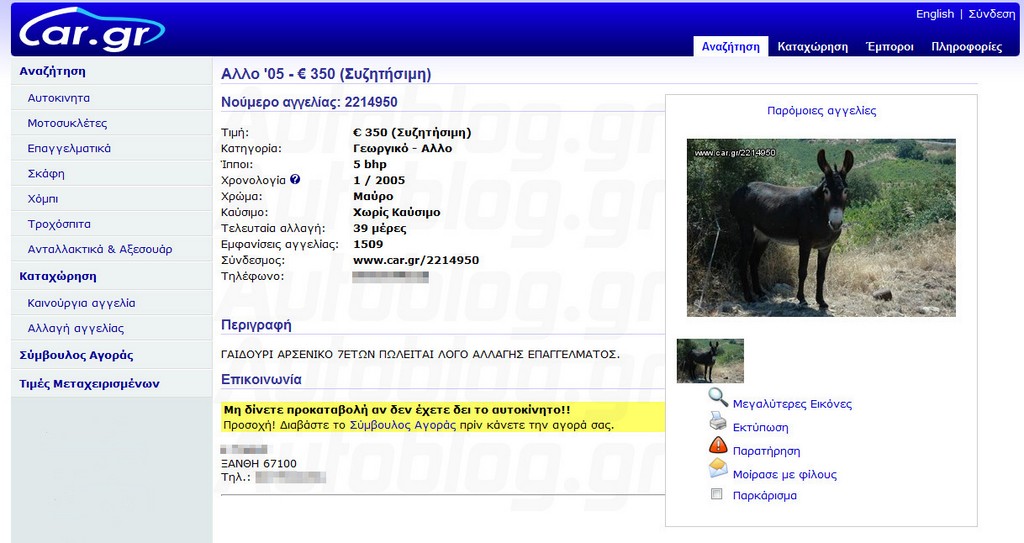 If you think you know about the global automotive scenario, think again, you might be in for a big surprise! The automotive industry scenario is in a pathetic state in the country of Greece where due to the wave of recession, consumers are not at all willing to invest in purchasing a vehicle. All the car vendors and distributors and the individuals who want to sell their second hand car are facing great difficulty in doing so. Under such a tough circumstances, one individual has posted an advertisement for selling his car, due to his change In profession.
However, the catch is it is actually not a car, rather it is a donkey! The seller has posted that the supposed car has got a great anatomy and newly replaced tires which are just 39 days old and have matte black finish. Currently the listing has been deleted but we managed to get a snap of it before the listing being taken down. Such terrible conditions make an automobile enthusiast really feel sad about the sorry state of affairs in such conditions. We just hope that the wave of recession gets over as soon as possible and the people of Greece also enjoy automobiles.
Source – Autoblog Greece