Alonso Might Be Heading To Ferrari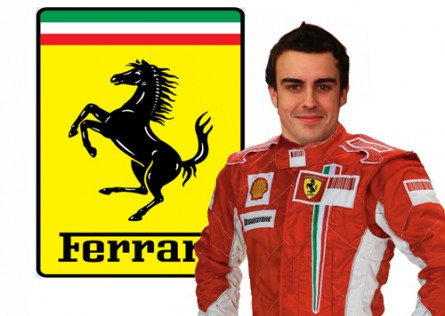 Italian motor racing figures have welcomed the latest batch of rumours claiming that Fernando Alonso could head to Ferrari in 2011. F1 ace Fernando Alonso has reportedly signed a secret, four-year deal to drive for Ferrari starting in 2011.
Gabriele Tredozi, formerly technical chief at Minardi and Toro Rosso and now a commentator for Sky, believes the 27-year-old Spaniard is the right driver for the Maranello team. "It's like putting another Schumacher in the house," he told La Gazzetta dello Sport. "Alonso is quick, technically strong, very bright, and his consistency is unparalleled." "More than anything, he needs to feel the support of the team, without ambiguity. And in return he can give you a lot."
Giancarlo Minardi, the Faenza based team's founder, also rates the former champion very highly. "I haven't seen him since the Italian Grand Prix, and even then we did not talk about his future, but there is no doubt that he would be a great Ferrari driver." "I have the feeling that with an equal chance he can easily beat Hamilton," Minardi added.
Cesare Fiorio, the former Ferrari team boss who granted Alonso his debut F1 test with Minardi in 1999, thinks the Renault driver is the best in Formula One at present. "Engineers can have an intuition about who is the best, and from my perspective there is no doubt I would prefer to have Alonso in my team. For me he is the best at the moment, stronger even than Lewis Hamilton. Those two are similar in speed, but Fernando is less prone to mistakes. Ferrari and Fernando would be an exceptional combination." "Winning the constructors' title, Maranello showed that in the pits and at the factory they are the best. But if you do not win the drivers' title, it must be at least a little bit the fault of the driver, no?"
While the Italian media seem to think it's a done deal, Ferrari did not comment.