April 2013 Sales Figures & Analysis
The Big Picture –

The sales figure for the month of April is shadowed by bulged figures of March, as always.
Industry recorded a fall in sales of 18.02% over the last month and that of 8.56% over the same month of the last year.
Every company witnessed a fall of sales on MoM basis.
But this year has been a very promising year for few companies like Mahindra & Mahindra, Chevrolet, Honda and for Renault, it has been a dream run.
Maruti Suzuki tops the chart followed by Hyundai at second place and Mahindra & Mahindra at the number three.
Toyota's lead over Tata Motors proved to be a momentary act and its back to its 5th position.
But in the coming months, Toyota's management won't be able to sleep quietly as its position as well as its market share, in India, is being challenged by Honda with its Amaze and Chevrolet with its Enjoy and Sail sedan.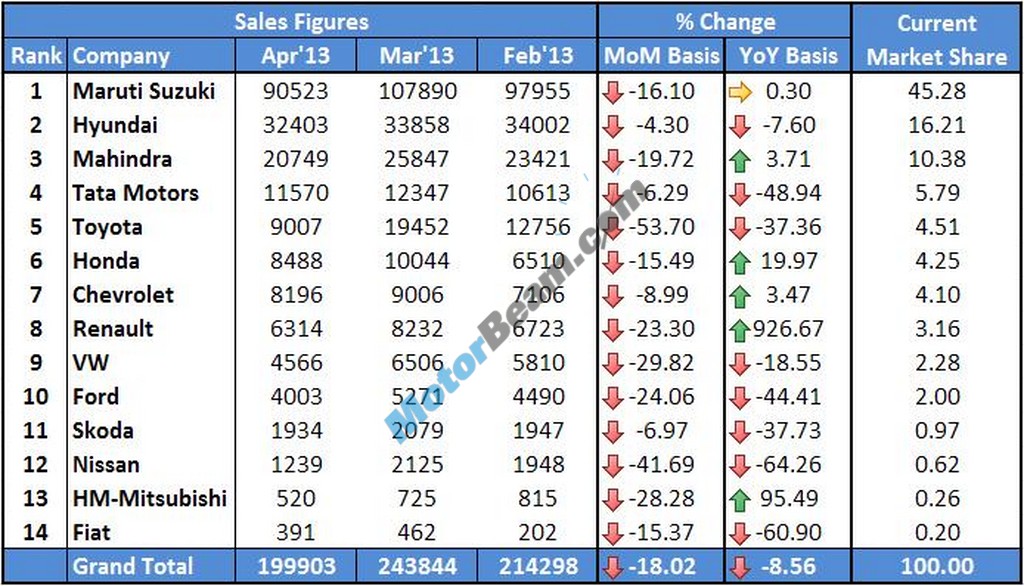 Except few big changes, Top 20 table looks un-shuffled with Maruti Suzuki cars taking the first four spots followed by Mahindra Bolero.
Honda Amaze entered the Top20 table and rushed directly to number 13 position which is set to improve over next few months.
Forced dispatches in the last month affected Toyota badly this time, as there is only one contender in this list i.e. the Innova and that too managed the last spot as Etios sedan vanished from the table.
Mahindra's flagship model XUV500 is out of the table this time too, a worrying situation for the company.
Company wise Break-up –
Maruti Suzuki's sales figures are neutral this month and are as anticipated.
Alto 800 leads the chart but has quite underperformed this time compared to its own set standards.
Swift in sedan version (Dzire) maintained the lead over its hatchback version for the second consecutive month.
One Grand Vitara sold this month! It might be a time to celebrate for them.
Strong performing Eon has ended up at the top in the table once again.
But i20 is losing its pace, might be because of more customers opting for Compact Sedans over full grown hatches.
Overall Hyundai recorded a fall in sales of 4.30% and 7.60% on MoM and YoY respectively.
For Mahindra, this might have happened after long time that, all offerings in its portfolio have lost its sales numbers together.
Its bread and butter offering Bolero is back to its average mark of 10,000 units and its flagship model XUV 500 has recorded worst numbers since its launch.
XUV 500's sales have been falling continuously over the period of time, which is quite surprising and alarming too.
Overall, Mahindra & Mahindra recorded a fall in sales of 19.72% in MoM basis but a rise of 3.71% on YoY comparison.
Last many months proved to be worst months for Tata Motors as its sales have been falling continuously and last month they lost their 4th position to Toyota too.
But like an oasis in desert, company's volume seller Indica+Vista range recorded good rise in sales and company regained 4th place.
Overall, Tata Motors showed a fall in sales of 6.29% on MoM basis and a massive drop of 48.94% on YoY basis.
Increased dispatches of last month directly affected this month's sales figures.
Every model from the company recorded either an average of way below average sales figures, especially Innova as only 3,192 units got sold in the month of April.
Thus, the company recorded a huge fall in sales of 53.70% on MoM basis and 37.36% on YoY basis.
Further, the company is already facing a heat from Honda and Chevrolet as well.
By delivering 4,852 units out of the 22,000+ bookings already in hands, Honda Amaze is taking the industry by storm and might take the company to 5th place.
It already became a number seller for the company but at the cost of its elder sibling Honda City.
Coming months will reveal a clear picture and decide Honda's fate.
Overall, 15.49% fall in sales have been registered by Honda in April on MoM basis but a rise of 19.97% on YoY basis.
Chevrolet Sail became the highest seller for the company in April ahead of Beat.
Sail U-VA is still finding it difficult to repeat the story of its sedan version though.
Third and final offering from the land of China has finally made it to our shores and is expected to bring some good volumes for the company with its aggressive pricing.
Chevrolet registered growth in sales of 16.29% on MoM basis and that of 3.47% on YoY basis.
Ford, on the other hand, is struggling hard to sell its aged products.
This is visible in company's falling sales figures for the past few months.
Ford registered a fall in sales of 24.06% on MoM basis and that of 44.41% on YoY basis.
Volkswagen faced sudden and un-expected drop in sales in April.
It registered a fall in sales of 29.82% on MoM basis and 18.55% on YoY basis.
Skoda once again recorded a fall in sales of 6.97% on MoM basis and that of 37.73% on YoY basis.
Nissan Evalia's sales are not at all picking up and hit an all-time low of just 18 units in April.
Company recoded a fall in sales of 41.69% MoM basis and a drop of 64.26% on YoY basis.
Renault recorded drop in sales of 23.30% on MoM basis but a whopping rise of 926.67% on YoY basis, thanks to Duster.
Sales figures of Hindustan Motors- Mistubishi decreased by 28.28% on MoM basis but increased by 95.49% on YoY basis.
Fiat recorded fall in sales of 15.37% on MoM basis and sad drop in sale of 60.90% on YoY basis.
But this position is set to change soon as company is working hard towards it.

Category wise Break-Up –

Gainers Vs Losers –

Podium Finishers –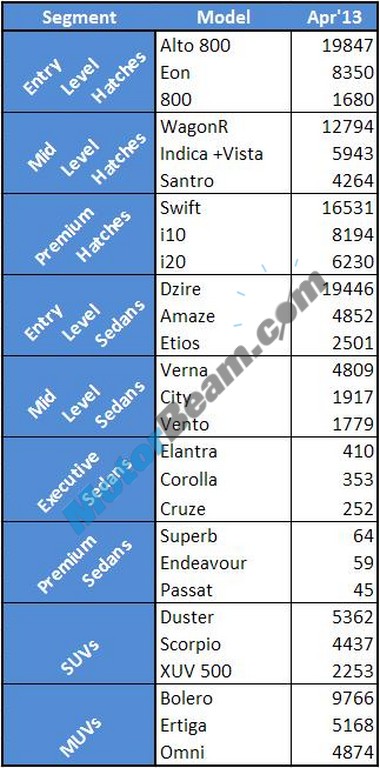 Watch list –

Things to Look Out For –
Ecosport launch around the corner.
How well Chevrolet Enjoy can perform?
Effect of increased competition on Maruti Suzuki's sales.
Mahindra and Mahindra's sales performance, will it revive or fall further?