Audi Not To Launch Small Cars In India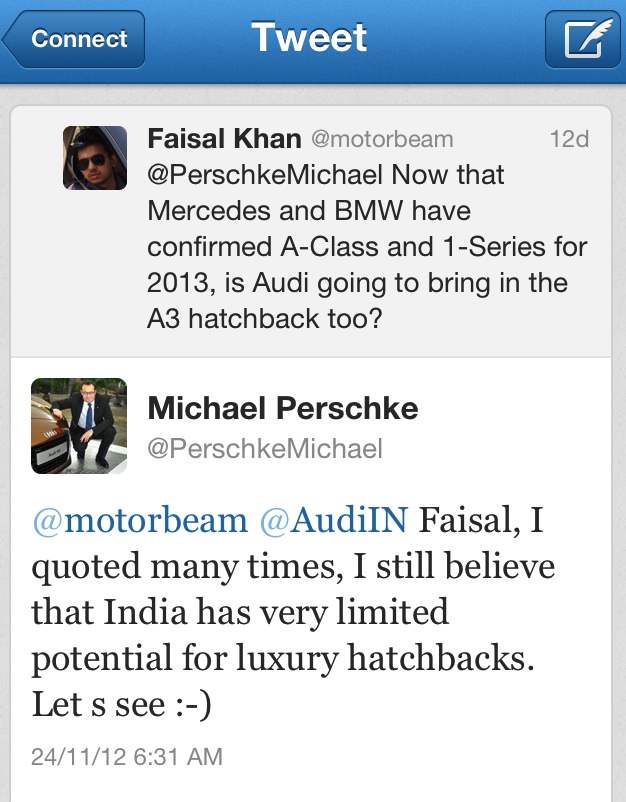 Amidst stiff competition among luxury car makers in the Indian market, where every manufacturer intends to launch a wide array of its products among varied segments, Audi however begs to differ on that front. The German luxury car maker has no plans to dilute its portfolio and wishes to retain its supremacy among the luxury sedans and SUV's. This means Audi has no near-future plans to launch its smaller models like the A1 in India. Commenting on their top-down strategy, Audi India head Michael Perschke said that this strategy has worked well in the Indian market and they selling their luxury sedans in good numbers including the Audi A8.
Replying to Faisal's tweet on whether Audi plans to bring in their A-segment in India, he said that the Indian market has limited potential amongst luxury hatchbacks. Well, this statement seems too good to be true. While the Indian market is a hot favorite for small cars, the same is also being associated with the luxurious hatchbacks that are on offer, citing that these cars will also get enough sales comparatively but the number of Indian buyers willing to shell out Rs. 20 lakh plus for a hatchback are meager.
However, Audi's rivals like BMW and Mercedes-Benz are not on the same page as they have aggressive plans to launch their small offerings in India. Mercedes-Benz started their journey in this league by launching their B-class earlier this year and plans are in place to also launch the compact A-class hatchback in 2013. BMW too would be launching their 1-Series hatchback in 2013, although their presence has been in this segment since the Mini, but again that's not too easy on the wallet.
Audi currently has twelve models in the Indian market amongst the sedans and SUV's and are quite satisfied with their success here and could well top the luxury car sales this fiscal year. Alongside in competition with Audi is BMW while Mercedes is slightly behind on sale volumes.