Bajaj Caliber To Make A Comeback, Title Trademarked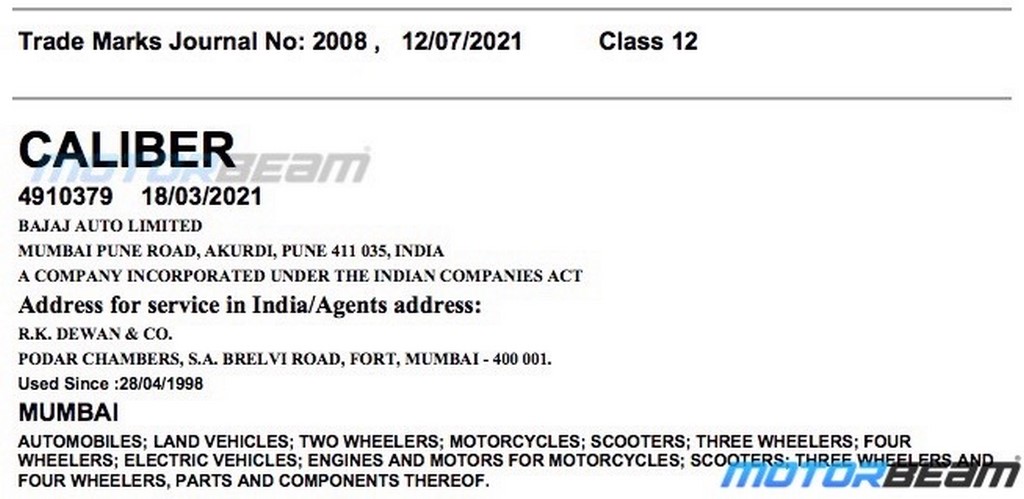 Bajaj Auto had filed the trademark application for the Caliber in March
Remember the Kawasaki Bajaj Caliber 115? The trademark of the 'Hoodibaba' bike's title has been received by Bajaj, indicating that it might be launched in the Indian market in the future.
Originally launched in the late 90s and discontinued in the noughties, the Kawasaki Bajaj Caliber 115 was a fairly successful motorcycle that was developed by taking the Bajaj 4S as the base.
It had a 111.6cc air-cooled motor which made around 9.5 HP and propelled the motorcycle to a top speed of 102 km/hr.
Now, the Bajaj Caliber trademark states the title can be used for 2-wheelers and electric vehicles, among others. But, it is most likely that the name will be used for a combustion engine bike.
And what engine could it have? Will it be a 115cc motor borrowed from the Platina 110? Or could it have a 125cc engine borrowed from the Pulsar 125?
We think that the Bajaj Caliber will most likely be a 125cc product, since TVS had trademarked the Fiero 125 name in November last year.
Both are well-known names from the past and them going head-to-head will be a rather interesting thing to watch, provided that both bikes are put on sale at the same time in the near future.
In May, we posted a video titled "6 Bikes We Wish Made A Comeback!" in which the Kawasaki Bajaj Caliber 115 was featured. Now, it turns out Bajaj has trademarked the title and we could not be more pleased. Take a look at the video below –