Bajaj Pulsar Crosses 1 Million Fans On Facebook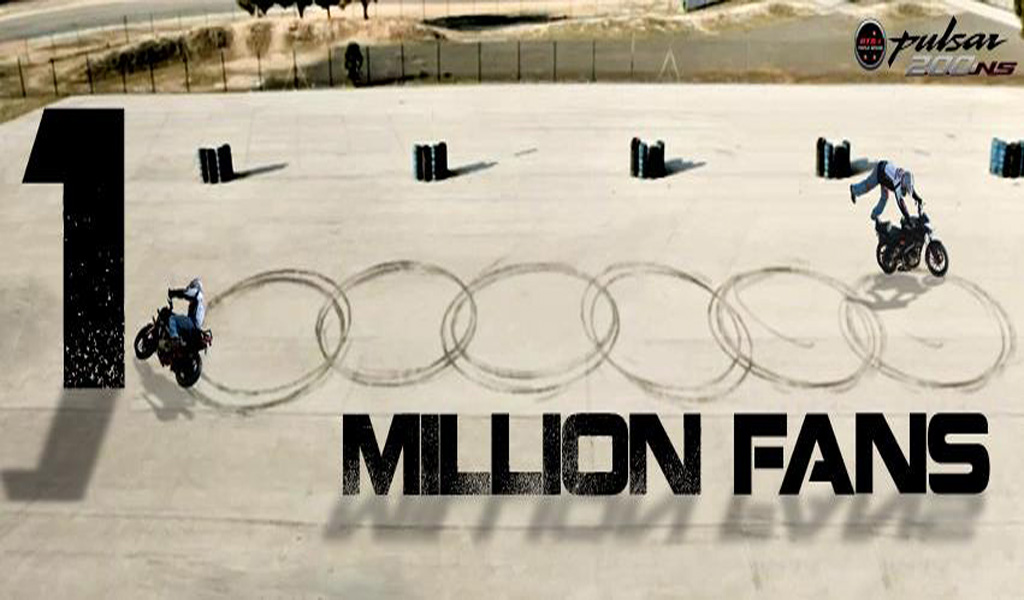 After crossing one milestone after another in the Indian two-wheeler market, Bajaj Pulsar recently sets a new benchmark of getting more than 1 million fans on Facebook. Pulsar is the most crucial brand from the Bajaj product line that has provided a bridge for the company to get ranked as the third largest two-wheeler maker in the world. Started the biking era in 2001, Pulsar was the first motorcycle with an engine capacity of over 150cc (the Bullet being an exception) launched at that time when fuel efficient commuter bikes had dominated the two-wheeler market in India.
Bajaj Auto has sold more than 5 million Pulsars since its inception in 2001 and is India's first and only two-wheeler that has crossed 1 million fans mark on Facebook. No doubt the Pulsar is one of most desirable motorcycles among young riders and has a cult following even in international markets. The Pulsar is available in five variants ranging from 135cc to 220cc, designed specifically for the Indian market that offers niche performance at a competitive price against its rivals. Bajaj Auto has released the making of the Pulsar Mania 2.0 ad video, you can watch it below.
[youtube:http://www.youtube.com/watch?v=cUdbUZuTZR8 540 375]
Bajaj Auto's R&D department has rejuvenated the Pulsar with time and kept the brand updated according to market preferences that avails the company to shelf 3-spark plug technology and exhaust-tec patents on its name. Bajaj exports the Pulsar to several South Asian markets and the collaboration with Austrian bike-maker, KTM, availed the company to design the efficient water-cooled engine. The last year launch of the Pulsar 200 NS has taken the company to the next level of biking and the much hyped Pulsar 375 will aid the company to hold its share in the premium bike segment in India.
Meanwhile checkout our infographic which shows the history of the Bajaj Pulsar.