Biker Caught Under Burning Bullet After Running Into A Tempo
A biker after meeting with an accident was caught under his burning Royal Enfield Bullet while riding on NH8 in Southwest Delhi's Shankar Vihar.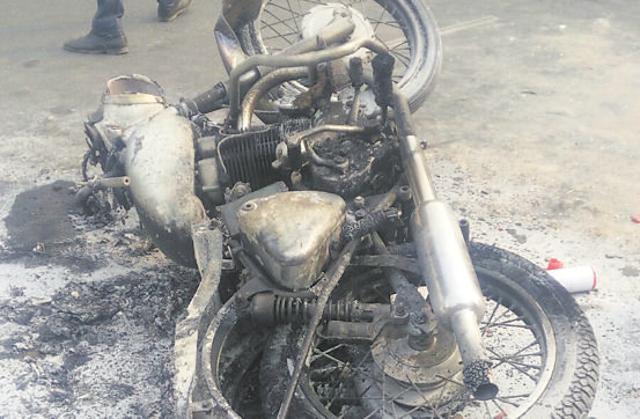 A Delhi based biker while riding his Royal Enfield Bullet ran into a stationary tempo and the motorcycle caught fire while he was stuck below it. He could only be rescued after the fire was extinguished but was declared dead by the time he was taken to the hospital. He was not able to push the motorcycle away due to the heavy weight of the bulky bike. The man left his wife and a two-year old daughter behind.
According to a Police report, a 32-year-old Manik Gaur was riding his Royal Enfield Bullet on NH8 in Southwest Delhi's Shankar Vihar when he ran into a stationary tempo after which he slipped and the motorcycle skid for a few meters on the leaked petrol and caught fire due to the sparks. The biker was unable to lift the heavy motorcycle and was stuck beneath it until the fire was extinguished. His clothes burned and stuck to his skin while he faced severe burn injuries, he was declared dead by the time he reached hospital as he sustained 100% burn injuries.
A bystander states that Manik Gaur was unable to be rescued as the Bullet was on fire and there was no way to reach him while he was stuck beneath the motorcycle. The fire tenders were immediately called and a special operation immediately started but nothing could save him. His body is sent for post mortem to know the exact reason of his death. He was married and was graced with a daughter just two years back. He worked in the hotel management industry.
Royal Enfield motorcycles have been considered to be unsafe (in case of a fall) with complicated mechanism and heavy weight, however things have changed lately as the English turned Indian manufacturer has modernised its products. People's opinion about the company has changed and that can be seen on the sales chart. There is a video of this incident on YouTube but we haven't embedded it in this post because it's not for the faint at heart.
Source – HindustanTimes.com