BMW Motorrad Launched In India, Priced From Rs. 14.90 Lakhs
The BMW Motorrad range is now available in India officially, with prices starting at Rs. 14.90 lakhs.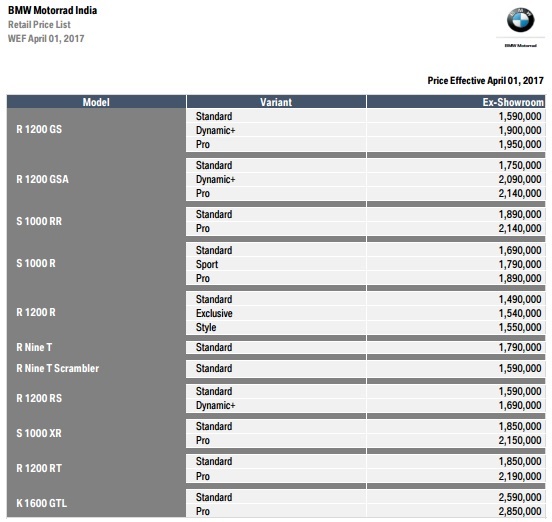 BMW Motorrad had been selling their motorbikes in India through importers in Mumbai and Delhi but now the company has commenced official operations here, under BMW Group India. Initially, the dealer network will be present in cities like Mumbai, Delhi, Ahmedabad, Bangalore and Pune.
BMW Motorrad will be selling their range of Sports, Tour, Roadster Heritage and Adventure bikes in India with the line-up consisting of the R 1200 GS, R 1200 GSA, S 1000 RR, S 1000 R, R 1200 R, R Nine T, R Nine T Scrambler, R 1200 RS, S 1000 XR, R 1200 GT and K 1000 GTL. All the bikes will be brought down via the CBU route.
The bikes are priced between Rs. 14.90 – 28.50 lakhs (ex-showroom, Delhi). All the bikes are available in their standard trims as well as higher spec trims. The BMW G310R is not a part of the Motorrad line-up currently and it will be introduced at a later date.
BMW Motorrad Prices
– Prices for the Motorrad portfolio range from Rs. 14.90-28.50 lakhs (ex-showroom, Delhi)
– The company is setting up dealerships in Mumbai, Pune, Ahmedabad, Delhi and Bangalore
– All bikes are brought down as CBUs