Chevrolet Sail U-VA Specifications & Details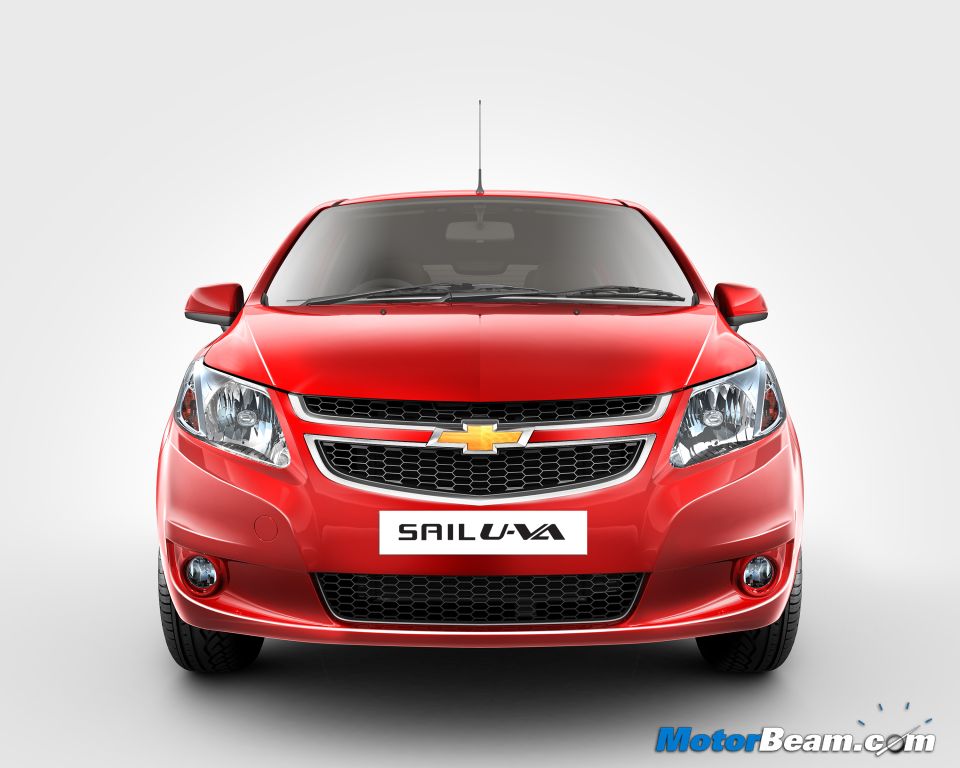 General Motors will be launching the Chevrolet Sail U-VA in the first week of November. The company is betting big on the Aveo U-VA replacement, positioning it against the Toyota Etios Liva in the hatchback segment. The Chevrolet Sail U-VA is the brainchild of SAIC (GM's Chinese partner) and has been on test on Indian roads for quite sometime now. The Chevrolet Sail has been capturing very good sales for GM in many countries including China, Chile, Ecuador, Egypt and North Africa. It was the most exported vehicle in China in July 2012 (40,000 units).
GM has tested the Sail U-VA across 10 lakh kms in India across -20C to +50C temperatures. The Chevrolet Sail U-VA gets China NCAP 4-star rating. It has a centrally mounted fuel tank for increased interior room. GM's focus has been on interior space with the Sail twins and thus the U-VA is classified as a entry-level premium spacious hatchback. The Sail U-VA features electrically adjustable rear view mirrors, fog lamps, 14-inch alloy wheels, power windows, central locking, dual SRS airbags and ABS.
For the Indian market, GM engineers have tweaked the Chevrolet Sail U-VA by increasing the ground clearance, upgrading the AC compressor, re-shaping the rear seat (with the addition of an arm rest), tuning the suspension for better ride quality, addition of USB, Bluetooth, Beige trim and chrome interior package. The key competitors of the Chevrolet Sail U-VA include the Ford Figo, Maruti Suzuki Swift, Ritz and Toyota Etios Liva.
The petrol Chevrolet Sail U-VA is powered by a 1.2-litre DOHC petrol engine which produces 86 PS of power at 6000 RPM and 113 Nm of torque at 5000 RPM. It returns an ARAI certified mileage of 18.2 km/l. The diesel Sail U-VA uses a 1.3-litre diesel engine which produces 78 PS of power at 4000 RPM and 205 Nm of torque at 1750 RPM. This engine is the same Multijet engine but with a different turbocharger, enabling the Sail U-VA to reach 100 km/hr in 15.2 seconds and 120 km/hr in 22.9 seconds. The diesel Sail U-VA returns an ARAI certified mileage of 22.1 km/l. Both engines are mated to a 5-speed manual gearbox.
The petrol Chevrolet Sail U-VA has a ground clearance of 174 mm, while the diesel Sail has a ground clearance of 168 mm. The diesel version weighs 1174 kgs while the petrol version weighs 1065 kgs. The vehicle has a turning circle of 10.3-meters and runs on 175/70/14 tyres. The disc sizes (240 mm for diesel and 236 mm for petrol) and fuel tank capacity (40-litres for diesel and 42-litres for petrol) of the diesel and petrol versions are different. Boot capacity is 248-litres. The Chevrolet Sail U-VA measures 3946 mm in length, 1690 mm in width and 1503 mm in height. It has a wheelbase of 2465 mm.