D-Segment Car Sales In July 2015, Toyota Dominates
We take a look at the sales of the D-segment cars in the month of July 2015. Toyota Corolla remains the undisputed leader of the segment.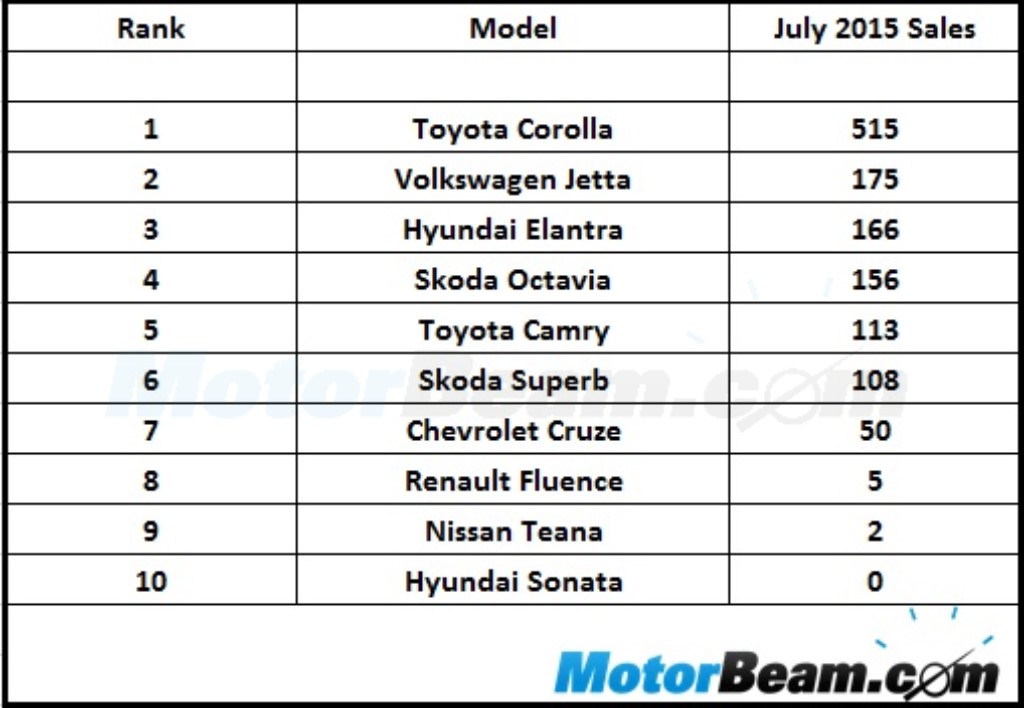 The month of July hasn't been too good for most car brands. Majority of the models have seen a fall in volumes as compared to the previous month. The fall in sales leads to a bigger problem in the segment where sales are already dwindling and it is difficult to find customers. Yes, we are talking about the D-segment. It is a segment under constant threat from upper end C-segment cars which pose a threat to the entry level D-segment cars whereas the entry level luxury cars threaten the higher end D-segment cars. Yet, companies are operating in this segment as profit margins are high.
As has been the case since a long long time, the Toyota Corolla is leading the pack in terms of sales despite losing out to competition in terms of safety features and driving dynamics. It is the Toyota reliability which lures in many customers. The Volkswagen Jetta has benefitted from the facelift and comes second on the chart being the only car here to gain volumes this month. The Hyundai Elantra too got a facelift recently which hasn't really helped things and it lags behind its German rival now. The Skoda Octavia comes in next which commands a waiting period yet doesn't sell in high numbers as the number of kits sent to India are limited. The Chevrolet Cruze and Renault Fluence have become long in the tooth now and that shows in their sales figures.
Coming to the upper end of the D-segment, it is the Toyota Camry which is leading this month which comes as a surprise since it is the Skoda Superb which leads the pack usually. 80% of Camry sales come from the hybrid variant which boosts fuel efficiency and comes at a small premium over the regular variant. The Nissan Teana makes a surprise entry and two units of the luxury sedan have been sold last month. The car is imported as a CBU on order which makes it pricey and non-viable for most. The Hyundai Sonata has been discontinued in India and the stock seems to have cleared too. With no new launches in the segment for some time, the sales figures are expected to stay around the same levels in the coming months.