Datsun GO Official Pictures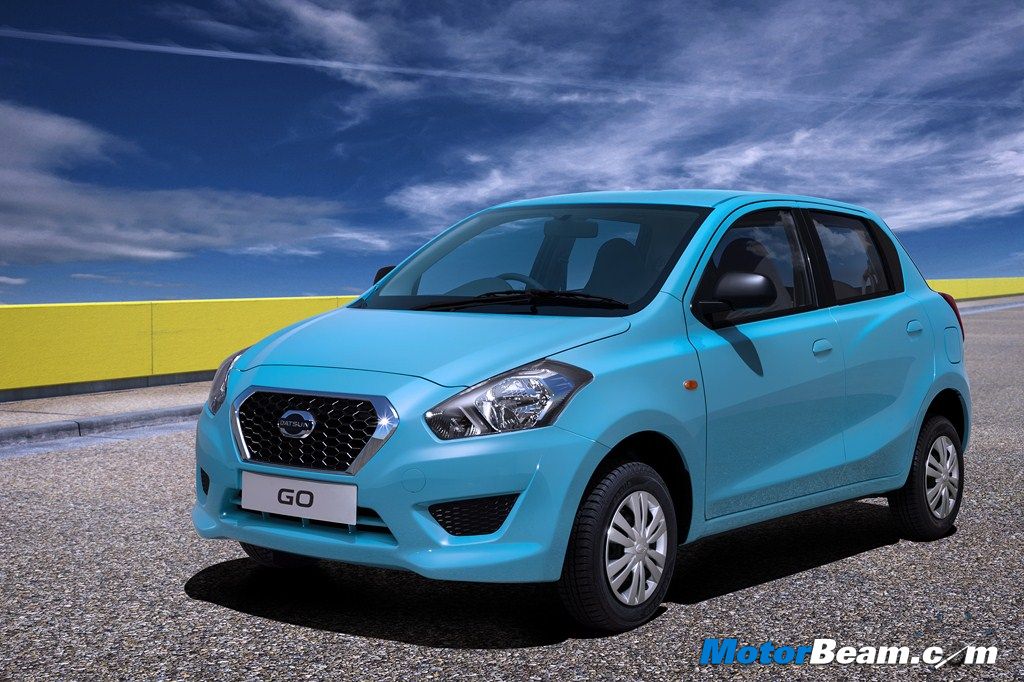 After announcing the return of the Datsun brand last year, the Japanese company has lifted the covers of its first product, the Datsun GO. The GO looks quite spacious and Nissan is hoping the company is able to lure buyers who are looking for a roomy hatchback with a large boot. The Datsun GO is extensively localized and will go on sale early next year. Nissan is betting big on Datsun to get them increased volumes in emerging markets. Nissan doesn't have cars in the entry level small car segments which account for a majority of sales in the Indian market.
The Datsun GO is a car made to a cost but the pictures don't reveal it to be a cheap vehicle. Quality seems decent although its too early to comment and this model showcased is only the pre-production prototype. Extensive cost cutting has been done in certain places and Nissan has shared parts with other vehicles (mostly the Mirca) to come to an aggressive price tag. The Datsun GO will be priced under Rs. 4 lakhs which makes it quite attractive for those looking for a value for money spacious hatchback.
The interiors of the Datsun GO do look spacious and the front seat is one piece with integrated headrests. The design of the GO does reveal its relation to the Micra. Both cars have the same wheelbase at 2450 mm. Various cost cutting measures are very apparent like the single front wiper and black coloured rear view mirrors. Missing features include front fog lamps, rear wiper, alloy wheels, tachometer and rear power windows. Datsun is not written at the rear and the logo does the job of identifying the car. Meanwhile checkout the official pictures of the Datsun GO below.
[flickr size="center" float="medium"]http://www.flickr.com/photos/motorbeam/9289415961/[/flickr]
[flickr size="center" float="medium"]http://www.flickr.com/photos/motorbeam/9289414437/[/flickr]
[flickr size="center" float="medium"]http://www.flickr.com/photos/motorbeam/9289415311/[/flickr]
[flickr size="center" float="medium"]http://www.flickr.com/photos/motorbeam/9292193556/[/flickr]
[flickr size="center" float="medium"]http://www.flickr.com/photos/motorbeam/9292195578/[/flickr]
[flickr size="center" float="medium"]http://www.flickr.com/photos/motorbeam/9292195692/[/flickr]
[flickr size="center" float="medium"]http://www.flickr.com/photos/motorbeam/9289416705/[/flickr]
[flickr size="center" float="medium"]http://www.flickr.com/photos/motorbeam/9289415771/[/flickr]
[flickr size="center" float="medium"]http://www.flickr.com/photos/motorbeam/9289417131/[/flickr]
[flickr size="center" float="medium"]http://www.flickr.com/photos/motorbeam/9292195424/[/flickr]
[flickr size="center" float="medium"]http://www.flickr.com/photos/motorbeam/9292193636/[/flickr]
[flickr size="center" float="medium"]http://www.flickr.com/photos/motorbeam/9292195096/[/flickr]
[flickr size="center" float="medium"]http://www.flickr.com/photos/motorbeam/9289416377/[/flickr]
[flickr size="center" float="medium"]http://www.flickr.com/photos/motorbeam/9289415329/[/flickr]