Delhi Gang Steals Rs. 7.9 Lakhs From Honda CR-V
In a recent video that has gone viral on YouTube, a gang of 5-6 people in Delhi are seen to cleverly take out a bag full of valuables from a Honda CR-V.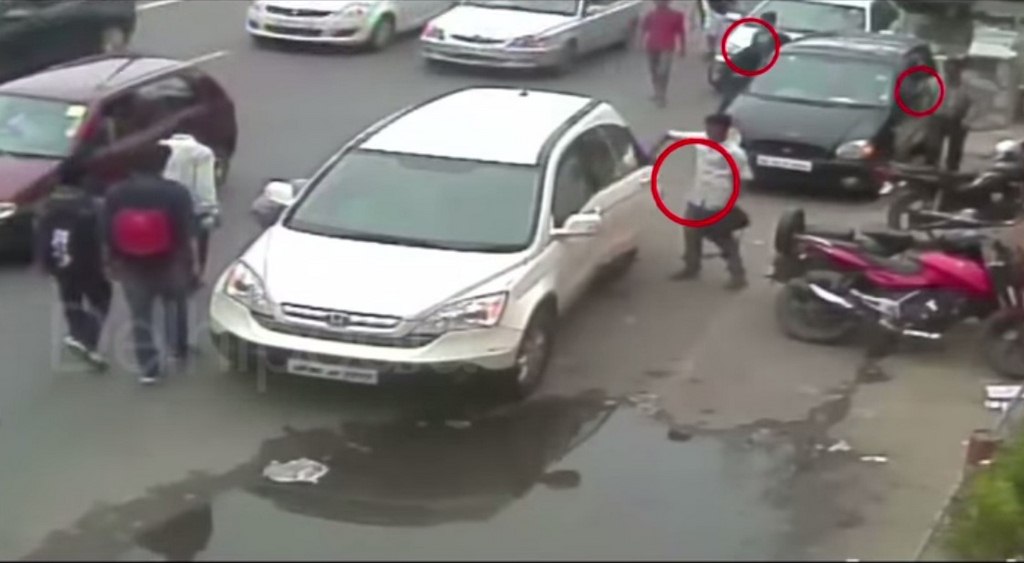 Few of us must definitely have heard from our parents and grandparents to not to attend to strangers on the road. These warnings are often given with a few examples as well, though these might be made up in their minds. But in a latest case of intelligent robbery, one gang outside a temple in New Delhi, pulled off a well planned heist as seen in a YouTube video that has become quite viral. The CCTV footage of the temple reveals how the gang went about taking out a bag from inside the car.
This is the story of an Agra based businessman who was visiting the city for some work. The businessman on a Monday morning went to visit a temple in South Delhi in his white Honda CR-V, a routine that he follows regularly. When the CR-V approaches the temple entry, the driver stops the car and lets the businessman and his personal security officer (PSO) get off the SUV. As soon as the two of them enter the temple, one man is seen approaching the vehicle and having a quick look inside to check for any valuables.
The driver is next seen taking the car ahead and moving off the road a little. This is when a group of four individuals rise to their game. One of them drops some cash outside the driver's door and informs the driver that it might be his by knocking on the window. When the driver gets off the CR-V to take a look, all doors get unlocked. Then, another accomplice opened the rear door of the SUV (without gaining the driver's attention) from the other side and took out a bag which contained valuables like Rs. 7.9 lakhs in cash, two mobile phones, an iPad, cheque book and a purse.
The gang of 5 or 6 people were even seen distracting the PSO inside the temple so that they don't exit early. When the businessman went to register an FIR at a local police station, even the SHO (station head officer) didn't seem too eager to help the businessman. The police officer only showed concern once pressure from higher authorities was applied.
This shows that people on their own must beware of such groups and individuals and should take care of their valuables at all times. No one in any circumstance should get distracted by people who knock on their windows. Be safe and drive safely!
Catch All The Latest Videos, Subscribe To