Delhi To Shimla In Ford EcoSport EcoBoost [Travelogue]
The Ford EcoSport has a perfect blend of sharp handling and outright power.
As winter sets in the northern part of India, the desire to travel in this beautiful weather intensifies. One fine day, we got our hands on the EcoBoost powered Ford EcoSport clad in the striking Mars Red colour. With the EcoSport, the amazing December weather and the weekend ahead of us, we couldn't resist taking this little SUV out for a long drive to the hills. We decided to travel to Shimla, a popular hill station and the capital city of Himachal Pradesh, which is a good 350 kms away from Delhi.
The Ford EcoSport has created a lot of buzz since its launch and has hit the sweet spot with the Indian car buyer. With its futuristic styling, capable engines, loads of features and competitive pricing, this baby SUV has taken the market by storm and managed an astounding 30,000 bookings in just 17 days. No doubt, we had a lot to look forward to on this two day trip with the company of one of the most exciting new car launched this year. We intended to start early by around 5 AM but eventually we began our journey from south Delhi at 6.30 AM and took the Delhi – Panipat – Karnal – Ambala – Panchkula – Zirakpur – Shimla route via NH1. This route is the easiest and the most popular. The National Highway 1 is a busy highway but it's pretty wide and you don't usually witness bottlenecks anywhere. There are a few diversions in between and some rough road patches but overall you can maintain decent average speeds.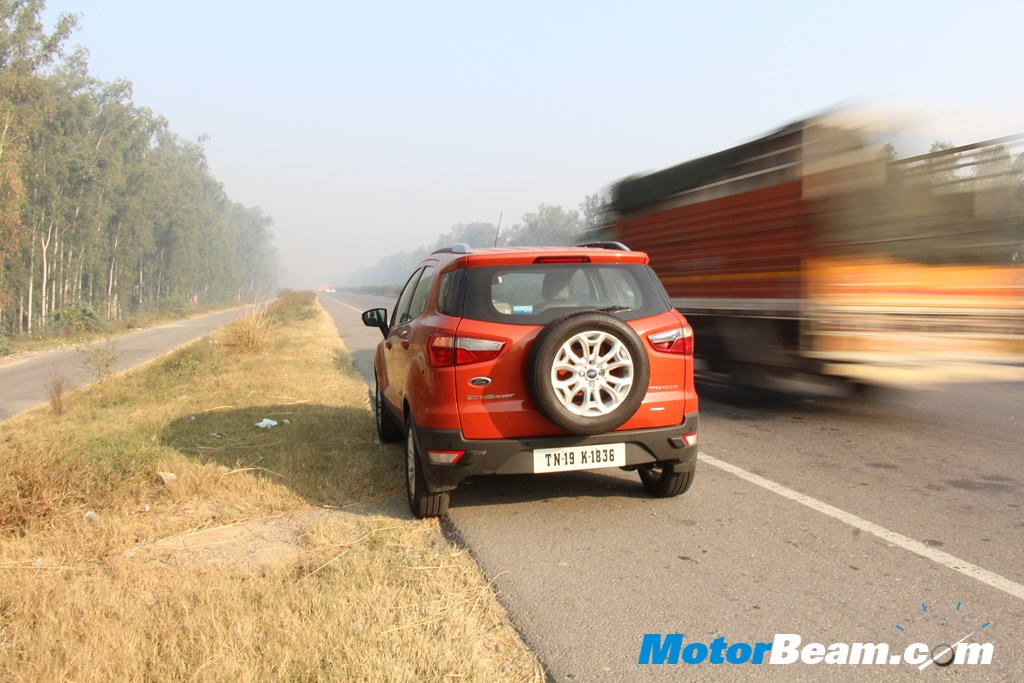 Early morning, before leaving we had our breakfast at home so that we can cover some good distance in the morning and then midway after 3 – 4 hours we could stop for some refreshments. The highway though has lots of options for foodies along the way starting with Murthal in Sonepat, which is famous for its dhabas serving mouthwatering parathas to Haveli which has an old world theme with a variety of options to eat. Furthermore for fast food lovers, lots of drive thru McDonalds, KFCs, Subways and Dominos have opened up all along the way. We decided to let go of our gastronomic desires for some time and enjoy driving the EcoSport on the highway which was a lot of fun.
We reached Ambala in about three hours, which is about 200 kms from Delhi. Our first stop was at a petrol pump where the EcoSport was refuelled and then the desire to refuel ourselves grew stronger. As soon as we crossed Ambala we saw a drive-thru McDonalds and KFC. We turned towards KFC hoping that our hunger pangs will be taken care off but when we reached there, we got to know that it was not yet open and will open in an hour. Disappointed, we moved to McDonalds which thankfully was open and had a hearty meal to satisfy our souls. After a 30 minute stop, we were now eager to get back to the EcoSport and hit the highway to complete the other leg of our journey.
Now the traffic got a bit heavier as we crossed some busy towns like DeraBassi and Zirakpur. From Zirakpur we had to turn towards the Kalka road which we missed and had to take a U-turn after entering Chandigarh. It was a detour of a few kms and didn't take too much of time coming back on track. Google maps and our GPS phone came in handy whenever we went off track. Just after Zirakpur, we were greeted with the finest road of the journey. It was the newly built Himalayan Expressway. This expressway was inaugurated in 2012. Currently, it runs from Zirakpur to Parwanoo, bypassing the busy towns of Kalka and Pinjore and thus saving approximately an hour from the total travel time to Shimla. The climb to the hills starts from this expressway. This was a brilliant piece of tarmac along with the twisties and curves which the EcoSport was handling like a breeze.
The roads after crossing the expressway were also not bad and were wide enough for easy manoeuvring as well as overtaking. Traffic builds when you get close to Shimla City with all the tourist buses and taxis converging together. We reached our hotel which was inside the city by around 2.30 PM.  All in all, with a total travel time of around 6 hours including 45 minutes of break was pretty good.
The EcoSport really impressed us. The EcoBoost engine is a gem and a boon on the highway. Cruising at speeds of over 100 km/hr is child's play for this baby SUV and the power is always there whenever you feel the need to overtake. It has more than ample power for the highway and it never disappoints when you push the throttle and it brings a smile on your face when you overtake cars more powerful, one after the other with ease. It is at home on the hills too. In fact, we can say very confidently that this car is made for the hills. It is compact, has brilliant handling and has that lugging power which never feels inadequate.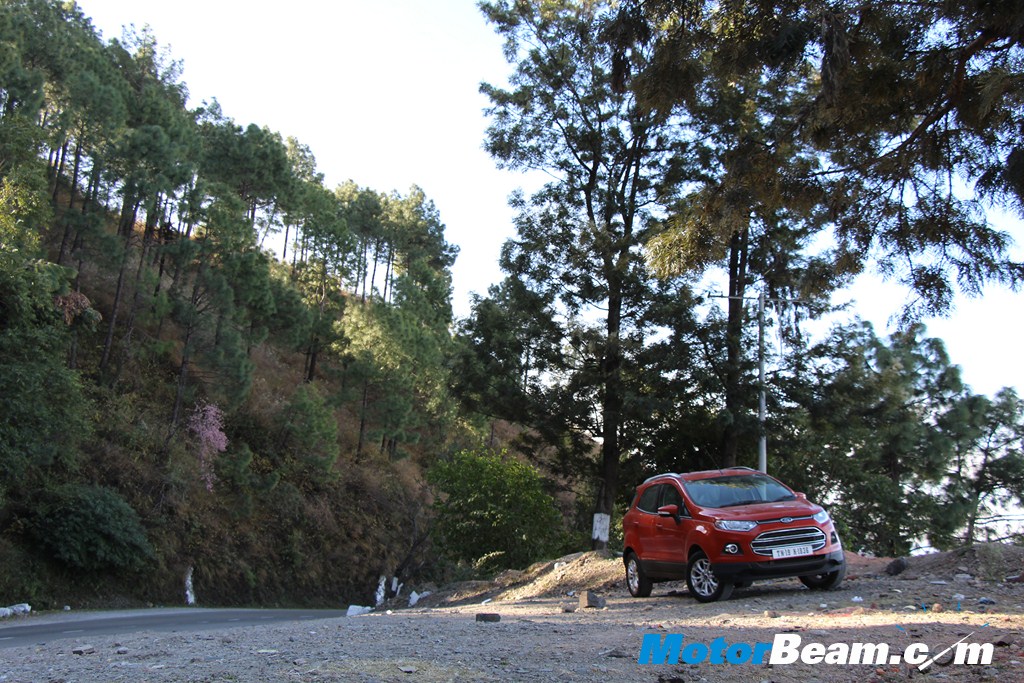 Climbing the hills on third and fourth gear and overtaking those oversized state buses and trucks was very easy. Even after the 6 hours drive we were fresh and there was no sign of any fatigue. The drive was effortless and a lot of fun. The suspension is a bit on the stiffer side and the ride is a bit firm but this gives the car its sporty character. A special mention to the steering wheel too, which is very nice to hold and has good feel, though the feedback could have been better. On the highway, the EcoSport EcoBoost may feel a bit light due to the smaller displacement engine but it has the stability that is needed for the highway.
We had our lunch at the hotel and after resting for a while we decided to explore Shimla. Shimla is a very popular tourist destination and since it's very well connected to Delhi, Punjab and Haryana, it attracts a lot of tourists all over the year. It was the summer capital of British India and many prominent buildings here belong to that era. The most visited tourist spot in Shimla is the mall road. The weather was excellent with a hint of chill and light breeze, perfect for a stroll on the mall road. There are a variety of restaurants and shops all across with a mix of old and new.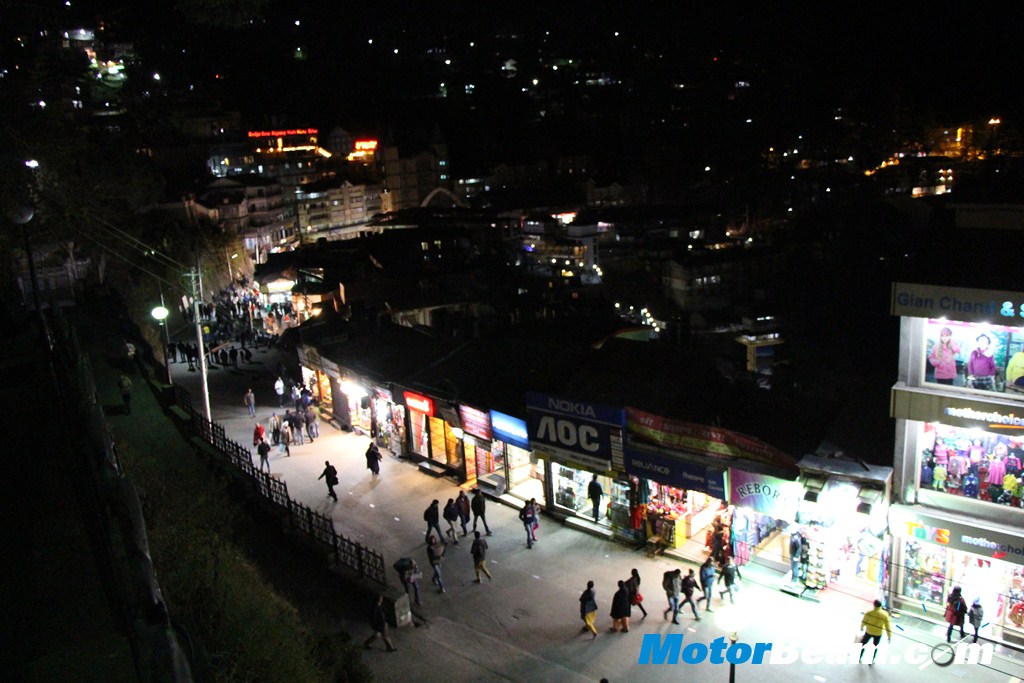 Of late, many old and renowned shops have closed down and showrooms of almost all major brands have come up, which takes away the charm of this place. We tried momos at Krishna Bakery as we had heard good reviews. They were pretty good. After a while we moved on to the Wake & Bake Café, it is a small and cozy café situated right at the centre of the mall road, it serves mainly Italian, Lebanese and Continental food. We ordered some pizza, garlic bread and pasta. The food was really sumptuous and we had a nice time at this café.
Above the mall road is the ridge, it is an ideal place for a leisurely walk and gives a great view of the city even in the night. It has a statue of Mahatma Gandhi and a beautiful church which is the second oldest church of North India, constructed in 1846. Since we only had an evening to spend in Shimla, that is all we could possibly have done. We went back to our hotel for a good night's sleep.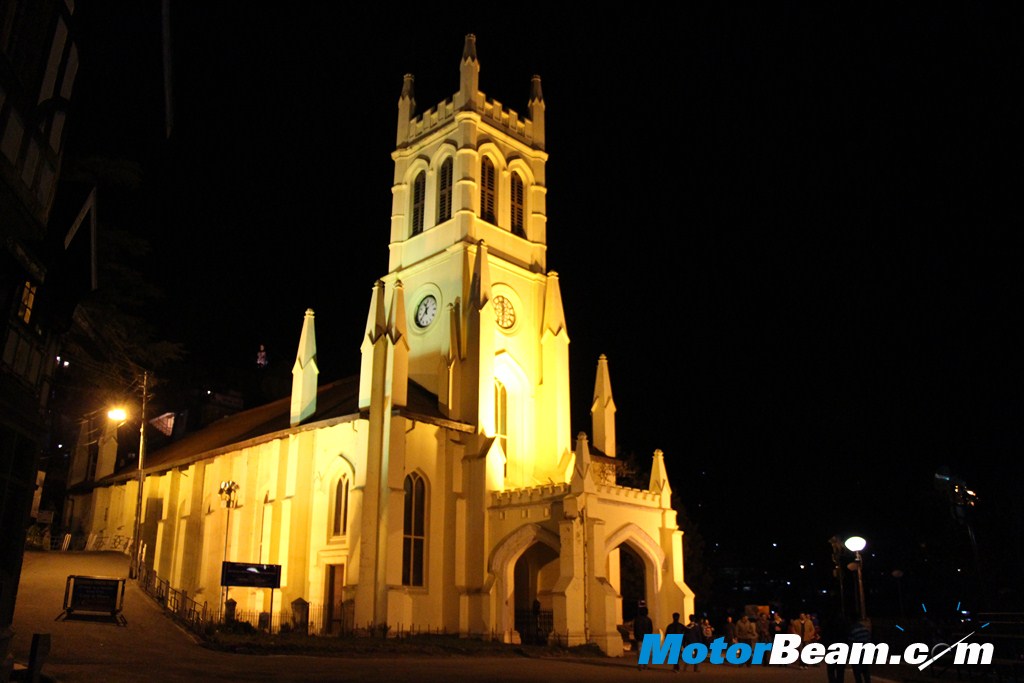 The next day we planned a relaxed itinerary for our way back home. We started around 9.30 AM after having proper breakfast at the hotel. We took the same route back to Delhi that was quite free flowing until we reached the outskirts of Delhi at 4 PM. The traffic was heavy while entering Delhi and it took around 1.30 hours to reach home. Overall fuel efficiency of the EcoSport EcoBoost including the twisties at the hills, highway straights and heavy traffic came out to be 13.5 km/l, which is pretty impressive.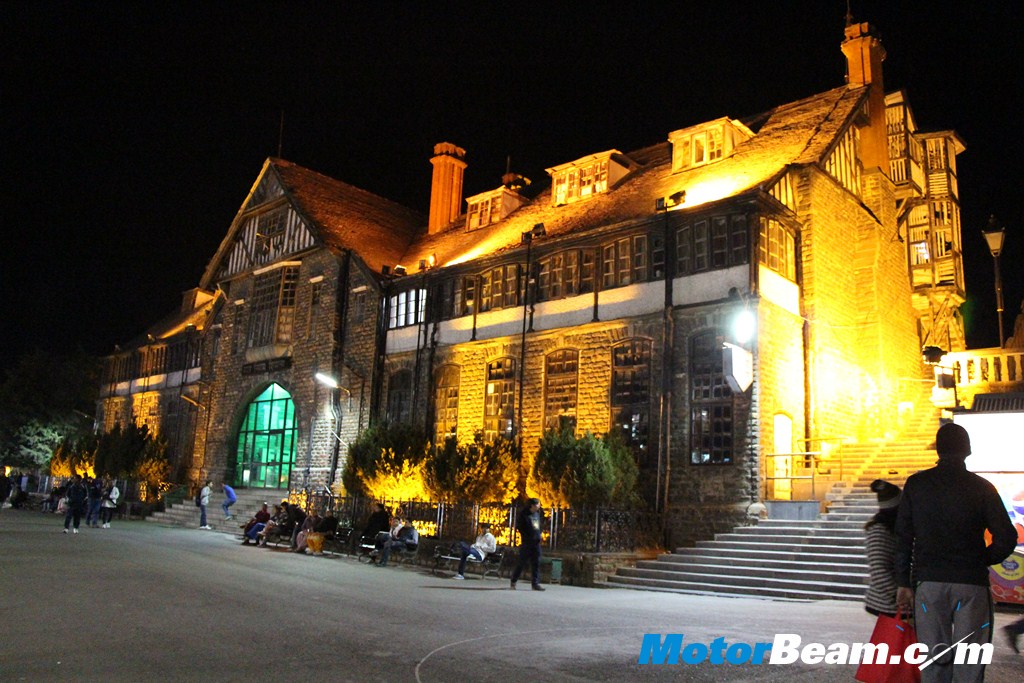 As I conclude this travelogue, I feel a bit disappointed after visiting Shimla. No, I am not complaining about the EcoSport! It's about the degradation of Mother Nature. For instance, the view from my hotel room composed of concrete laden hills with minimal involvement of greenery. The rate of construction is unbounded and deterioration of flora and fauna is evident. Otherwise, it was a delightful road trip with the enjoyable Ford EcoSport and a good break from the mundane.