DSK-Hyosung Have Aggressive Plans For India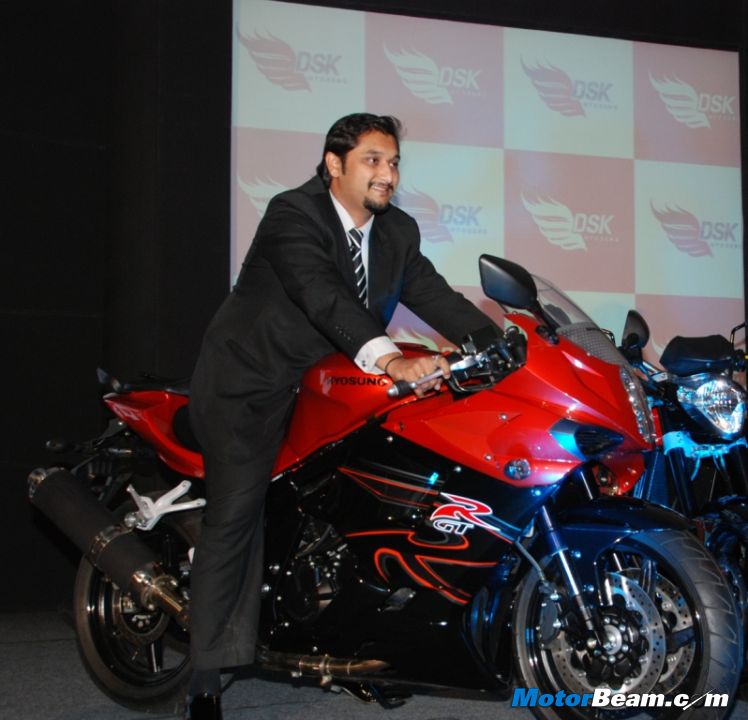 DSK Motowheels has been doing quite well in the premium motorcycle space in India. The Pune based company which sells Hyosung motorcycles in India has aggressive plans to boost market share in the future. DSK-Hyosung plan to launch a slew of motorcycles, including mass market volume products. We at MotorBeam (hereon referred to as MB) interview Mr. Shirish Kulkarni, Chairman of DSK Motowheels to find out what plans the two-wheeler company has with Hyosung for the Indian market.
MB – DSK-Hyosung are planning to launch a 125cc bike. How does DSK plan to compete with more established players in the market (like Honda and Bajaj Auto), considering their products already have a huge fan following.
Shirish Kulkarni – To be very honest it's too early to comment on this as we are still in the early planning stages. The 125cc will mark our entry in the commuter segment. The bike will be manufactured in India but this will only happen after our plant in Karad is in place and totally functional. Once the plant is in place we will swiftly work towards localizing the production of bikes in India. The 125cc bike specifically will be tailor made for India. The bike lovers can expect the bike to be rolled out of from the DSK Hyosung stable in the next three years. Also we have an ambitious plan to set up 100 showrooms at the Pan India level, so that the bike will be easily available to all bike lovers in India.
MB – Today's sports bike buyer is well informed. The GT250R lacks quite a few things in front of its key rivals (like a 6-speed gearbox, ABS, etc). When does Hyosung plan to update the GT250R to make it a complete bike?
Shirish Kulkarni – There is always scope for improvement. The Hyosung GT250R is very attractive and has attracted many bike lovers due to the looks and the powerful engine. DSK Hyosung has worked very hard to make it a success in India. Every product has its plus and minuses. GT250R has been a major success and today enjoys being the most preferred bike in its respective segment. Also we are constantly in the process of fine tuning our products on the technical front. I am confident post the localization of products DSK Hyosung will further upgrade their products. It's just a matter of time.
MB – When will DSK-Hyosung launch the 2013 GT250R in India (the same has been launched in the US earlier this year)?
Shirish Kulkarni – As of now there is no plan to launch GT25OR 2013 in India as our focus is on selling the GT250R (Comet), which has got an overwhelming response from the biking fraternity. The GT25OR is the most popular bike in the segment and we are more than happy with its sales.
MB – What market positioning are you looking at with the upcoming Hyosung GV250? Where do you expect to price it? Do you think it will be able to fend off competition from Royal Enfield who are well established in the cruiser segment?
Shirish Kulkarni – After Aquila Pro and its success I am confident that the GV250 will be the most awaited bike in the cruiser segment. I am confident that like its bigger version GV650 the GV250 too will be major hit and will be well appreciated by the bike aficionados.
MB – Pricing is key in India. When can we expect the GT250R to be priced aggressively (i.e. under Rs. 2 lakhs).
Shirish Kulkarni – If you closely monitor the superbiking industry the Aquila Pro is the best priced bike in the cruiser segment. Also as mentioned earlier the price of bikes will come down post localization. But by what percent it will come down it's too early to say.
MB – Which bike is your personal favourite? Which one are you riding these days? Where does the biking passion come from?
Shirish Kulkarni – GT650R and Aquila too. Aquila Pro. Biking passion was from college days.
MB – Currently the only alternative to Harley-Davidson is Hyosung. With Triumph entering soon, do you think it will impact your sales?
Shirish Kulkarni – Competition is always good. Aquila has created a niche for itself and the bike has got a lot of following among the biking community. DSK Hyosung Brand has got its own set of followers and more and more people have started to follow the brand closely.
MB – In the 650cc segment, there is only the Kawasaki Ninja 650 but more players are planning to enter. How do you plan to compete?
Shirish Kulkarni – As I mentioned earlier competition is good and helps you to be on your toes. This year we upgraded the GT650R and the response has been fabulous. We are confident that the demand for GT650R will not decrease as it has created a name for itself.