Ducati Working On 450 km/hr World's Fastest Bike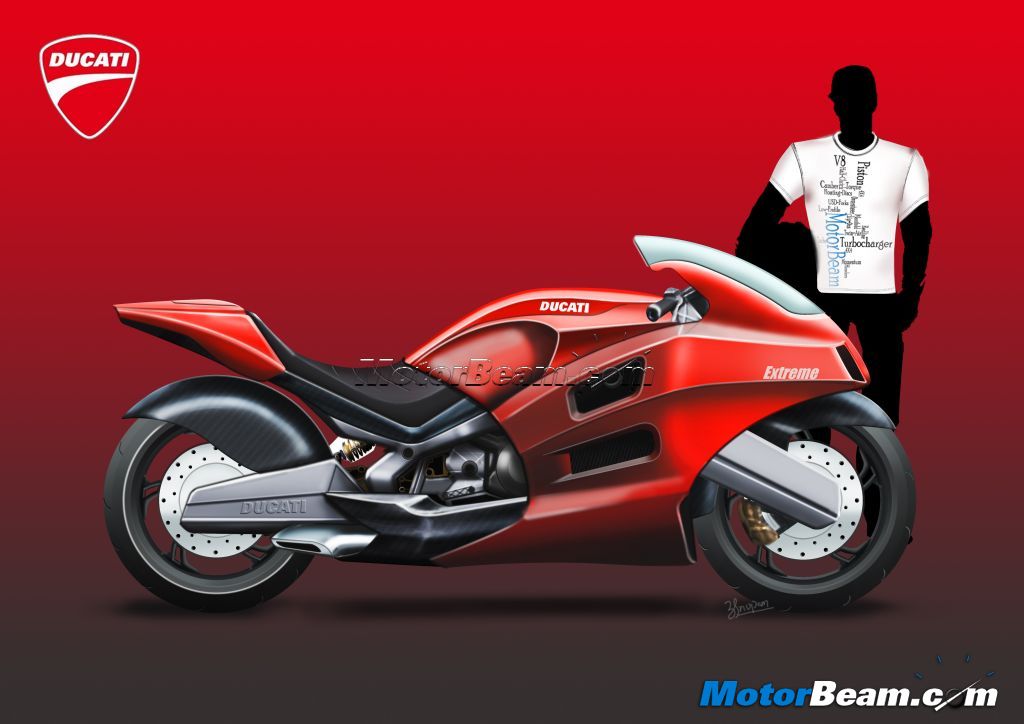 The Volkswagen Group is known to do absurd things. When the German auto giant bought Bugatti in 1998, they quickly announced their plans to launch a 1000 HP car capable of doing 400 km/hr while at the same time offering high end luxury to the occupants. Fast forward to 2013 and the Wolfsburg based outfit hasn't changed one bit. The company now plans to snatch the title of the world's fastest bike from the MTT Y2k, by launching the most extreme 2-wheeler to have ever existed in the history of mankind.
The development of the 450 km/hr motorcycle has already commenced and the reason for acquiring Ducati can be attributed to VW's aim of producing an insanely fast bike. Some one from the MotorBeam team was invited by Ducati to test the bike and we are able to leak the specifications, thanks to him. We obviously cannot name the person and have thus blurred out his face in the above picture which was shot by the company for internal circulation only. While the casual name of the superfast Ducati is Extreme, the internal code name is 2WV (2-wheeled Veyron).
The Ducati Extreme is still in concept stage but Ducati, Audi, Lamborghini, Bugatti and Volkswagen engineers are working day and night to bring this product to reality, which will have a limited production run of 36 units only (VW only wants to show its engineering prowess and doesn't intend to make profits from this product). Several engineering challenges have been faced by the company in the development of the Ducati 2WV, which have been overcome with the use of technology. This product is not only going to be the fastest in the world but also the most insane in terms of specifications.
Powering the Ducati Extreme is a 3.0-litre, iV4 (two in-line 4 engines mounted in a V) Desmosedici Hybrid engine (having twin turbos and 8 spark plugs, cooled by openings near the headlight) which produces 501 BHP of power and 750 Nm of torque, mated to a 10-speed automatic gearbox. Ducati feels their bike is too fast to let the rider shift gears manually. With so much power, wheelies would happen at the drop of a hat. Not really. The critical issue was to keep the front down as the anti-wheelie system was not able to cope up with the amount of power being generated. Thus Ducati has channelled power to both wheels (splitting power in 35:65 ratio), making this the first all-wheel drive bike. Power is transmitted by a shaft to the rear wheel and the front wheel has an electric hub motor which can be run by engine power.
In normal mode, the Ducati Extreme cracks the 400 km/hr barrier in 7.26 seconds but the wind resistance becomes too high as you go faster. Thus there is KERS (kinetic energy recovery system) which gives an extra surge of power (47 BHP) to reach the top speed of 450 km/hr. Reaching 450 km/hr is not going to be easy, as the wind noise is too high and roads are too few. Thus Ducati is working closely with AGV to develop a special helmet which will be offered as an accessory with the purchase of the Extreme. This helmet is made of titanium and can cut wind speeds to the tune of 30 percent.
The Ducati Extreme has an extremely long wheelbase to ensure better high speed stability. It uses a monocoque chassis made with Audi's spaceframe technology. Special high speed tyres have been developed by Pirelli with a speed rating of 600 km/hr. The completely hand built machine will take 3 months to manufacture and Ducati will have the production running for 9 years! The use of special light weight materials ensure the Extreme weighs only 281 kgs, while the superb aerodynamics give it extremely good agility. The tail part has an airfoil to further reduce drag. The reverse-side down forks cut through air like a knife through butter.
With insane acceleration comes the need of quick stopping power. Thankfully Ducati has it covered. Not only does the Extreme feature super sticky rubber, it also comes with massive sized discs and a plethora of braking systems like ABS, EBD, Intelligent Emergency Braking, Cornering Brake Control, Panic Braking Control (a press of a button opens a parachute to cut speeds, after monitoring no one is behind, in a matter of 1/10th of a second). Then there is TCS, Dynamic Stability Control, Electronic Traction Control and Adaptive damping air suspension. Ducati has applied for over 500 patents for this bike.
Every owner will get a chance to max out their bike twice a year at Volkswagen's secret test facility in Germany. While enthusiasts have a reason to celebrate, de-restricted Suzuki Hayabusa, Dodge Tomahawk and MTT Y2k need to worry. There is a new king on the horizon and it's Italian.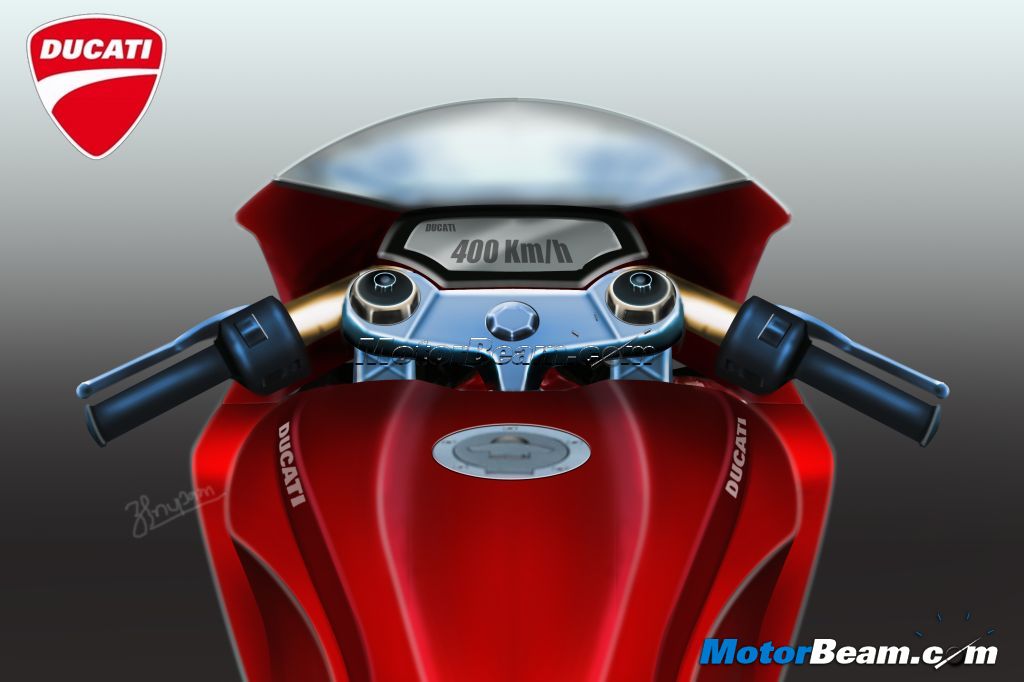 Disclaimer – We just fooled you! This post is an April fool's joke. We have no idea what Ducati is working on currently and we just came up with our own wild motorcycle fantasies in this post. Some of the specifications are too good to be true, aren't they?
These superb pictures have been designed by MotorBeam rendering specialist Anupam Singh Parihar.