Ford EcoSport Brochure Leaks Ahead Of Launch
The much awaited car of the year, Ford EcoSport is very close to its launch in India. We have already reviewed the EcoSport from stem to stern to bring out the clarity for our readers on Ford's painstakingly developed compact-SUV. A few days earlier, it was bruited that the company has started EcoSport bookings with an pre-amount of Rs. 50,000/-. However, we confirmed it with a few dealers and found that the information is not a genuine piece. Some dealers are asking for Rs. 1 lakh as booking amount now.
Recently, a forum member at TheAutomotiveIndia has uploaded a few scanned images of the leaked EcoSport brochure. The EcoSport will be offered in three engine options which is not an eye-opener anymore, but the brochure reveals that Ford will launch the EcoSport in four variants – Ambiente, Trend, Titanium and Titanium optional and seven different color shades options to choose from including the eye-catching Mars Red color.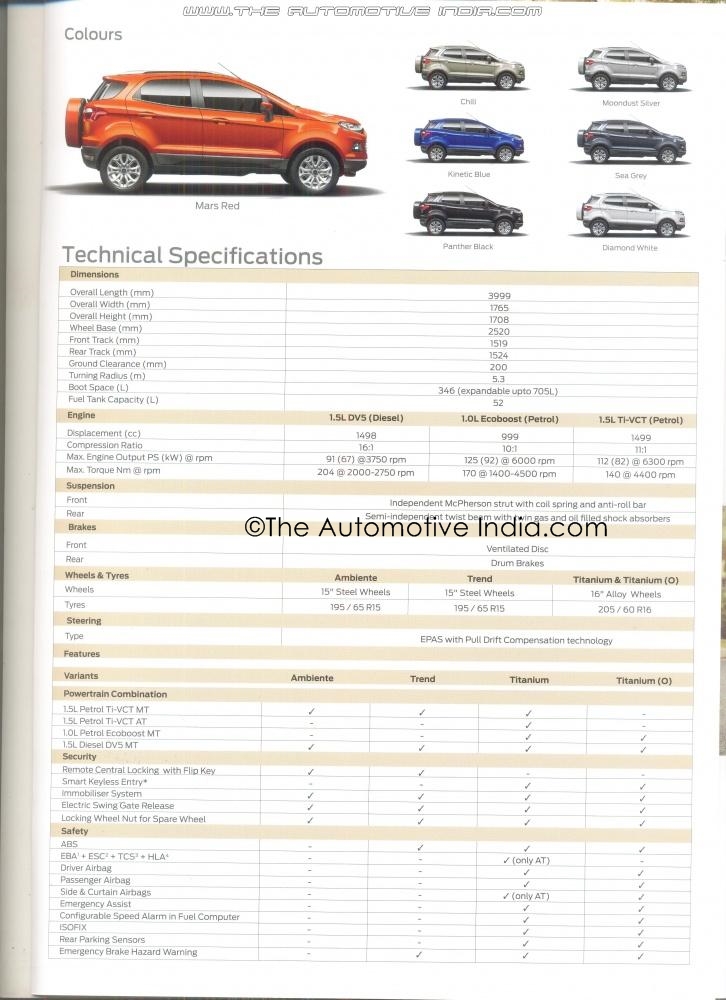 The pricing of EcoSport has always been a crucial concern for the prospective buyers and the models variation and equipment list in the brochure states front power windows, absence of music system and no airbags on the base trim, is evident that the base model (Ambiente) will be priced cleverly to coax the buyers from both, premium hatchback as well as the compact SUV segment. Ambiente and Trend trims will be offered only in 1.5-litre, diesel and petrol powertrains respectively, finite to manual transmission choice and limited basic features. The Titanium trim is the only model which has to be offered in all drivetrains (MT and AT of 1.5-litre petrol, 1.5-litre diesel) including the much praised 1.0-litre EcoBoost engine.
The top variant, Titanium (O) will be loaded with benchmark features like Emergency Assist and interior makeover with added premium leather seats. Although, Titanium (O) will be offered only in EcoBoost petrol engine and 1.5-litre diesel engine, both mated to 5-speed manual transmission. It is expected that Ford will launch the EcoSport on 11th June at an aggressive price to compete against the segment leader, Renault Duster. After inspecting the brochure, it could not be injustice to judge the price of the base trim of the EcoSport to be around Rs. 6 lakhs (ex-showroom, Delhi).
Source – TheAutomotiveIndia.com