Ford Launches EcoSport In India, Priced At Rs. 5.59 Lakhs [Live]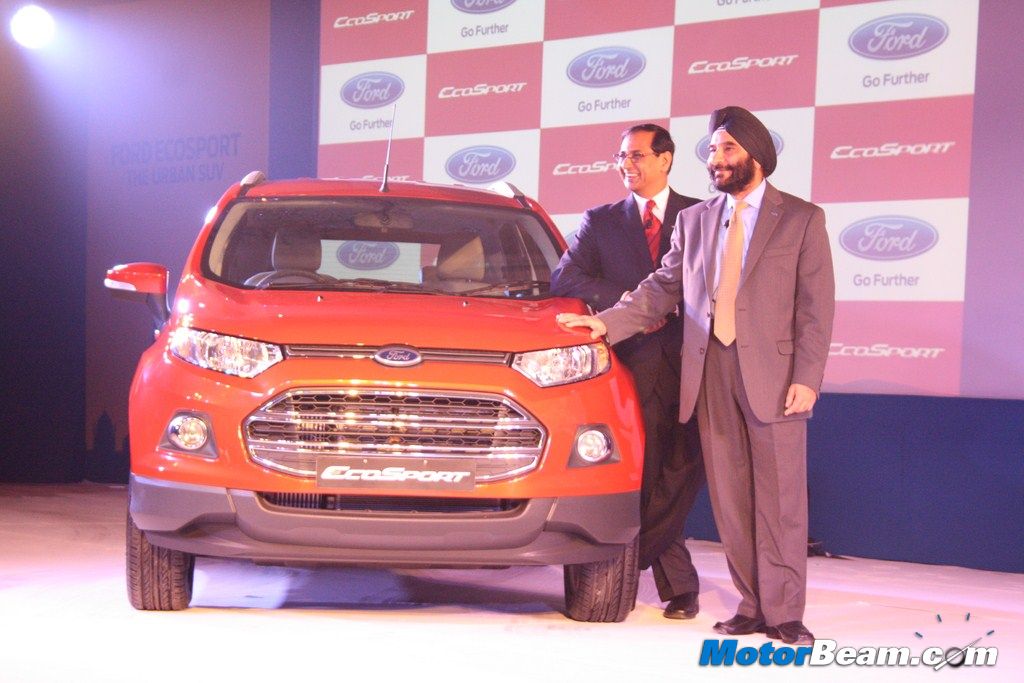 The wait has been long but has it been worth it? We hope so. Ford India will finally announce the price of the EcoSport today and we are hoping to be pleasantly surprised. Ford should price the EcoSport very aggressively, or so we feel because of several reasons. Firstly the launch of the EcoSport was delayed because of extensive localisation being done to the vehicle. Secondly Ford has done cost cutting in several areas. Thirdly and most importantly, the EcoSport's success is vital for Ford India, as the company is facing tough times in the Indian market with Figo being the only model performing well.
The Ford EcoSport is offered in seven colours and three engines across 10 variants – 1.5-litre petrol, 1.5-litre diesel and 1.0-litre EcoBoost which produces 112 PS, 91 PS and 125 PS of power respectively. The 1.5-litre petrol engine is offered with a 6-speed PowerShift gearbox as well. The ARAI certified mileage of the Ford EcoSport is as follows – 15.6 km/l (1.5 Petrol AT), 15.8 km/l (1.5 Petrol MT), 18.9 km/l (EcoBoost), 22.7 km/l (Diesel). Deliveries of the EcoSport start from today and bookings have been open since 15 days now. You can still go and book your EcoSport for Rs. 50,000/- but expect waiting period at these mouth watering prices.
The Ford EcoSport range starts at Rs. 5.59 lakhs (ex-showroom, Delhi).
Ford EcoSport Price (ex-showroom, Delhi) –
Ford EcoSport 1.5 Petrol Price – 
EcoSport Ambiente 1.5 Petrol – Rs. 5.59 lakhs

EcoSport Trend 1.5 Petrol – Rs. 6.50 lakhs

EcoSport Titanium 1.5 Petrol – Rs. 7.51 lakhs

EcoSport Titanium 1.5 Petrol AT – Rs. 8.45 lakhs
Ford EcoSport Diesel Price – 
EcoSport Ambiente Diesel – Rs. 6.69 lakhs

EcoSport Trend Diesel – Rs. 7.61 lakhs

EcoSport Titanium Diesel – Rs. 8.62 lakhs

EcoSport Titanium (O) Diesel – Rs. 9.00 lakhs
Ford EcoSport EcoBoost Price – 
EcoSport Titanium EcoBoost – Rs. 7.90 lakhs

EcoSport Titanium (O) EcoBoost – Rs. 8.29 lakhs
Renault Duster Price (ex-showroom, Delhi) –
Duster Petrol RxE – Rs. 7.99 lakhs

Duster Petrol RxL – Rs. 8.93 lakhs

Duster Diesel 85 RxE – Rs. 8.73 lakhs

Duster Diesel 85 PS RxL – Rs. 9.73 lakhs

Duster Diesel 85 PS RxL (O) – Rs. 10.96 lakhs

Duster Diesel 110 PS RxL – Rs. 10.75 lakhs

Duster Diesel 110 PS RxZ – Rs. 11.65 lakhs

Duster Diesel 110 PS RxZ (O) – Rs. 12.18 lakhs
* Duster option pack comes with navigation
Read Our Extensive Coverage On The Ford EcoSport –
Ford EcoSport Exhaustive Review
Ford EcoSport Diesel Review
Ford EcoSport Video Review
Ford EcoSport vs Renault Duster