The new generation Ford Endeavour now gets updated with SYNC3 infotainment system that offers Apple CarPlay and Android Auto smartphone connectivity.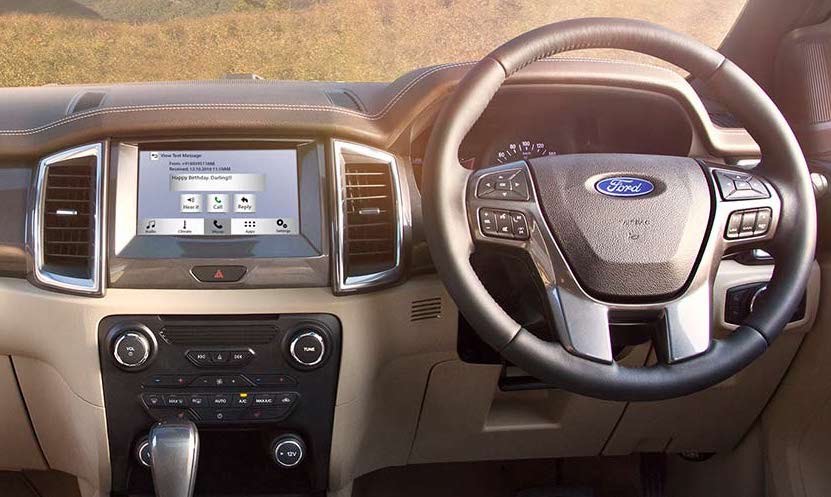 Toyota is about to launch the new gen Fortuner in a few days, which is the direct rival of the Ford Endeavour. Now ahead of its launch, Ford India has updated the Endeavour's infotainment system with SYNC3 system that now comes with Apple CarPlay and Android Auto connectivity, which the new Fortuner doesn't offer.
At the time of the launch, the new gen Ford Endeavour was offered with the SYNC2 system that missed out on a few features. The updated SYNC3 system now comes with a lot of tech on offer. You can seamlessly connect your iOS and Android devices that show up your phone apps on the screen such as Siri, Google Maps, music, phone, messages, etc.
The SYNC3 can now get automatic WiFi updates to get the latest software updates for the infotainment system. The system can read out text messages for you while you are driving. The updated SYNC infotainment can also control the temperature of the cabin according to your preference along with a few more features.
With the latest update of SYNC3, the infotainment system of the Ford Endeavour gets more intuitive for the user. Apple CarPlay and Android Auto makes the Endeavour more desirable now. Considering the new 2017 Toyota Fortuner won't get these connectivity options, the Endeavour seems more attractive now.
Ford Endeavour SYNC3
– The new gen Ford Endeavour now gets updated with SYNC3 system
– SYNC3 offers Apple CarPlay and Android Auto connectivity
– Now you can also updated the system automatically over WiFi
– The new generation 2017 Toyota Fortuner misses out on these features