Garware Motors Launches Hyosung GT650N – Live From Event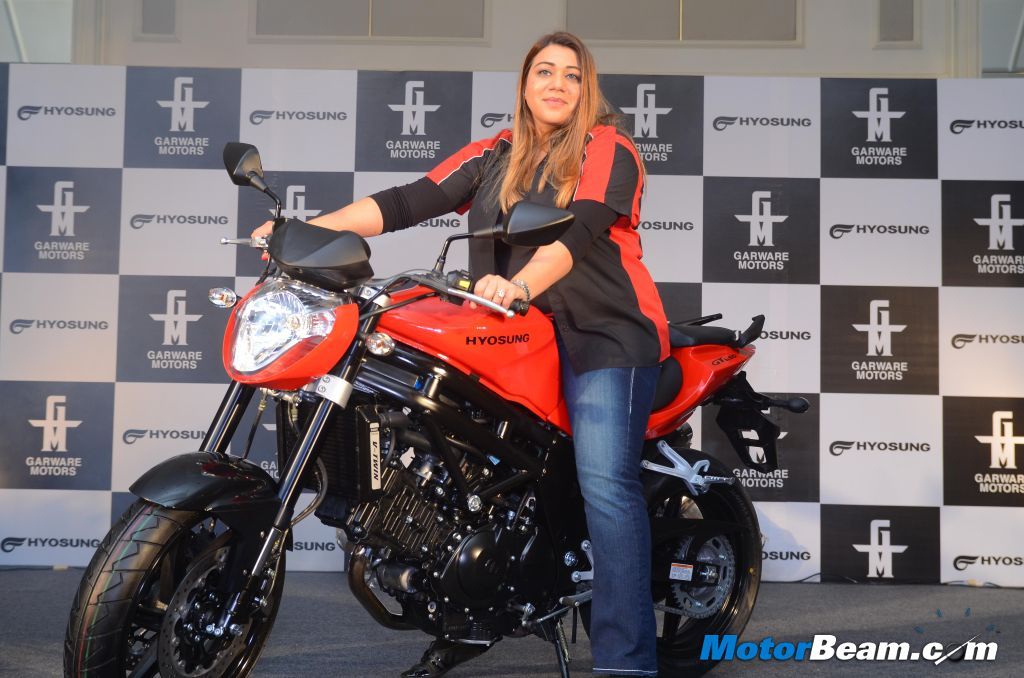 Garware Motors has just now launched the Hyosung GT650N in Mumbai. The Hyosung GT650N (Naked) is priced at Rs. 4.39 lakhs (ex-showroom, Delhi), which is cheaper than the Kawasaki Ninja 650R by a slight margin. The Hyosung GT650N uses the same 650cc, V-Twin motor that does duty on the GT650R. This engine produces 72 BHP pf power and can reach 100 kmph in around 5.5 seconds. Top speed is around 210 kmph and the GT650N will return 18-20 kmpl. The GT650N is available in three colors namely White, Red and Black.
[singlepic id= 7779 w=540 h=375 float=center]
Garware Motors dealers have started bookings for the Hyosung GT650N. Deliveries of this bike will commence within two weeks. Garware Motors will be launching a 250 cc cruiser, sports and tourer in March, 2012. There are no plans to launch a 125 cc motorcycle in the near future. The company has started building a 25 acres of plant to manufacture Hyosung bikes in Wai, Maharashtra and engine assembly will be started soon. Till last month, Garware Motors sold 300 units of the GT650R and ST7 in India.
"This is the first step to get the full line of Hyosung bikes in India as we committed. We believe that today's young and mobile Indian has a strong appetite for stylish bikes, and so, we see significant potential for the GT 650N in India. Our aim is to create a strong network that will provide our customers a world-class experience and encourage the affordable super biking segment in India," Diya Garware, MD, Garware Motors, said.
[singlepic id= 7780 w=540 h=375 float=center]
[singlepic id= 7781 w=540 h=375 float=center]
[singlepic id= 7782 w=540 h=375 float=center]
[singlepic id= 7783 w=540 h=375 float=center]
[singlepic id= 7784 w=540 h=375 float=center]
[singlepic id= 7785 w=540 h=375 float=center]
[singlepic id= 7786 w=540 h=375 float=center]
[singlepic id= 7787 w=540 h=375 float=center]
[singlepic id= 7788 w=540 h=375 float=center]
[singlepic id= 7789 w=540 h=375 float=center]
[singlepic id= 7790 w=540 h=375 float=center]
Hyosung GT650N Technical Specifications
Engine: DOHC, 8-valve, water-cooled
Fuel System: Electronic Fuel Injection
Starter: Electric
Displacement: 647 cc
Power Output: 72.68 hp @ 9000 RPM
Torque: 60.9 Nm @ 7500 RPM +/-250 RPM
Cylinders: 2
L x W x H: 2060 x 740 x 1090 mm
Wheelbase: 1435 mm
Ground Clearance: 150 mm
Seat Height: 780 mm
Dry Mass 208 kgs
Gears: 1-down, 5-up
Brakes: Front double disc, rear disc
Tyres: 120/ 70-ZR17 55W front
160/ 60-ZR17 69W rear
Fuel Tank: 17 liters
[singlepic id= 7791 w=540 h=375 float=center]
[singlepic id= 7792 w=540 h=375 float=center]
[singlepic id= 7793 w=540 h=375 float=center]
[singlepic id= 7794 w=540 h=375 float=center]
[singlepic id= 7795 w=540 h=375 float=center]
[singlepic id= 7796 w=540 h=375 float=center]
[singlepic id= 7797 w=540 h=375 float=center]
[singlepic id= 7798 w=540 h=375 float=center]
– Suraj Desai
Special Correspondent